Classic Hollywood: Alan Alda explores enduring love in 'The Longest Ride'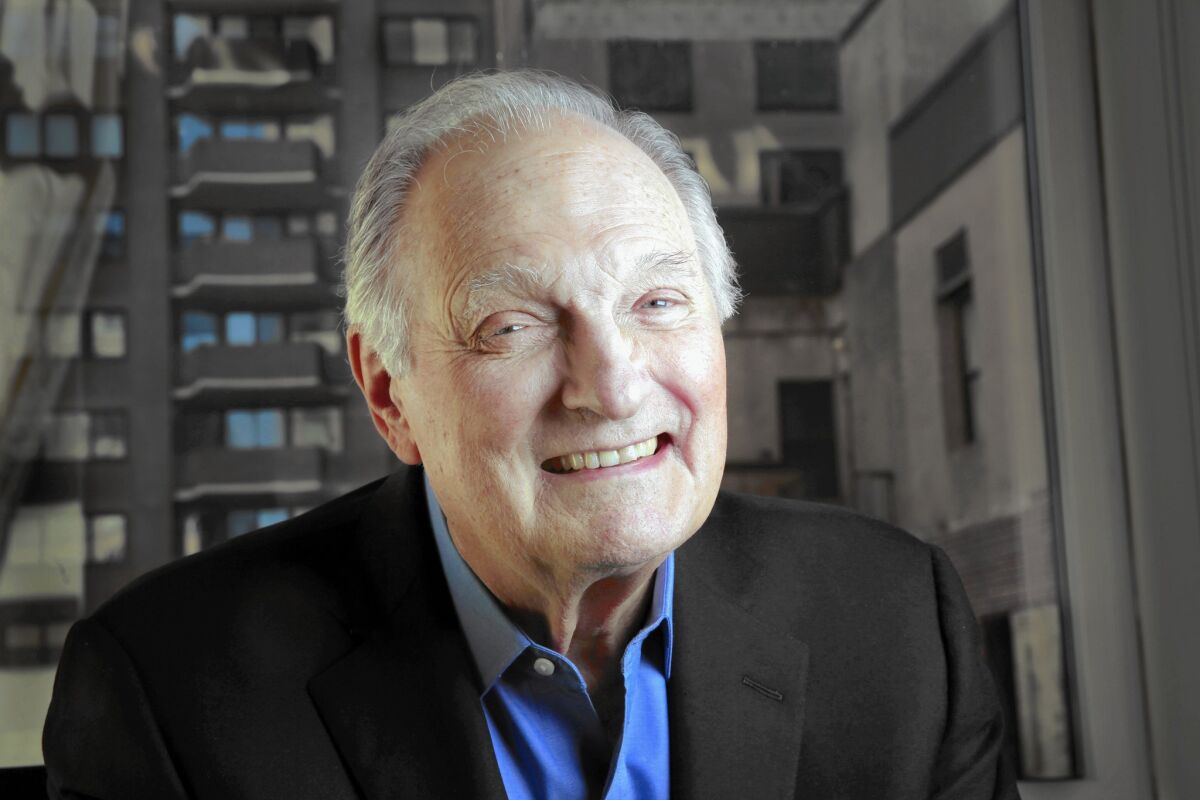 Alan Alda is discussing enduring love, a subject he knows by heart.
Alda, who came to fame as Hawkeye Pierce on the 1972-83 CBS comedy series "MASH," recently celebrated his 58th wedding anniversary. He married his wife, author-photographer Arlene Alda, when he was a struggling actor. They have three grown daughters and eight grandchildren.
Alda is a devoted family man, and during the 11 seasons of "MASH" he commuted to Los Angeles from their home in New Jersey because he didn't want to disrupt his family's life.
"We have friends who have been married as long or longer," Alda said when asked about the secret to their union during a recent phone conversation from his home in New York. "I think in Hollywood it gets talked about more."
In Alda's latest film, the Nicholas Sparks romantic drama "The Longest Ride" opening April 10, the actor plays a character for whom he feels a great kinship.
"It was one of the few parts I have played where — let me see if I can find the most accurate way to say this — the emotions I feel in real life were as close as I ever felt to the emotions of a character," the 79-year-old actor said.
Alda's widower Ira Levinson plays a key role in the melodrama starring Britt Robertson and Scott Eastwood (the youngest son of Oscar-winning Clint). Ira was married for decades to the vivacious Ruth, and eight years after her death, the box of love letters he sent her are his most prized possession.
"What I like about the movie a lot is that it is about long-term love," Alda said. "Most movies end when the long-term love is about to begin. Most movies deal with the excitement of new romance, which can be translated into long term, but that takes some doing. I think this is kind of a realistic look at a relationship."
The lives of the young stars-in-their-eyes couple — professional bull rider Luke (Eastwood) and college senior Sophia (Robertson) —change dramatically after they rescue Ira and his box of letters from his burning car, which caught fire after it went through a guard rail. As he recovers in the hospital, Ira develops a grandfatherly relationship with Sophia, who visits him frequently to read him the letters he wrote to Ruth (Oona Chaplin) when he was a young man (Jack Huston).
Both director George Tillman Jr. and Robertson bonded with Alda during the production. "He is the nicest guy, the hardest worker — he doesn't like to leave the scene unless it's right," said Tillman, who described Alda as the "rock" everyone looked up to during filming.
Robertson noted that Alda was always "giving me little bits of wisdom."
"It didn't seem forced," the actress added. "It always just seemed like that is the kind of person he is — just a generous soul."
She said she misses their dinners together when they were on location in North Carolina. "The cast and the producers would go to dinner, and we would end up closing down the place. I would always try to sit next to Alan because I loved talking to him."
Alda has received 33 Emmy nominations, winning six times. Besides his acting duties on "MASH," he wrote and directed many of the episodes. He's also written and directed four features, including the 1981 hit "The Four Seasons." Ten years ago, he was nominated for an Emmy for "The West Wing," a Tony for a revival of "Glengarry Glen Ross" and an Oscar for Martin Scorsese's "The Aviator."
His career began rather inauspiciously in burlesque, of all places. His father, Robert Alda ("Guys and Dolls"), was a young actor in 1936 touring the East Coast in burlesque, with his wife and 6-month-old son in tow. "Phil Silvers carried me out onstage in a schoolroom sketch," said Alda. "I was told all the greats were in that scene — my father, Phil Silvers and 'Rags' Ragland."
His father, though, tried to talk him out of following in his footsteps.
"He wanted me to think twice about it because he knew how hard it is and how difficult it is to make your way, no matter what talent you have," said Alda. "Then he tried to help me get work. He wasn't able to get me much work other than a summer stock tour the year Arlene and I were married."
Actually, it was Silvers who gave Alda his first break on TV in a guest starring role in 1958 in his famed CBS sitcom "The Phil Silvers Show."
Alda recently completed a four-week engagement on Broadway with Candice Bergen in a revival of A.R. Gurney's "Love Letters" and will be seen later this year as Tom Hanks' boss in the Steven Spielberg film "Bridge of Spies."
It isn't acting but science that intrigues Alda these days. A science buff since he was a child, Alda got the opportunity to interview some of the top names on the PBS series "Scientific American Frontiers" from 1993 to 2005. He realized during his tenure on the series that scientists had a lot of great stories but that they needed helping telling them.
Six years ago, he help founded the Alan Alda Center for Communicating Science at New York's Stony Brook University, where he is also a visiting professor.
"We teach scientists to be able to communicate with the public about science," he said. "What I do is work with the other people in the center, tweak the curriculum and figure out what we will do next."
That's a theme of Alda's — always looking ahead, finding inspiration from many sources. The actor said he "wants to keep doing things I haven't done before. As a matter of fact, I think I am more interested in learning from other people now than when I was young."
Follow Classic Hollywood on Facebook
---
Get our L.A. Goes Out newsletter, with the week's best events, to help you explore and experience our city.
You may occasionally receive promotional content from the Los Angeles Times.