Newsletter: Classic Hollywood: June Foray, a profile in characters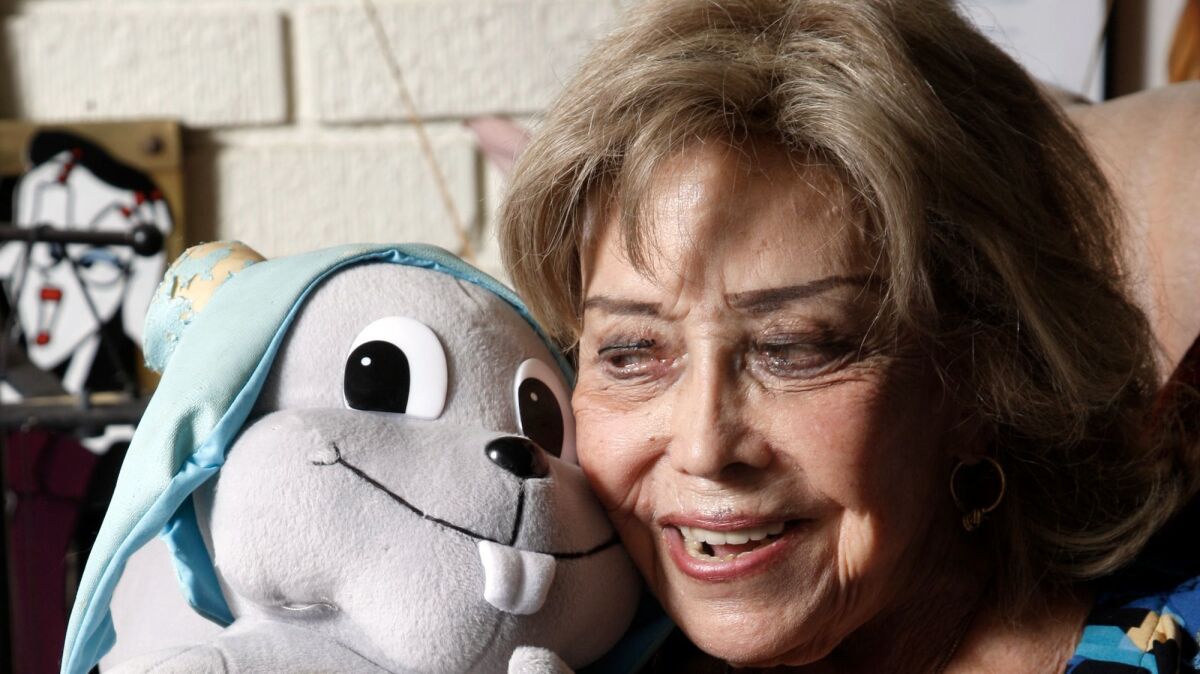 "Now here's something we hope you'll really like!"
"Santie Claus, why? Why are you taking our Christmas tree? Why?"
"My name is Talky Tina, and I'm going to kill you."
By invoking just a few words, you can hear the voice — or rather, the voices — of June Foray.
Welcome to the latest edition of the Classic Hollywood newsletter. I'm Scott Sandell, and today we're remembering Foray, who died this week. She was believed to be 99 years old.
Foray portrayed Rocket J. Squirrel and the evver-scheming Natasha Fatale on "Rocky and His Friends." She played Cindy Lou Who on "How the Grinch Stole Christmas." She was the original voice of Mattel's Chatty Cathy doll and of the "The Twilight Zone's" murderous variation, Talky Tina. In the 1974 film "Jaws," she provided the voices of children on the beach, and on "I Love Lucy" she mimicked a barking dog
In addition to hundreds of credits over eight decades, Foray was a member of the Academy of Motion Picture Arts and Sciences' board of governors, where she led a fight against the board's vote in the early 1990s to drop short films from the Oscars.
She also helped establish the Hollywood branch of the International Animated Film Society and its Annie Awards, which have honored animation since 1972.
But the characters were always front and center for Foray.
At Warner Bros., she often tapped her imagination for inspiration.
"If you were lucky, you got to see a drawing," she said in a 2013 interview with the television academy. "More often they would give you a one-word description ... mean ... sweet ... old ... fragile."
When she started working with Jay Ward, there was more interaction.
"Jay said he wanted Rocky to sound like a plain little boy but with a very knowledgeable sound, so I did an all-American squirrel Boy Scout," she recalled.
As Times TV critic Robert Lloyd wrote in his appreciation of Foray, what made her distinctive was "a quality of youthfulness even in older characters, like Granny or Witch Hazel, a playfulness that cuts through the phlegm. She had range, literally, going low for Natasha, the semi-seductive Pottsylvanian spy, and high for Rocky, boy squirrel and skeptical hero. Witch Hazel, she said, she made 'not evil at all.' "
In 2012, speaking with her hometown newspaper — the Republican of Springfield, Mass. — Foray summed it up best:
"I love every character I've done because there's a little bit of me in everything I've done."
AROUND TOWN
-- Dude! "Fast Times at Ridgemont High" is heading back to AMC, Cinemark, Edwards, Regal and other theaters for its 35th anniversary. Director Amy Heckerling's 1982 feature film debut has early performances from Jennifer Jason Leigh, Eric Stoltz, Forest Whitaker, Nicolas Cage and Sean Penn. July 30 and Aug. 2, 2 and 7 p.m. www.fathomevents.com
-- Can you feel the love tonight? The "Lion King" Sing-Along takes over the El Capitan in Hollywood, with the songs of Elton John and Tim Rice and the voices of Matthew Broderick, Nathan Lane, Whoopi Goldberg, James Earl Jones and Jeremy Irons. Aug. 4-10, 10 a.m., 1 and 4 p.m. Aug. 11-20, 10 a.m., 1, 4 and 7 p.m. www.elcapitantheatre.com
-- Who doesn't like a good biker movie? The Laemmle NoHo 7 kicks off a Throwback Thursday series next week with director Richard Rush's 1967 film "Hells Angels on Wheels" with Jack Nicholson, cinematographer László Kovács (credited as Leslie Kovacs) and some real Angels as extras. Aug. 3, 7:30 p.m. www.laemmle.com
Get more from the Moviegoer column with highlights of this week's film events, revivals, festivals and series.
FIFTY YEARS AGO THIS WEEK …
On July 26, 1967, the L.A. Times was on the set of the "Batman" series to take photos of Yvonne Craig in action as Batgirl. It was for a feature story that would run a few days later, in which the actress related how she ran over Vincent Price's foot:
"In the scene, I race in on the Batgirlcycle and make a panic stop at the curb, where Vincent is standing," she said. "Well, it stopped; but then -- voom! voom! -- it started again. He dodged it, but -- voom! voom! -- it went after him a second time.
"He ended up straight-arming it and cut his hand on the bat wing. It ran over his foot, too. I thought I was going to kill him; that would have been the end of art in Los Angeles."
The story itself is definitely a relic of the late '60s, describing Craig as "a luscious ballet-dancer-turned-actress" and giving her dimensions.
IN CASE YOU MISSED IT
-- John Heard, whose many roles included the father in the "Home Alone" series and a corrupt detective in "The Sopranos," has died at age 71. One of his favorites was the original "Sharknado" in 2013. "I knew it was going to be a cult classic," he said. "It's just ridiculous. I thought it would replace people calling me the 'Home Alone' dad."
-- Barbara Sinatra, the fourth wife of Frank Sinatra and a prominent philanthropist and advocate for abused children, has died at age 90.
-- Paul McCartney and Ringo Starr have a new song, "We're on the Road Again," which also features guest appearances by Joe Walsh, Edgar Winter and Steve Lukather.
-- And finally, here's one of those only-in-L.A. connections: Dustin Hoffman has notched a victory in his legal fight over a $3-million investment he made with Jeffrey Yohai, a real estate developer who is the son-in-law of Paul Manafort, the former chairman of Donald Trump's presidential campaign. Six degrees of separation, indeed.
For more vintage Hollywood, go to the Classic Hollywood Los Angeles Times Facebook page.
---
Get our L.A. Goes Out newsletter, with the week's best events, to help you explore and experience our city.
You may occasionally receive promotional content from the Los Angeles Times.