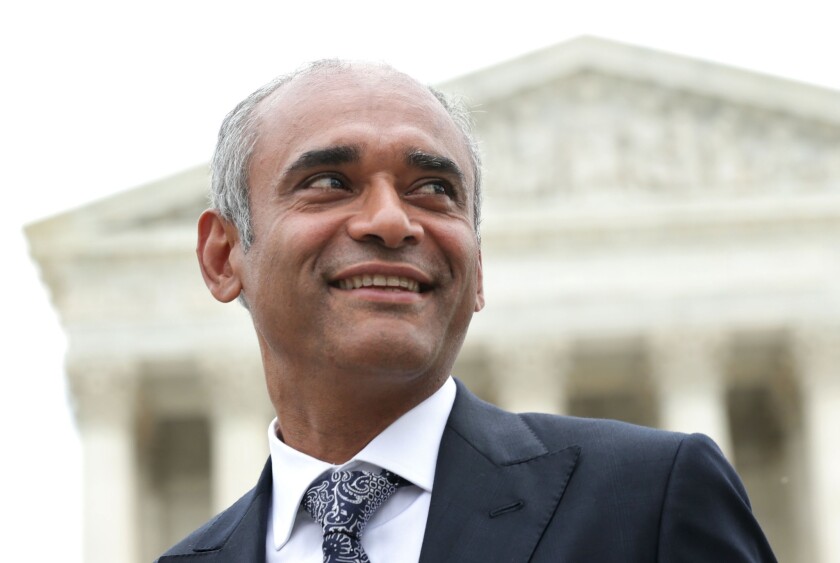 In its ruling against the TV streaming company Aereo Inc., the Supreme Court has removed one of the most visible threats to the pay-TV industry's notoriously expensive bundle.
Aereo uses tiny antennas to deliver over-the-air TV signals via the Internet. It was launched as an option for viewers who increasingly go online for entertainment or are tired of paying big cable bills for hundreds of channels they never watch.
There is also a generation of viewers, particularly young people, who increasingly forgo cable and satellite in favor of online outlets including Netflix and Hulu. Analysts contend the media industry will lose this key TV-watching demographic without adopting less restrictive, and more affordable options.
"If Aereo had been upheld, you could've told your cable company to jump in a lake," said Jeffrey Cole, director of the Center for the Digital Future at USC's Annenberg School for Communication and Journalism. "With Aereo, and also things like Netflix and Hulu, that would have been the start to a pretty good package."
Broadcasters worry that services like Aereo encourage so-called cord-cutting and undercut the rising fees they charge distributors including Time Warner Cable and DirecTV to carry their programming. Those fees account for billions of dollars in revenue a year.
The most vocal of Aereo's opponents, CBS and Fox among them, have long accused the company of stealing their signals while charging consumers $8 to $12 a month. The established giants have been protective of their so-called retransmission fees, which help buttress their bottom lines amid major shifts in the television industry.
Investors snapped up shares of broadcasters, hoping that the industry has avoided a serious setback. Among the big swings: CBS stock rose 6.2%, to $62.48; Sinclair Broadcast Group Inc. surged 15.6%, to $33.80; and Nexstar Broadcasting Group jumped 13.5%, to $48.81.
The nation's broadcasters are now trying to figure out a way forward now that they have neutralized the Aereo threat, according to analysts.
There's a possibility the networks might try to take advantage of the situation by raising the fees charged to cable and satellite companies. These fees have been increasing for years, and have caused major skirmishes such as when CBS went dark on Time Warner Cable in major markets last year.
But the calm may be only a temporary one.
Analysts expect the emergence of new technology to stream content on the Internet. Silicon Valley might already be looking for legal loopholes just as Aereo tried to do. And this could force the media industry to adjust.
"People are always going to be innovating, and the broadcasters and content creators have a long history of playing legal whack-a-mole," said David Wittenstein, a partner at law firm Cooley in Washington D.C. "This is clearly not the last tech or business model that will come under scrutiny as people try to get video without paying for it."
Media companies are also expected to keep investing heavily in new products that they hope will be more attractive to tech-savvy consumers. This technology might also be able to fend off any new competitors like Aereo.
Networks have launched apps for streaming devices such as Apple TV and Roku. Meanwhile, Hollywood studios are working more closely on content deals with online services including Netflix and Amazon.
The cable companies are also spending big bucks on new technology, with Comcast rolling out its X1 DVR cloud-based platform.
But analysts aren't certain these technology improvements will be enough to prevent cord cutting — or when the big media companies will give in to consumer demands.
"Now the question is, do they give in and subscribe or do they hold out until the cable companies start to un-bundle a little bit," said Jim Nail, an analyst at Forrester Research. "If Aereo had won, that might have happened a lot more quickly. Now the incumbents have the luxury of time before they make big strategic decisions."
Times staff writer Andrea Chang contributed to this report.
Twitter: @RFaughnder

---