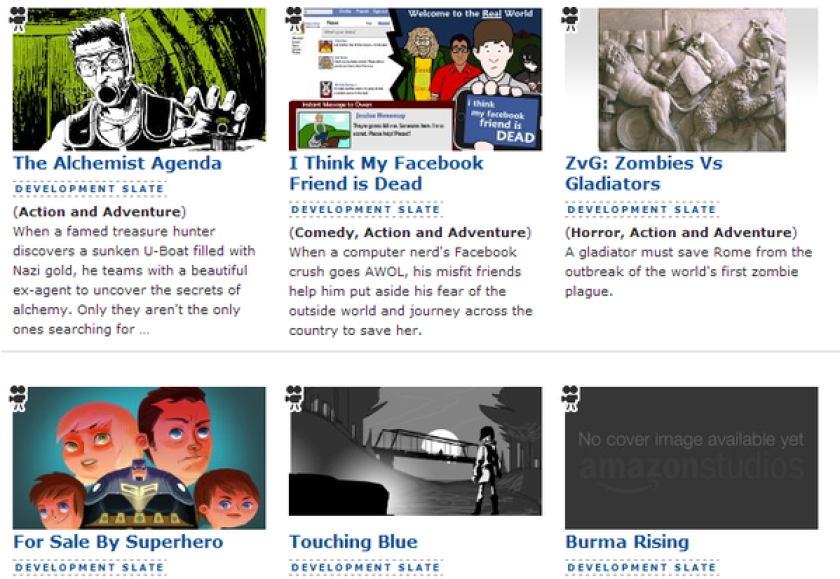 This post has been corrected. See below for updates.
Script-writing isn't for everyone, so Amazon.com Inc.'s movie and TV production arm is now encouraging filmmakers to submit "concept videos" that could be developed into features.
Amazon, which is in a race with more established players like Netflix to develop original content, launched Amazon Studios in 2010 and has been accepting script submissions for movies. It has received 1,400 movie scripts to date.
But now, people have the option to upload a two- to 15-minute video instead. Just like with the scripts, Amazon has 45 days after submission to decide whether to option the concept for a commercial film.
ON LOCATION: Where the cameras roll
"Short films are an amazing way for filmmakers to share a vision and tell a story, and now Amazon Studios' open door for creators is widening to include short concept videos for development options," the company said in an email.
The company pays the filmmakers $10,000 to the filmmaker if the submission is optioned for Amazon's development slate within the 45-day period. If the company buys the project and its associated rights, Amazon will pay $200,000.
Its website shows it has 26 movies currently slated for development. The company has a first-look deal with Warner Bros. for the theatrical release of the films.
In May, Amazon gave the green light to five new shows for its Prime Instant Video service. The company has received about 4,000 TV pilot scripts.
[For the record; June 27, 12:30 p.m.: This post originally stated Amazon pays $10,000 for the rights to the chosen submissions. A spokeswoman clarified that Amazon will pay $10,000 to option the project. If Amazon decides to buy the project and the associated rights to the project, Amazon Studios will pay $200,000.]
ALSO:
L.A.'s entertainment industry loses jobs in May
'Duck Dynasty,' 'Vikings' lift A&E Networks in second quarter
Colony Capital and Miramax exec Richard Nanula takes leave from firms
Follow on Twitter: @rfaughnder
---