Animation Guild secures new contract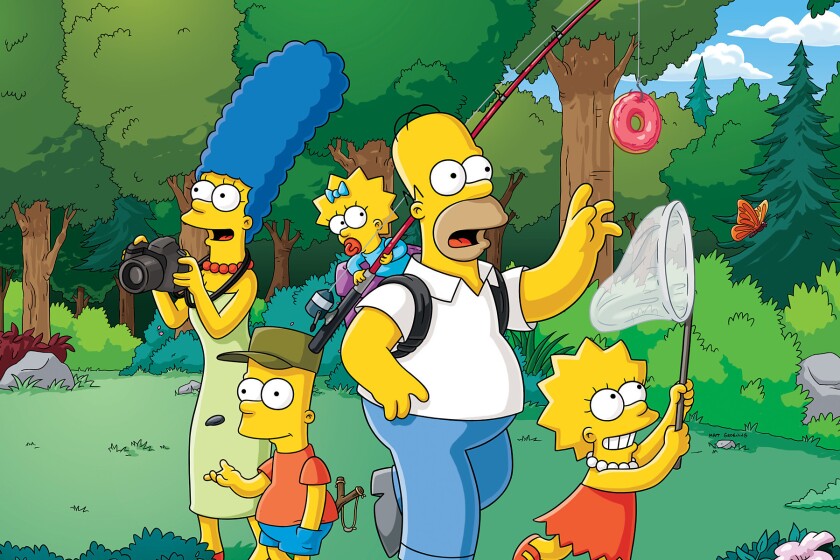 "The Simpsons" is America's longest-running scripted prime-time TV series, longest-running sitcom and longest-running animated series. Here's a look back at some of Springfield's most memorable moments in the show's first 25 seasons.
(Fox)
The Simpson family makes the leap from "The Tracey Ullman Show" to its own series with a special Christmas episode, titled "Simpsons Roasting on an Open Fire."
Notable guests:
Albert Brooks (credited as A. Brooks), Kelsey Grammer, Penny Marshall.
(Fox)
Many recurring characters are introduced, including Comic Book Guy, Mayor Quimby and Groundskeeper Willie. It's also the year of the very first "Treehouse of Horror" Halloween episode.
Notable guests:
Ringo Starr, Dustin Hoffman (credited as Sam Etic), Danny DeVito, Larry King, George Takei.
(Fox)
Deposed children's show sidekick Sideshow Bob returned to try to get revenge on Bart for the first time; Lisa learns about corruption in Washington.
Notable guests:
Michael Jackson (credited as John Jay Smith), Neil Patrick Harris, Magic Johnson, Aerosmith, Sting, Spinal Tap.
(Fox)
New writer Conan O'Brien received his first credits for writing the episodes "New Kid on the Block" and "Marge vs. the Monorail"; Maggie Simpson says her first word.
Notable guests:
Leonard Nimoy, Bob Hope, Elizabeth Taylor, Johnny Carson, Hugh Hefner, Red Hot Chili Peppers.
(Fox)
Conan O'Brien begins the season as a writer and ends it as a celebrity voice cameo; Sideshow Bob returns for more revenge; Homer goes into space.
Notable guests:
Buzz Aldrin, Conan O'Brien, Ernest Borgnine, George Harrison, The Ramones.
(Fox)
The season ended with the series' first (and only) cliffhanger: Who shot Mr. Burns?
Notable guests:
Meryl Streep, Johnny Unitas, Anne Bancroft, the cast of "Cheers," Steve Allen, Mel Brooks, Susan Sarandon.
(Fox)
Lisa becomes a vegetarian; Doris Grau, the voice of Lunchlady Doris, passes away; the town learns that Maggie Simpson shot Mr. Burns.
Notable guests:
Paul and Linda McCartney, Glenn Close, Paul Anka, Jeff Goldblum, Mickey Rooney.
(Fox)
Despite a long production time for each episode, the "Treehouse of Terror" episode got topical, featuring presidential candidates Bob Dole and President Bill Clinton.
Notable guests:
Rodney Dangerfield, Johnny Cash, Tim Conway.
(Fox)
Apu, the Kwik-E-Mart manager, gets married; the entire town of Springfield moved five miles to get away from its trash problem.
Notable guests:
Martin Sheen, Hank Williams Jr., Jay Leno, Steve Martin, U2.
(Fox)
News Corp. head Rupert Murdoch encounters Homer in animated form; Phil Hartman makes his final voice appearance.
Notable guests:
Rupert Murdoch, Regis Philbin, Kim Basinger, Alec Baldwin, Elton John, Jasper Johns, Stephen Hawking.
(Fox)
Maude Flanders was killed when actress Maggie Roswell left the show; Mr. Burns is declared the oldest man in Springfield.
Notable guests:
Betty White, Britney Spears, Don Cheadle, Robert Evans.
(Fox)
The second episode of the series to use digital ink and paint, which would become standard practice two seasons later.
Notable guests:
The Who, Stephen King, John Updike, Andre Agassi, Serena Williams, Amy Tan, Drew Barrymore, 'N Sync.
(Fox)
Homer gets a medical marijuana prescription, Matt Groening becomes the second "Simpsons" creative team member to appear as himself on the show (after Conan O'Brien).
Notable guests:
Robert Pinsky, Stan Lee, Phish, R.E.M., Paul Newman, Reese Witherspoon.
(Fox)
The series hits its milestone 300th episode; Marge gets a boob job; Moe the bartender attempts suicide.
Notable guests:
Mick Jagger, Keith Richards, George Plimpton, Marisa Tomei, James L. Brooks, "Weird Al" Yankovic.
(Fox)
Lisa is elected student body president; Edna Krabappel leaves Seymour Skinner at the altar.
Notable guests:
Thomas Pynchon, Tom Clancy, Mr. T, J.K. Rowling, Jerry Lewis.
(Fox)
Using a future machine, Bart and Lisa see their lives in distant 2013; Marge's sister Selma adopts a Chinese baby.
Notable guests:
Tom Brady, James Caan, Kim Cattrall, 50 Cent, Liam Neeson.
(Fox)
Homer meets his real father; Lisa battled Rev. Lovejoy over the teaching of creationism in school.
Notable guests:
Ricky Gervais, Dennis Rodman, Michael York, Lily Tomlin, Joe Frazier.
(Fox)
Santa's Little Helper enrolls in the Police Dog Academy; Grampa and Selma get married; Bart is nearly roped into marrying a girl who says she's pregnant.
Notable guests:
Jonathan Franzen, Betty White, Metallica.
(Fox)
Homer's mother Mona Simpson dies; Comic Book Guy closes the Android's Dungeon when competition moves in.
Notable guests:
Stephen Colbert, Alan Moore, Zooey Deschanel, Lance Armstrong.
(Fox)
The Simpsons lose their home to Ned Flanders in the recession; Homer and Marge re-marry after discovering their union is invalid; Lisa has a run-in with pop star Alaska Nebraska.
Notable guests:
Will Shortz, Mark Cuban, Jodie Foster.
(Fox)
Smithers takes over the nuclear plant after Burns is arrested; Lisa gets a pep talk from First Lady Michelle Obama; Marge winds up in a pinup calendar.
Notable guests:
Simon Cowell, Eddie Izzard, Anne Hathaway, Eartha Kitt.
(Fox)
Marge's sister Selma marries mobster Fat Tony; Smithers helps Moe turn his tavern into a trendy gay bar. Tommy Chong and Homer team up for a comedy act.
Notable guests:
Stephen Hawking, Mark Zuckerberg, Daniel Radcliffe.
(Fox)
Krusty's show gets canceled, so he moves to cable; Marge starts a food blog; Lisa starts a social networking site called SpringFace; fans get a glimpse of the Simpson kids in the future.
Notable guests:
Julian Assange, Theodore Roosevelt via archive recordings, Shepard Fairey.
(Fox)
The family takes a trip to New York City, and Bart tries to reconnect with a few past girlfriends, with Homer giving friendly advice about romance. Notable guest: Kristen Wiig.
(Fox)
The Simpsons go Lego in their 550th episode; the Comic Book Guy gets married; a yard sale purchase leads to questions about art, ownership and forgery; Homer is cloned.
Notable guests:
Anderson Cooper, Stan Lee, Harlan Ellison, Rachel Maddow.
(Fox)
Animators who work on such shows as "The Simpsons," "Bob's Burgers" and "Uncle Grandpa" are in line for a modest pay raise.
Some 3,100 members of the Animation Guild will receive a 3% annual increase in wage minimums under a new three-year contract negotiated by the union.
The Animation Guild said it had reached an agreement with the Alliance of Motion Picture and Television Producers on Wednesday after three days of bargaining.
The pact, which runs from Aug. 1 through July 31, 2018, is patterned after similar deals negotiated by unions representing writers, directors, actors and crew members who work on film sets.
The proposed contract, which must be approved by members before it is ratified, also includes a 10% increase in pension benefits for individuals retiring after Aug. 1 and higher health and pension contributions for freelance storyboard artists and timing directors, the union said in a statement.
The agreement also establishes wage minimums for shows produced at a certain budget level that are distributed on subscription-based video-on-demand services such as Netflix and Amazon.
Twitter: @rverrier
---
From the Emmys to the Oscars.
Get our revamped Envelope newsletter, sent twice a week, for exclusive awards season coverage, behind-the-scenes insights and columnist Glenn Whipp's commentary.
You may occasionally receive promotional content from the Los Angeles Times.