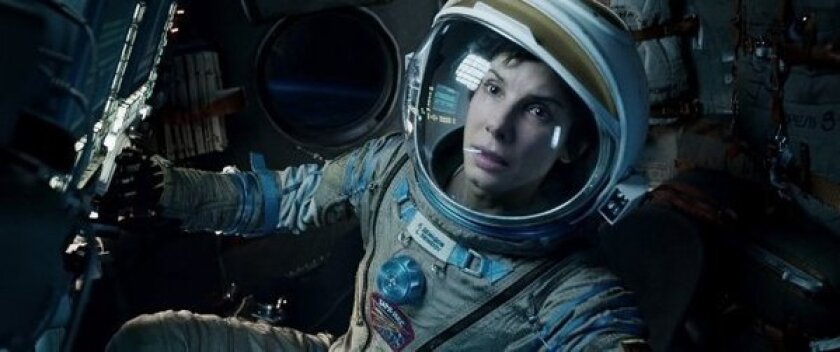 Nothing blocked the orbit of "Gravity" at the box office this weekend.
The 3-D space drama was No. 1 for a second weekend, collecting an impressive $44.3 million, according to an estimate from distributor Warner Bros. That means its ticket sales dropped only 21% from its debut -- the best second-weekend hold for any movie in wide release this year. After 10 days in theaters, the picture starring Sandra Bullock has already raked in $123.4 million in the U.S. and Canada and is on its way to grossing at least $250 million domestically.
With Alfonso Cuaron's hit still selling tickets at near light speed, newcomer "Captain Phillips" had to settle for the runner-up position this weekend. The Paul Greengrass-directed thriller starring Tom Hanks got off to a slightly better-than-expected start, debuting with a healthy $26 million. Meanwhile, Robert Rodriguez's "Machete Kills," the only other film that hit theaters nationwide this weekend, flopped with an embarrassing $3.8 million.
Heading into the weekend, prerelease audience surveys indicated "Captain Phillips" would open with about $20 million. But even with "Gravity" still pulling adults to the multiplex, "Phillips" was able to attract an older crowd of its own: Roughly 62% of those who saw the Hanks movie this weekend were over 35. Critics have been enamored with the movie, and filmgoers loved it, too, assigning the picture an average grade of A, according to market research firm CinemaScore.
Produced by Sony Pictures for $55 million, "Captain Phillips" is based on the 2009 saga of a merchant mariner who was kidnapped by Somali pirates while steering a cargo ship around the Horn of Africa. While the film performed best in New York and Los Angeles, Sony said business was also strong in Minneapolis, where there is a high concentration of Somali immigrants.
The film marks the best live-action debut for Hanks since 2009's big-budget "Angels & Demons," which launched with $46.2 million. In recent years, the 57-year-old has struggled somewhat to find his footing at the box office. His 2011 romantic comedy "Larry Crowne," which he directed, co-wrote and starred in, tanked with just $35.6 million in domestic ticket sales. The expensive adaptation of "Cloud Atlas," in which he starred last year with Halle Berry, was a disappointment as well, though fared OK overseas.
The latest entry in Rodriguez's "Machete" film series came in below the lowest industry projections, performing far worse than the original, 2010 "Machete," which opened with $11.4 million. The few who showed up to see the sequel this weekend -- 67% of whom were male -- gave the poorly reviewed film an average grade of B-.
PHOTOS: Billion-dollar movie club
The movie, acquired last year for $2 million by Open Road Entertainment, stars Danny Trejo as a spy who teams up with the U.S. president (Charlie Sheen, credited as Carlos Estevez) to ward off a terrorist attack on the Capitol.
Though "Machete Kills" had a dismal opening, it wasn't as bad as the debut of a new "Romeo & Juliet" adaptation. Moviegoers had no love for the latest twist on Shakespeare's classic, which collected $509,000 from 461 theaters this weekend.
Starring Hailee Steinfeld of "True Grit" and newcomer Douglas Booth, "Romeo & Juliet" was adapted by "Downton Abbey" creator Julian Fellowes. The film was distributed by Relativity Media, which received a fee to release the movie and didn't pay to advertise it. The picture was the first -- and perhaps now the last -- to be made by Swarovski, the crystal jewelry company.
ALSO:
'Gravity' to crater newcomer 'Captain Phillips' at box office
Charlie Sheen changes name to Carlos Estevez for 'Machete Kills'
Tom Hanks, Paul Greengrass navigate challenges of 'Captain Phillips'
---