'Hunger Games: Mockingjay -- Part 1' wins slow weekend at box office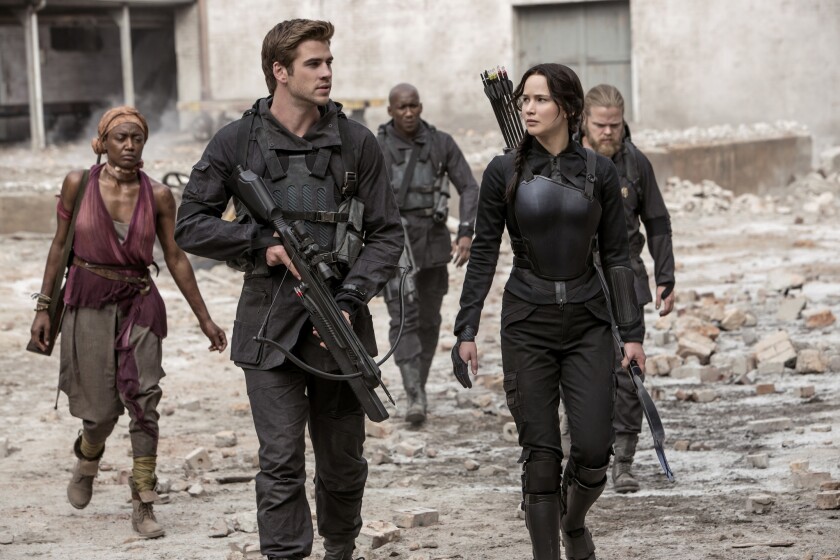 "The Hunger Games: Mockingjay — Part 1" stayed at No. 1 for the third weekend in a row in a traditionally slow weekend at the box office.
Audiences tend to shy away from theaters the weekend after Thanksgiving to instead partakes in holiday shopping and party-going. All of the films in the top 10 — with the exception of new release "The Pyramid" — fell at least 39% from the previous weekend. Weekend grosses were down about 19% from the same time last year.
The overall box office is down about 4.6% year to date, but "Exodus: Gods and Kings," "The Hobbit: The Battle of the Five Armies" and other upcoming releases are expected to bring moviegoers to theaters during the holiday season.
As the end of the year approaches, studios and movie chains are hoping ticket sales in the U.S. and Canada will catch up to last year's record of $10.9 billion.
Going into the weekend, the third "Hunger Games" installment was poised to do well. It ended up adding $21.6 million to its domestic gross, bringing its total to about $257.7 million. Overseas, the film crossed the $300-million mark, raising the film's worldwide haul to $560.5 million.
Twentieth Century Fox's animated film "Penguins of Madagascar" came in second, adding $11.1 million. The spinoff of DreamWorks Animation's "Madagascar" franchise has pulled in almost $50 million since opening last weekend.
The PG-rated film follows the penguins Skipper, Kowalski, Rico and Private as they work with undercover organization the North Wind to stop Dr. Octavius Brine from destroying the world. Benedict Cumberbatch and John Malkovich voice some of the characters.
Meanwhile, the Warner Bros.-distributed comedy "Horrible Bosses 2" jumped from fifth to third, adding $8.6 million to its domestic gross.
The Sean Anders-directed film, which cost about $43 million to make, brings back comedic trio Nick (Jason Bateman), Kurt (Jason Sudeikis) and Dale (Charlie Day). It also stars Jennifer Aniston, Kevin Spacey, Jamie Fox and Chris Pine.
Though the raunchy R-rated comedy didn't premiere as strongly as tracking suggested it would last weekend, the film picked up the pace this week. It has pulled in about $36 million to date.
Disney's "Big Hero 6" and Christopher Nolan's "Interstellar," both wrapping up their fifth weekend in theaters, remained steady in the top five.
"The Pyramid," which debuted in 589 theaters this weekend, finished in ninth with $1.35 million.
Twentieth Century Fox's microbudget horror film has not yet been graded by polling firm CinemaScore, but it did receive poor reviews from critics.
In its return to theaters, "Nightcrawler" finished at No. 12 and added about $1 million to its domestic gross. The Open Road film, starring Jake Gyllenhaal, has taken in about $30 million to date.
Though the mainstream box office wasn't quite as strong across the board, many art-house films thrived.
"Wild," based on the memoir by Cheryl Strayed, had a strong premiere in 21 theaters in seven markets. Directed by Jean-Marc Vallée ("Dallas Buyers Club"), the film follows Strayed (Reese Witherspoon) as she hikes more than 1,100 miles of the Pacific Crest Trail. The Fox Searchlight film been well-received by critics and audiences.
"[The debut] tells us we are reaching a broad audience and we can feel comfortable moving with our plans in the coming weeks," said Frank Rodriguez, Fox Searchlight's head of distribution. "We are very encouraged by what we saw."
The studio plans on releasing the film in 800 theaters by Christmas, Rodriguez added.
"I think we are going to find success in reaching out a little broader," he said. "'Wild' brings something different. It's a unique film and a story a lot of people can relate to."
Meanwhile, Fox Searchlight's "Birdman" added $1.15 million and rounded out the top 10 in its eighth weekend at the box office.
Focus Features' "The Theory of Everything," which is playing in 826 theaters, held its No. 7 spot. It pulled in $2.7 million in its fifth weekend, raising its cumulative gross in the U.S. and Canada to about $13.6 million. The well-reviewed film is based on Jane Hawking's memoir, "Travelling to Infinity: My Life With Stephen." It stars Eddie Redmayne as Stephen Hawking and Felicity Jones as Jane.
"The Imitation Game" added $401,570 over the weekend. The Weinstein Co. film, which stars Cumberbatch and Keira Knightley, has pulled in about $1 million since its release. Next weekend, it will expand to 30 to 35 theaters in six new markets: San Francisco, Boston, Chicago, Washington, D.C., Philadelphia and Toronto.
For more news on the entertainment industry, follow me @saba_h
---
From the Emmys to the Oscars.
Get our revamped Envelope newsletter for exclusive awards season coverage, behind-the-scenes insights and columnist Glenn Whipp's commentary.
You may occasionally receive promotional content from the Los Angeles Times.