Google hopes Disney's 'Miles From Tomorrowland' inspires future coders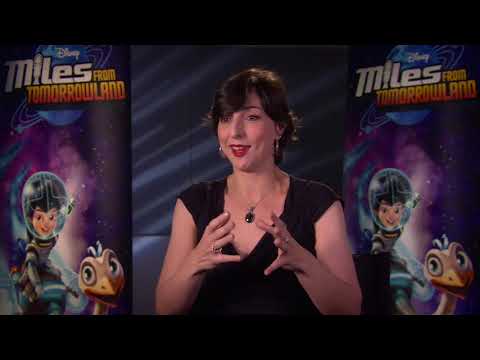 Coding and animation meet in Disney Junior's new show, "Miles From Tomorrowland."
Google is looking to Disney Junior to help with a computer science problem?
It's true.
The tech giant worked with the children's channel on the new animated preschool series "Miles From Tomorrowland," in an effort to get kids -- particularly girls -- interested in computer science.
The program, which premieres Friday, introduces the preschool crowd to Miles Callisto, a young space adventurer, and his family -- big sister (and coding extraordinaire) Loretta and their scientist parents Phoebe and Leo.
Google engineers served as consultants on the show, further building on the company's relationship with Disney (the company has partnered with Disney's film arm before) and continuing its work with Hollywood.
"When we did our computer science research, we found the No. 2 reason why girls in particular are not pursuing it as a career is because their perception was fairly negative and they associated it as a field for boys," said Julie Ann Crommett, Google's program manager for computer science in media.
By the year 2020, there will be 1.4 million computing-related job openings, but only 32% of them could be filled by U.S. computing undergraduates, according to the U.S. Department of Labor. And according to data from the National Science Foundation, 18% of computer scientists are women. The figures are especially low when looking at ethnic minorities.
And coding is not only integral to the field, but in everyday life. Code, in a nutshell, is computer language. It serves as a set of instructions given to any computer in order for it to perform desired functions -- like taking money out of an ATM or reading a post on a website.
Coding has become a hot topic issue -- even President Obama has given it a try. England recently added coding to its national curriculum.
"Perception has a huge reason to do with why kids are not choosing computer science," Crommett said. "And those perceptions are influenced early by what kids are seeing onscreen. We need a way to shape and mold them before they get to high school, so they can see they have the ability to be a maker and are capable of technical thinking at a young age. Something that is becoming increasingly important in this day and age."
In "Miles From Tomorrowland," Loretta is a super cool older sister/computer whiz sidekick who records data from the adventures and discoveries and can find the answer to almost anything with the assistance of a special wrist device known as "the bracelex."
One episode has Loretta writing code that helps her find another planet.
"We really wanted Loretta to be aspirational," said "Miles From Tomorrowland" creator Sascha Paladino. "There's a lot of Miles wanting to learn from her, like, 'How did you do that?' A big takeaway from our talks with Google is that you can do anything with coding. And we wanted to show that."
I tweet about TV (and other things) here: @villarrealy
From the Oscars to the Emmys.
Get the Envelope newsletter for exclusive awards season coverage, behind-the-scenes stories from the Envelope podcast and columnist Glenn Whipp's must-read analysis.
You may occasionally receive promotional content from the Los Angeles Times.