You can get tattoos and photocopies in the Los Feliz building where Walt Disney once made magic
Marine Ter-Pogosyan often senses the presence of a Hollywood legend in her Los Feliz photocopy shop.
"My customers, they ask me, 'Do you see the ghost of Walt Disney?' And I say, 'Yeah, every day I feel it,'" Ter-Pogosyan said. "He is always here. And he is very happy."
If the Walt Disney Co. founder's spirit were to surface in any locale, this spot makes sense: Ter-Pogosyan's Extra Copy and a neighboring tattoo parlor and skateboard shop are housed in space that once served as the original offices of Disney's fledgling animation company.
The Kingswell Building at Vermont and Kingswell avenues in Los Feliz, home of Disney Bros. Studio from 1923 to 1926, can lay claim to being the birthplace of the world's largest entertainment company.
(Brian van der Brug / Los Angeles Times)
D.J. Chavez, a retired pro skateboarder who co-owns Kingswell, a skateboard boutique and tattoo parlor in the Los Feliz building that was home to Disney Bros. Studio, believes that Walt Disney may have set his hand on this wooden post in the middle of his store.
(Brian van der Brug / Los Angeles Times)
At Extra Copy in Los Feliz, the walls are covered in images of Disney characters and other items honoring the building's history.
(Brian van der Brug / Los Angeles Times)
Marine Ter-Pogosyan, owner of Los Feliz photocopy shop Extra Copy, with a mural of Disney characters that Ter-Pogosyan said was painted by a customer.
(Brian van der Brug / Los Angeles Times)
From 1923 to 1926, the Disney Bros. Studio was headquartered at the Kingswell Building at Vermont and Kingswell avenues. These modest storefronts, adjacent to a commercial strip lined with vintage clothing boutiques and ethnic restaurants, lay claim to being the birthplace of the world's largest entertainment company.
"You figure, if Walt was alive today, he might say, 'The neighborhood has changed,'" said Jim Ferraro, who owns the building. "When Walt was here, they had just paved Vermont. It was a whole different ballgame."
The roughly 16,000-square-foot building's past has largely gone unnoticed in a city long known for not appreciating the history of its built landscape. The Kingswell Building is not protected by any historical designation, which means that it could one day suffer the fate of countless other notable L.A. buildings — the wrecking ball.
And the neighborhood's Disney history already is fraught: The much larger studio that Walt Disney built on Hyperion Avenue after leaving the Kingswell Building was torn down decades ago. That site now houses a shopping center and a Gelson's supermarket.
The Kingswell Building's history could make it worthy of preservation, experts said.
"These are the not obvious landmarks, but it doesn't mean they are any less important," said Linda Dishman, president of the Los Angeles Conservancy. "For the preservation community, it is important to make sure all stories get told. Certainly, the creation of a company like Disney is very much an L.A. story."
Even so, there are no efforts underway to get the Kingswell Building listed as a Los Angeles Historic-Cultural Monument or placed on the National Register of Historic Places. Anyone can nominate a building for inclusion on those lists, and Ferraro said he would support such an effort. He has no plans to tear the building down.
"I'm too old for that," said Ferraro, 68, who also owns the Dresden restaurant next door.
Ferraro believes that Walt Disney would be pleased to see how his former offices are now being used.
"He would probably think, whoever wants to come in here, that's great," Ferraro said.
Walt Disney launched his animation career in Kansas City, Mo., in 1920. But when his Laugh-O-gram Studio failed after only about two years, he decided to move to Los Angeles, joining his brother Roy.
While Walt pursued a distribution deal for a film series he planned called the "Alice Comedies," he acquired an old movie camera and experimented with animation techniques, working out of the garage of his uncle's home on Kingswell. In fall 1923, a distributor agreed to release the "Alice Comedies."
On Oct. 16, 1923, Walt and his brother signed an agreement to produce the series and then made a deal to rent space in the Kingswell Building. They called their company Disney Bros. Studio. At first, the brothers rented the back half of a real estate firm's office and soon thereafter expanded next door.
According to "Disney A to Z," the company's official encyclopedia, the office was the studio's "first real location."
Disney experts say the work that Walt did at the Kingswell Building formed the foundation of his animation career. While there, the brothers produced the "Alice Comedies," about a little girl who has adventures with an animated cat.
"The three dozen shorts produced there over two years enabled the brothers to learn their craft, which they plied later … resulting in their fame and fortune," said Timothy Susanin, author of "Walt before Mickey: Disney's Early Years, 1919-1928."
Susanin visited the building about eight years ago and was pleased to see it still standing — even if it had been altered. (The addresses have been changed slightly over the years and the original brick facade has been covered.)
Many historic properties are protected because they have notable architectural features. Among such Los Angeles Historic-Cultural Monuments with Hollywood ties are the Egyptian Theatre and the Pantages Theater. But the Kingswell Building couldn't claim to have noteworthy architecture. The unremarkable L-shaped structure is painted gray, and air-conditioning units jut out from unadorned second-floor windows.
Still, Ken Bernstein, who heads the city of Los Angeles' Office of Historic Resources, said "it's very possible" that the building could be deemed historic and eligible for protection. Bernstein said the question is whether it "retains enough of what we call 'integrity' — whether it can still convey its association with that rich history."
"We have designated many local landmarks … because of their cultural significance," said Bernstein, whose office coordinates the city's historic preservation activities and works with the Cultural Heritage Commission, the entity that decides on the awarding of monument status.
Bernstein noted that other architecturally unexceptional buildings have been awarded a historic designation. He cited the Black Cat, a former bar in Silver Lake that was declared historic because of its role in the gay rights movement of the 1960s. The humble building that housed the bar is now home to a restaurant of the same name.
In Chicago, there is an effort underway to honor a similarly pedestrian building: the residence where Walt Disney was born. At Disney's recent shareholders meeting, Chief Executive Robert Iger announced that the company would donate $250,000 to the restoration of the house.
Disney would not say whether it would support any effort to preserve the Kingswell Building, but offered a tribute to the legacy of Walt Disney and his brother.
"The fact that people continue to be fascinated by the places where Walt and Roy Disney lived and worked nearly a century ago speaks to the lasting impact of these innovators and the enduring affection for the beloved characters and timeless stories they created," a Disney spokesperson said.
But correspondence pinned to an interior wall of Extra Copy may offer a clue about Disney's thinking on matters of preservation.
In 1995, former Disney archivist David Smith wrote a letter to then-Extra Copy owner Ben Chaaban in which he addressed a request by the proprietor to turn the space into "a proper historic site" by, among other things, adding a plaque to the building. "We have not tried to promote any of the many Disney historic sites around Los Angeles," Smith replied. (Disney displays historical artifacts at Disneyland and its other theme parks, and in traveling exhibitions.)
The Disney brothers' time at the Kingswell Building was brief. Flush with success from the "Alice Comedies," they moved into a much bigger studio on Hyperion in 1926. (Disney moved to its current headquarters in Burbank in 1940.)
Even though the Hyperion property was torn down in 1966, it was named a Los Angeles Historic-Cultural Monument in 1976. A small placard out front is the only indicator of the site's significance.
About a mile and a half away, patrons at the Kingswell Building come to make 11-cent photocopies at Extra Copy or get their biceps tattooed at Kingswell without giving a second thought to the building's history.
I think you have to be a die-hard to know this place. I'm not pushy about telling people where they are.
— Kingswell co-owner D.J. Chavez
"I think you have to be a die-hard to know this place," said D.J. Chavez, a retired pro skateboarder who co-owns Kingswell. "I'm not pushy about telling people where they are."
The two businesses in the former studio space honor the Disney history in different ways.
Kingswell keeps things slightly subversive. At the store's tattoo studio, customers can get inked with images of Mickey Mouse. One popular tattoo depicts "Christ Air Mickey" — showing the character executing a skateboarding maneuver called the "Christ Air."
Chavez, 35, has also worked with fashion brands to carry limited-edition items that playfully poke at the squeaky-clean Disney image. Recently, he collaborated with clothing company Wolves Kill Sheep on a $40 T-shirt emblazoned with an image of Mickey Mouse that made the character look like a werewolf.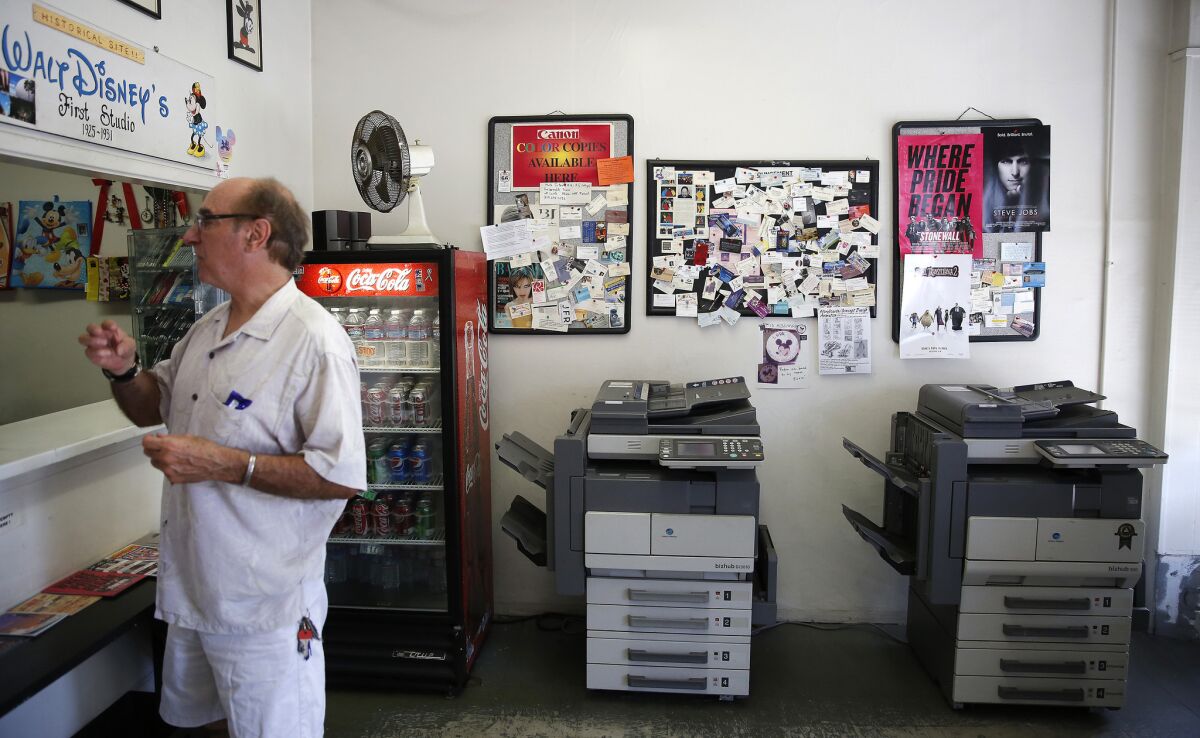 He said he hopes that the Kingswell Building could be designated a historic monument so that more people become aware of its significance. He said he tries to soak up an "aura of creative vibes" left behind by Walt Disney.
"I go to that wooden beam all the time and set my hand against it. He probably did that," said Chavez, gesturing at a weathered wooden post in the middle of the store. "Every time I'm here I feel like there is history around me — like a good, rad history."
Extra Copy is unabashed in promoting its connection to history. A sign at the shop reads, "Come make copies at the historic site of the first Disney Studios!" Inside, one wall is covered with a mural of Disney characters — including Mickey Mouse perched atop a photocopy machine — that Ter-Pogosyan said was painted by a customer.
My customers, they ask me, 'Do you see the ghost of Walt Disney?' And I say, 'Yeah, every day I feel it.' He is always here. And he is very happy.
— Marine Ter-Pogosyan, Extra Copy owner
On a recent afternoon, Betsy Cox Vargas, 85, parked her 1963 Mercury Meteor coupe in front of the store and went in to make some photocopies. Vargas, a former assistant at several Hollywood studios, said that in the early 1980s she was secretary to then-Warner Bros. executive Frank Wells, who'd go on to become president of Walt Disney Co.
She said her weekly visits to Extra Copy make her nostalgic for her time in Hollywood.
"It was a time when that whole industry was just like a big family," she said.
Twitter: @DanielNMiller
MORE:
Disneyland: Flashback photos from the early days
Digging up the ghosts of Disneyland's Haunted Mansion ride
Disneyland got off to a nightmare start in 1955, but 'Walt's Folly' quickly won over fans
---
Get our L.A. Goes Out newsletter, with the week's best events, to help you explore and experience our city.
You may occasionally receive promotional content from the Los Angeles Times.