Disney is poised for an earnings lift from 'Star Wars' amid angst over ESPN
Walt Disney Co.'s "Star Wars: The Force Awakens" is expected to cross the $2-billion mark at the box office this week, becoming just the third film to reach that lofty plateau.
The blockbuster space opera is the opening act in a multiyear push by Disney to infuse its various businesses with the "Star Wars" brand, generating billions of dollars in revenue for the Burbank entertainment giant.
Investors and analysts have cheered the plans, but that hasn't yet translated to gains on Wall Street. Amid a wider market downturn, Disney's stock has declined 19% in the last three months, the steepest drop among rivals Time Warner Inc., 21st Century Fox Inc., Comcast Corp. and Viacom Inc.
See more of Entertainment's top stories on Facebook >>
Shares of Disney have been in a slump since August, when concerns over the strength of its television business in the face of cord-cutting and questions about the high cost of sports rights led to a sell-off of many publicly traded media and entertainment firms.
This subject is likely to surface again Tuesday when Disney reports fiscal first-quarter earnings. Though "Star Wars" merchandise and movie ticket sales are expected to provide a big boost to the company, challenges in the TV business remain a lingering concern among many analysts and investors. Nielsen Co. said last summer that ESPN had lost about 3 million subscribers over the prior year.
"We are concerned about the ESPN situation, television itself, the whole television industry," said Janna Sampson, co-chief investment officer of OakBrook Investments, which owns about $25 million of Disney stock. "Are there continuing subscriber losses [at ESPN]? Any new issues? … I think people will be focused on that."
The subscriber losses mean that Disney will collect less money from pay-TV operators for the right to carry its content. Those cable programming fees generate huge profits for Disney and other media companies with cable TV channels.
ESPN long has been a cash cow for Disney and the biggest contributor to the company's lucrative cable group, which produced $16.6 billion in revenue and operating income of $6.8 billion for fiscal 2015.
Disney Chief Executive and Chairman Robert Iger addressed issues in the TV operation on a conference call with analysts in August.
"We're realists about the business and about the impact technology has had on how product is distributed, marketed and consumed," Iger said.
For years, nearly 100 million homes in the U.S. subscribed to a pay-TV service, via either a satellite, cable or telephone company. Now these operators are offering slimmed-down packages, which hurts Disney because the company has long relied on having ESPN and other premium channels such as ABC Family distributed to nearly all the pay-TV homes.
"It's an important quarter for the company, because they've lost a fair amount of market cap and there is more of a divergent view from Wall Street in terms of how it sees the future of Disney stock," said JPMorgan analyst Alexia Quadrani. "This is a stock that has had tremendous out-performance for many years, and that trend has corrected recently, therefore folks are looking toward what the results will be and what management will say."
Analysts are predicting earnings per share of $1.45 for the first quarter, well above the $1.27 per share Disney posted for the same quarter a year earlier, according to Zacks Investment Research.
Since early August, seven analysts who cover Disney have downgraded its stock, according to Yahoo Finance. The most vocal of the analysts to downgrade the stock has been Richard Greenfield of BTIG Research. Greenfield, who has a sell rating on Disney, said in a December note that the company overpaid for sports rights.
Pixar's animated comedy film imagines the moment when dinosaurs met human beings. While dinosaurs are known to have gone extinct, the tale illustrates how the creatures evolved into farmers instead, using their figures to dig trenches and slice tree branches.
(Pixar Animation Studios)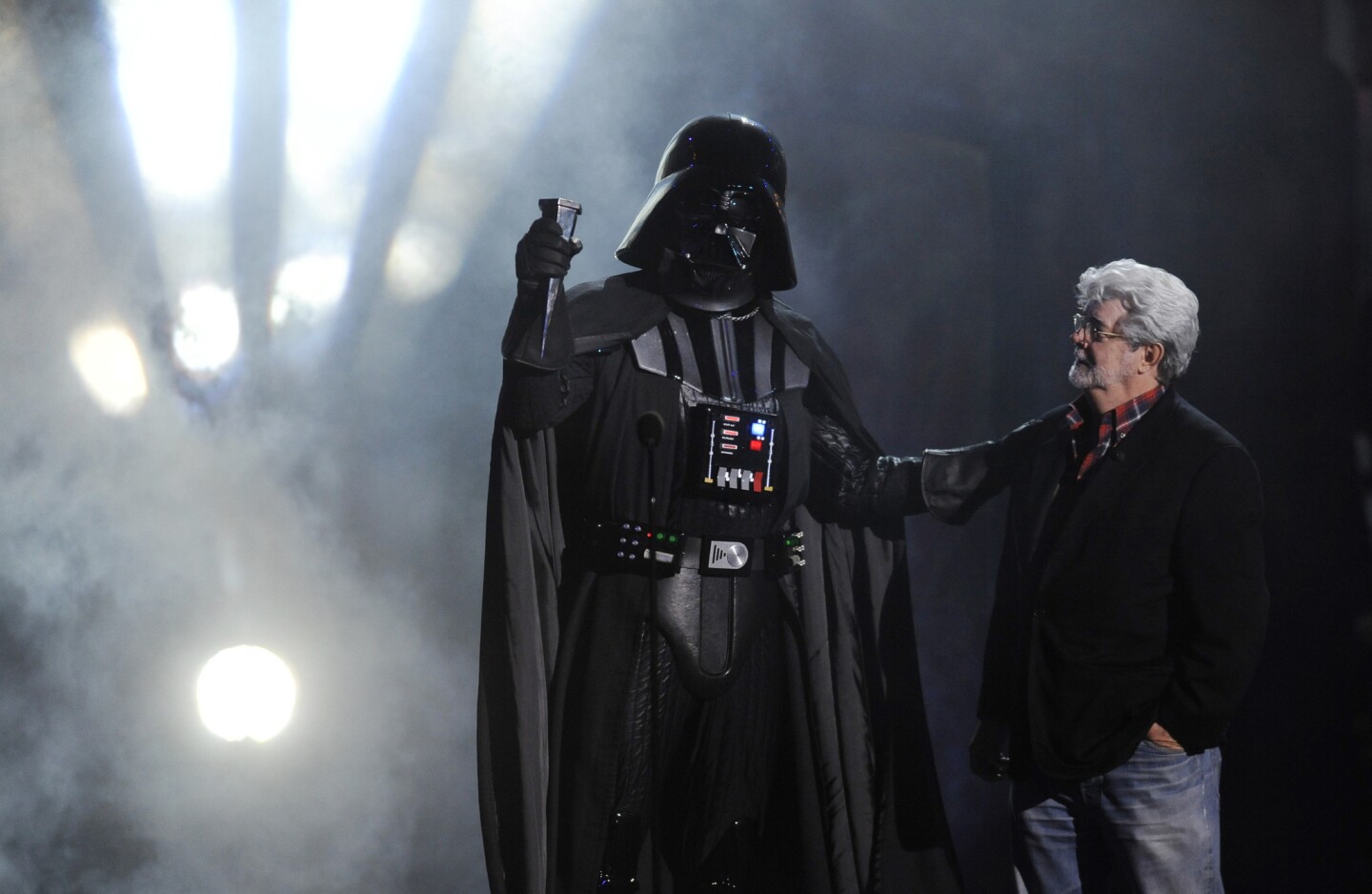 The saga continues in the seventh installment of the "Star Wars" series created by George Lucas. The latest film is being directed by J.J. Abrams.
(Chris Pizzello / Invision/Associated Press)
"Finding Dory" is the sequel to Pixar's 2003 comedy drama "Finding Nemo." The tale traces Dory's adventure to reunite with her family. Taking place a year after the original movie, the film features returning characters such as clownfish Marlin, son Nemo and the "Tank Gang."
(Pixar Animation Studios)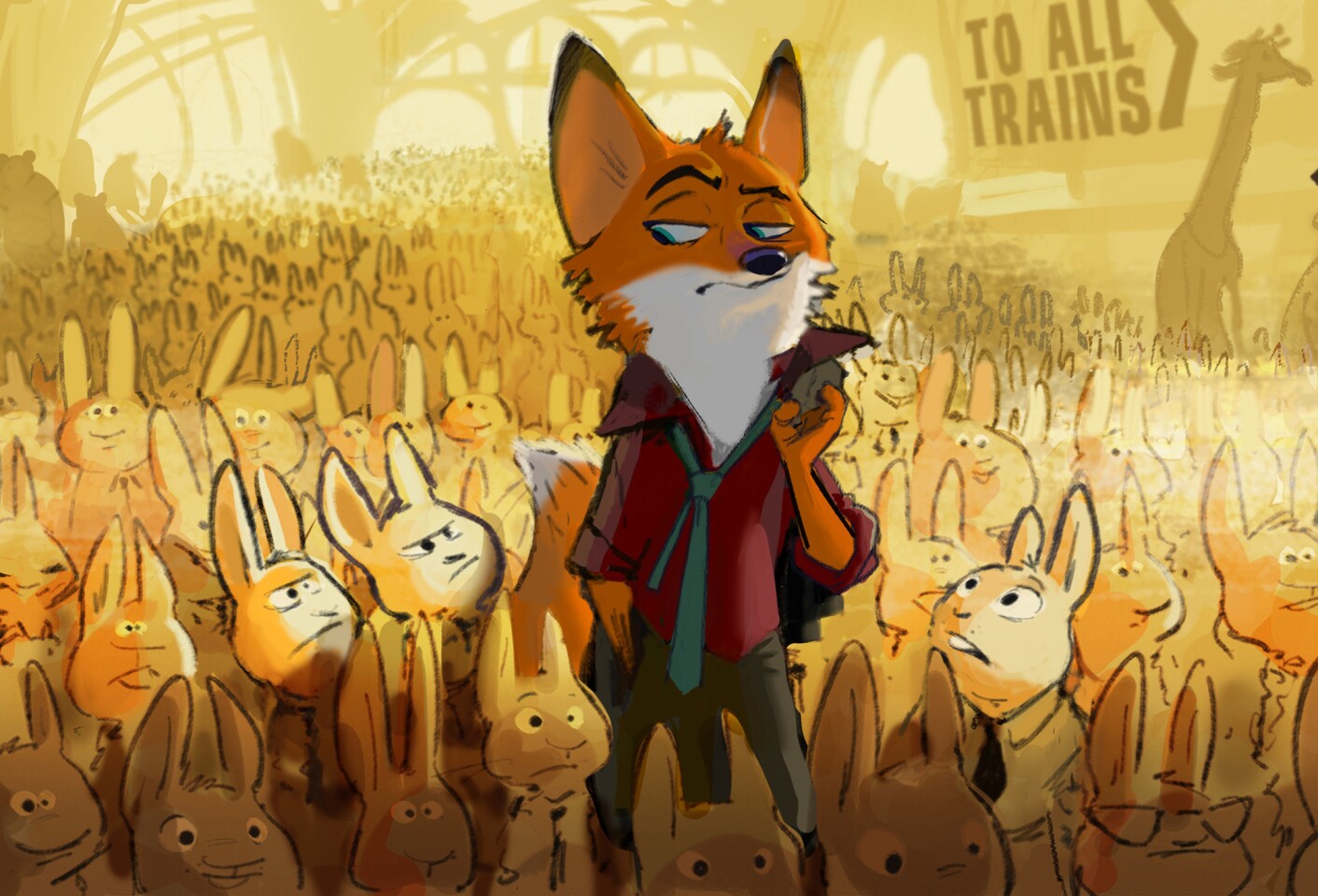 In the action comedy "Zootopia," a fast-talking fox is on the run from a crime he didn't commit. Zootopia's cop, a pompous rabbit, is out to get him. Until, that is, the two become the targets of a conspiracy, which then leads to a long-lasting friendship.
(Walt Disney Pictures)
Rian Johnson's "Star Wars" sequel was announced in March 2015. Disney acquired Lucasfilm, the production company behind "Star Wars," for about $4 billion in 2012. Photo above: "Star Wars: The Force Awakens."
(Lucasfilm / Disney)
In March 2015, Disney announced that "Frozen" filmmakers Chris Buck and Jennifer Lee, as well as the character Olaf, who was voiced by Gad, will return for the sequel.
(Disney)
ESPN's most important contract, NFL's "Monday Night Football," costs $1.9 billion a year. That was a 72% increase over the previous contract that ended in 2013. In its current deal to carry NBA games, the network's fee nearly tripled to $1.4 billion per year.
Some of the analysts who've downgraded Disney have cited the Nielsen data about ESPN subscriber losses. However, last week Nielsen said in a message to its clients that subscriber losses in the cable TV business were not as steep as previously stated. The revised estimate indicated that ESPN had lost 1.2 million subscribers in 2015.
Nielsen modified its estimates by removing a segment of households that it determined should not have been included in the count.
Even analysts with more positive views on Disney also say the trend of cord-cutting and escalating sports rights costs will continue to roil the business. "To be sure, a good half of [Disney's] operating income comes from that ESPN side of the business, and that is obviously very important," said Motley Fool analyst Jason Moser. "The concern is lost subscribers."
But Moser said that the trend of media firms offering content directly to consumers via streaming services — such as HBO Now — could ultimately sweep up Disney. "With the move to over-the-top distribution … we ultimately see that as an opportunity to grow that ESPN subscriber base," he said. "I don't think it'll be very long until we see ESPN offered a la carte."
Disney, which declined to comment, has not said when or if that might occur. However, Iger has said that he believes ESPN will one day be offered in stand-alone form.
"I think eventually ESPN becomes a business that is sold directly to the consumers," Iger said during a July appearance on CNBC's "Squawk Box."
See more of our top stories on Facebook >>
Some analysts contend that anxieties over ESPN are overblown.
"The concerns are overdone," Quadrani said. "Do I think it's an important issue and something to be focused on? Of course. No question, the subscriber trends are negative. Second, you have the high fixed costs for sports rights. But we don't think there will be a massive acceleration of subscriber declines. We still see ESPN being a healthy growth business albeit not necessarily a main growth driver."
Helping Disney is the fact that the company is enjoying success across many of its businesses. The theme parks and resorts group remains a strong performer and the film studio is poised to have another robust year at the box office. Among its hoped-for hits is a "Star Wars" spinoff movie scheduled for release in December.
The consumer products division is expected to post strong results in the quarter: "Star Wars" toys were top sellers this last holiday season, generating more than $700 million in sales, according to a report from retail research company NPD Group.
That's heartening to investors including Sampson.
"We still like Disney," Sampson said. "We wanted to stay in through the opening of the 'Star Wars' franchise, expecting, of course, good things out of that when we finally see earnings."
Times staff writers Meg James and Stephen Battaglio contributed to this report.
ALSO
Consumer Reports will continue controversial motorcycle ratings
David Lazarus: Why is the UC system investing in a payday lender accused of trapping people in perpetual debt?
Quake early warning system gets $3.6 million, but it's still a long way from goal
---
From the Emmys to the Oscars.
Get our revamped Envelope newsletter for exclusive awards season coverage, behind-the-scenes insights and columnist Glenn Whipp's commentary.
You may occasionally receive promotional content from the Los Angeles Times.