Digital projection has drive-in movie theaters reeling
Jeff Cunningham, 22, of Riverside, works in the projection room at the Rubidoux Drive-In Theatre in Riverside.
(Francine Orr / Los Angeles Times)
Hollywood is expected to stop producing 35-millimeter prints of movies sometime this year.
(Francine Orr / Los Angeles Times)
When Hollywood makes the switch, drive-in theaters must convert to digital projection systems or risk going dark.
(Francine Orr / Los Angeles Times)
The Rubidioux is one of eight drive-in theaters left in Southern California.
(Francine Orr / Los Angeles Times)
"Gangster Squad" plays at the uncrowded Rubidoux Drive-In Theatre.
(Francine Orr / Los Angeles Times)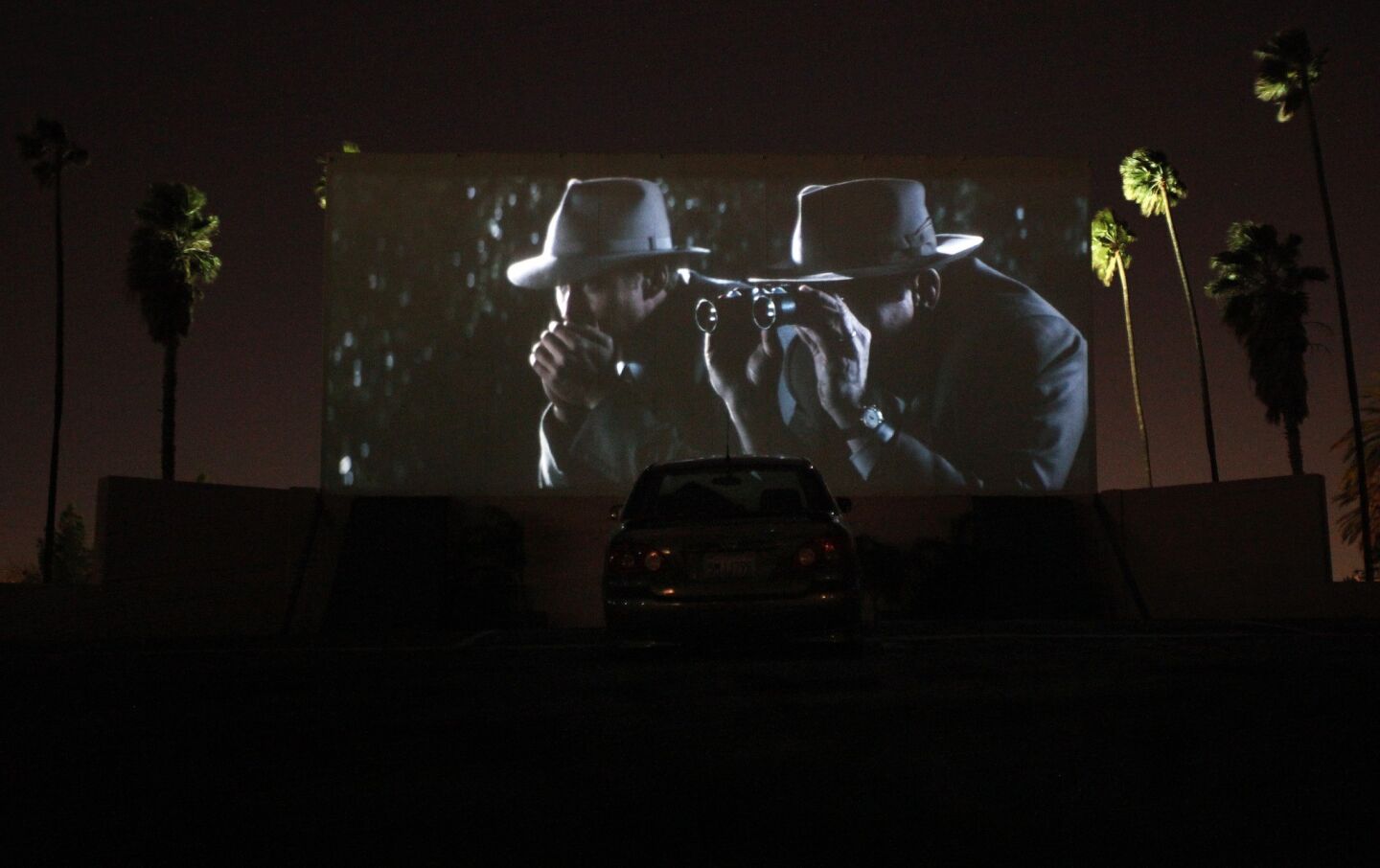 "Gangster Squad" looms large.
(Francine Orr / Los Angeles Times)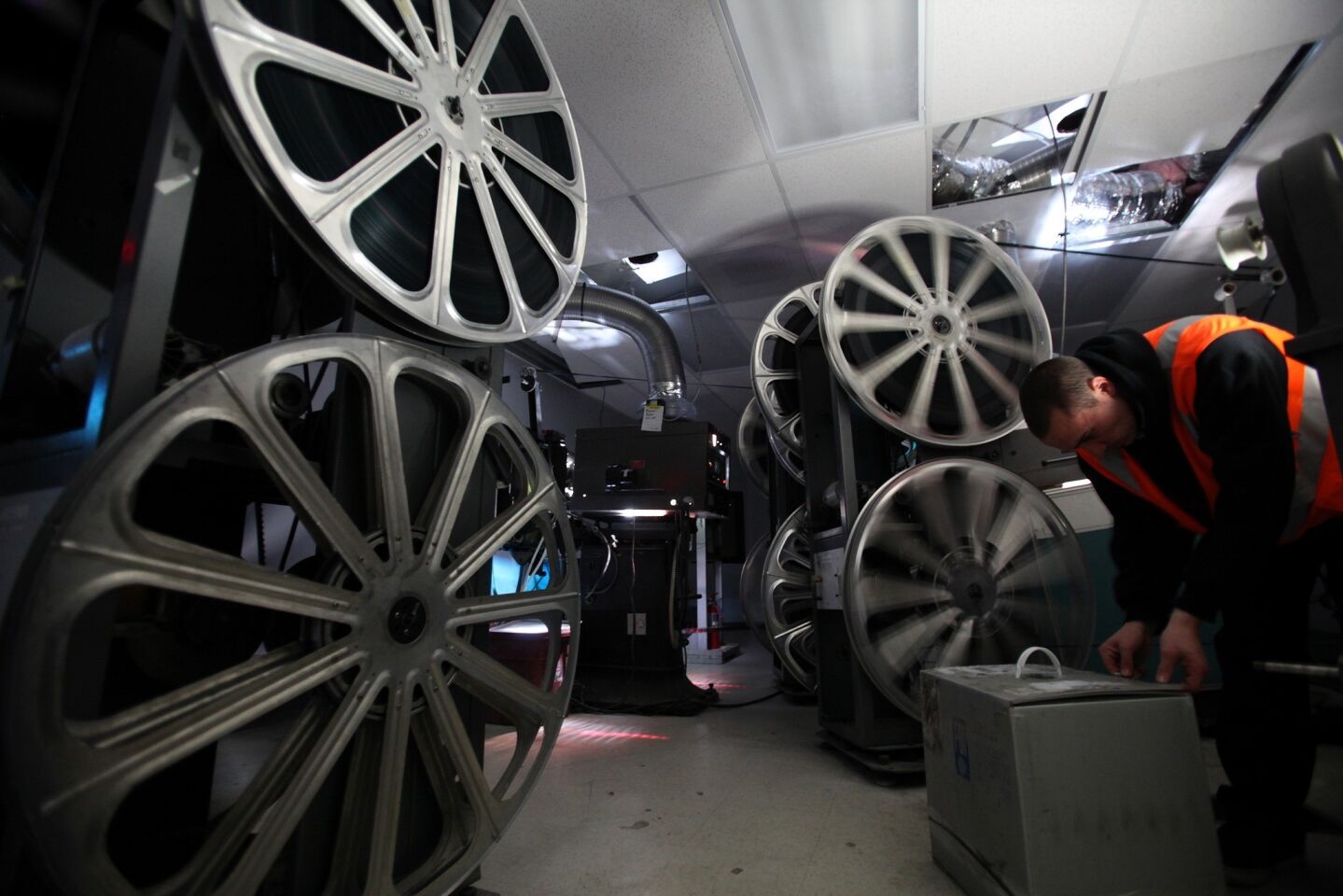 Jeff Cunningham in the projection room.
(Francine Orr / Los Angeles Times)
Drive-ins afford amenities not found with traditional indoor theaters. For example, Jill and Jennifer Foster watch "War of the Worlds" from the back of a pickup truck on Aug. 3, 2005 at the Crossroads Drive-In near Shiner, Texas.
(Michael Stravato / For The Times)
Christina Cruz-Madrid, then the mayor of Azusa, stands in front of the shuttered Azusa Foothill Drive-In.
(Richard Hartog / Los Angeles Times)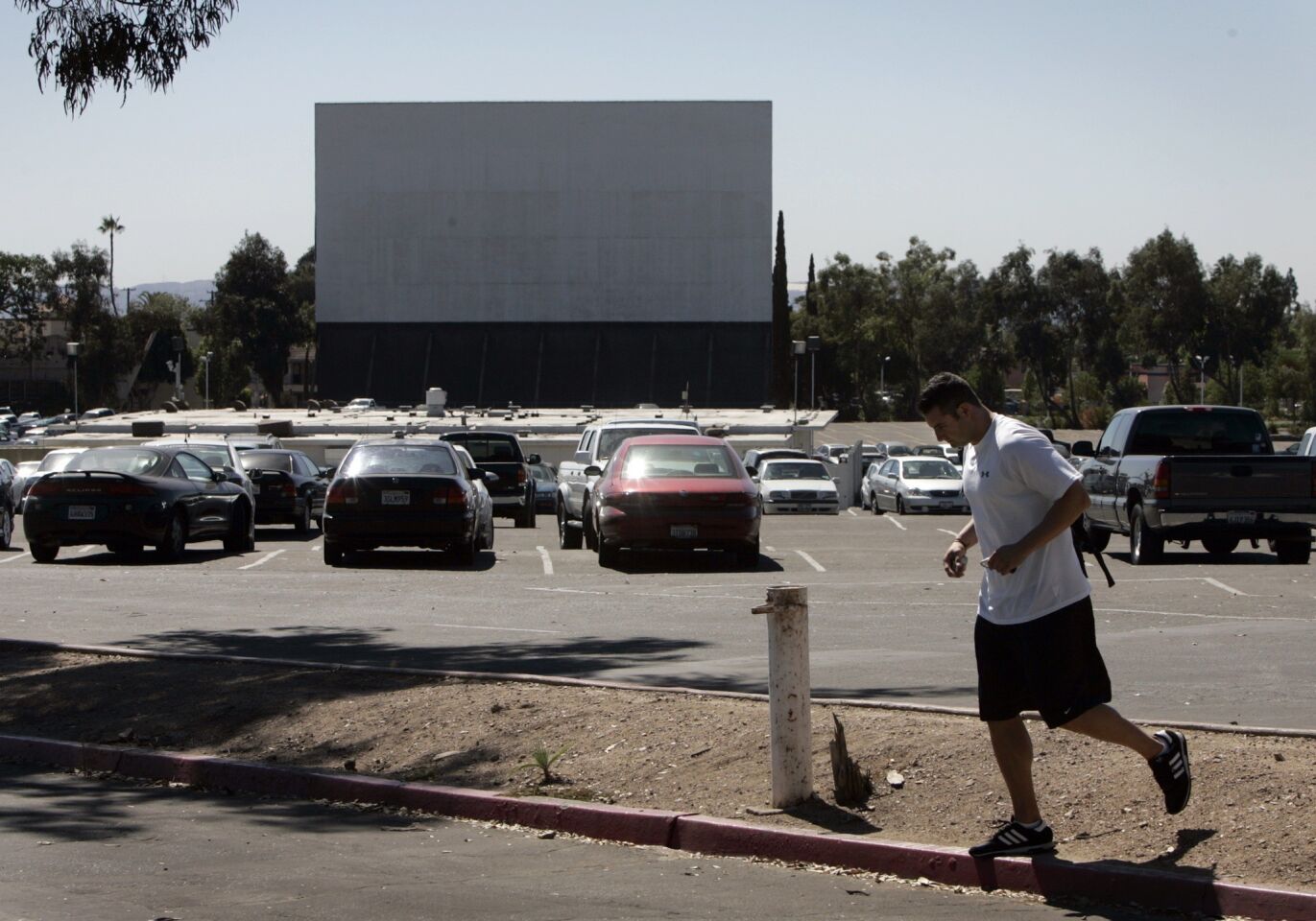 A student heads to class through the Azusa Foothill Drive-In in 2005. The drive-in served as a parking lot for Azusa Pacific.
(Allen J. Schaben / Los Angeles Times)
The Azusa Foothill Drive-In celebrated a Blast to the Past on June 2, 2001.
(Lori Shepler / Los Angeles Times)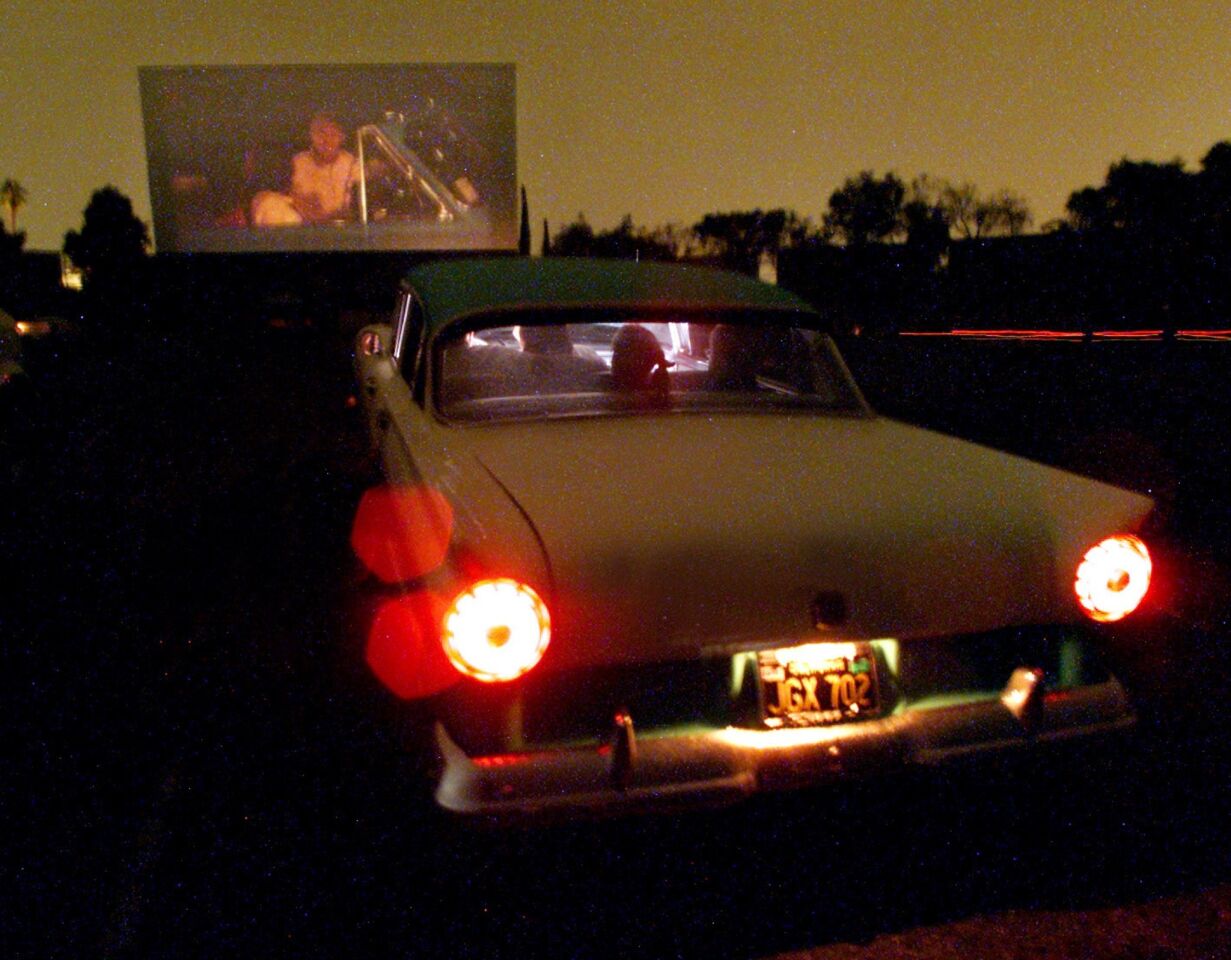 The Pacific Azusa Foothill Drive-In held a Blast to the Past celebration on June 2, 2001.
(Lori Shepler / Los Angeles Times)
The Guerilla Drive-In Theater set up under a bridge in Santa Cruz, Calif., in 2007. The theater prides itself on springing up in unexpected places.
(Robert Durell / Los Angeles Times)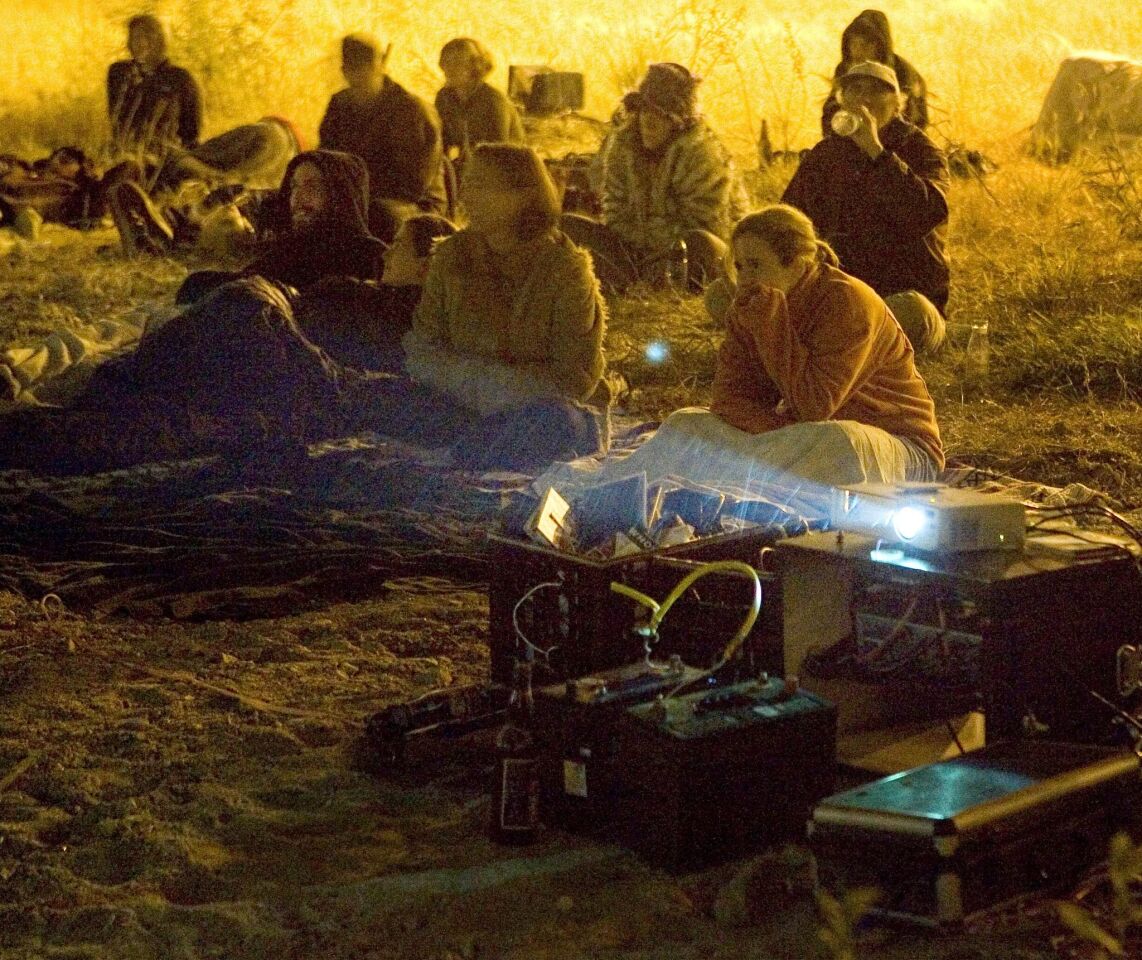 Audience members sit under a bridge as the Guerrilla Drive-In Theater screens "The Matrix" and other short films on the side of a bridge in Santa Cruz.
(Robert Durell / Los Angeles Times)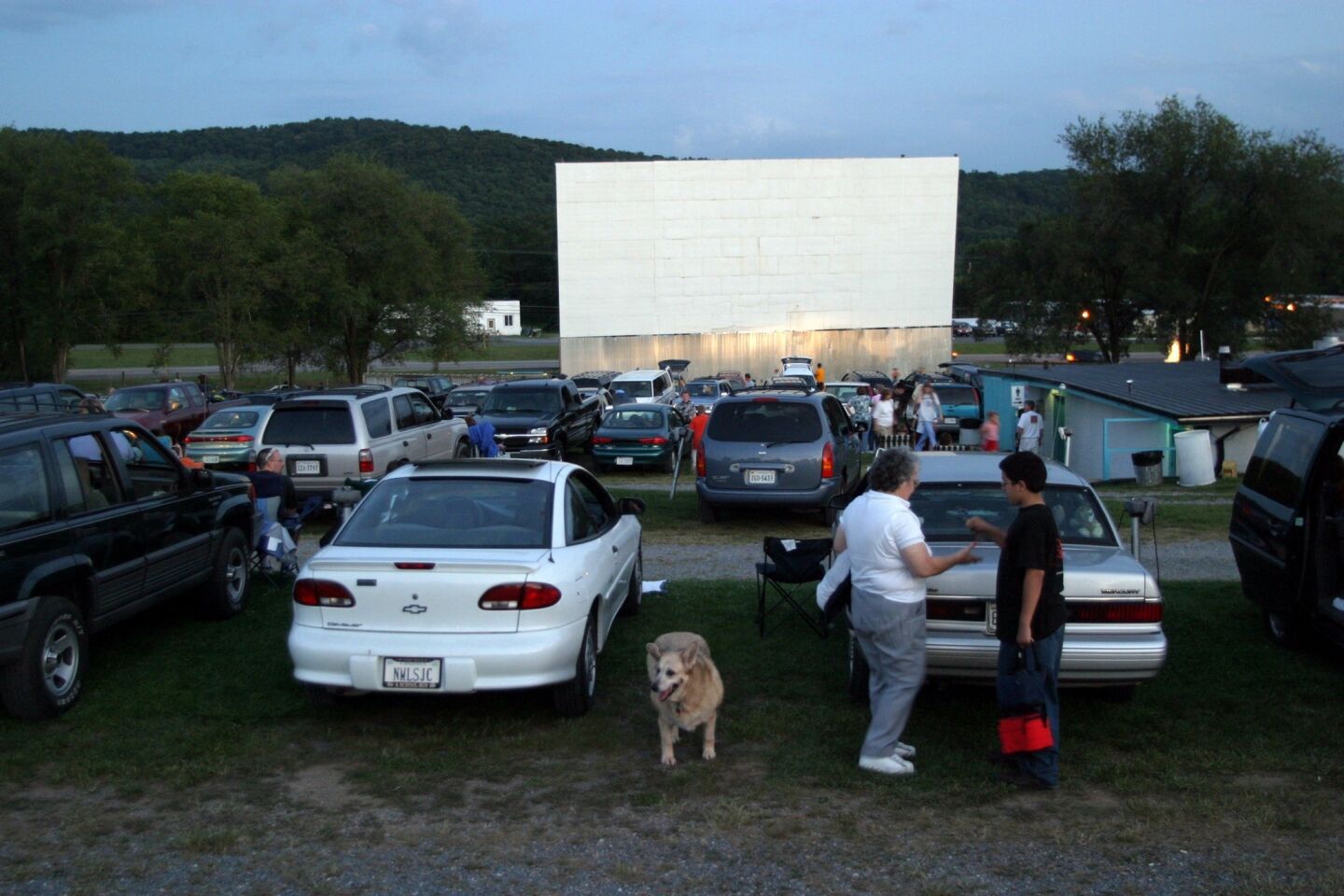 After being all but left for dead in the 1990s, drive-in theaters made a modest comeback in the USA in the early 2000s. Hull's Drive-In in Lexington, Va., was saved by demolition when the community bought the theater.
(Jay Paul / For The Times)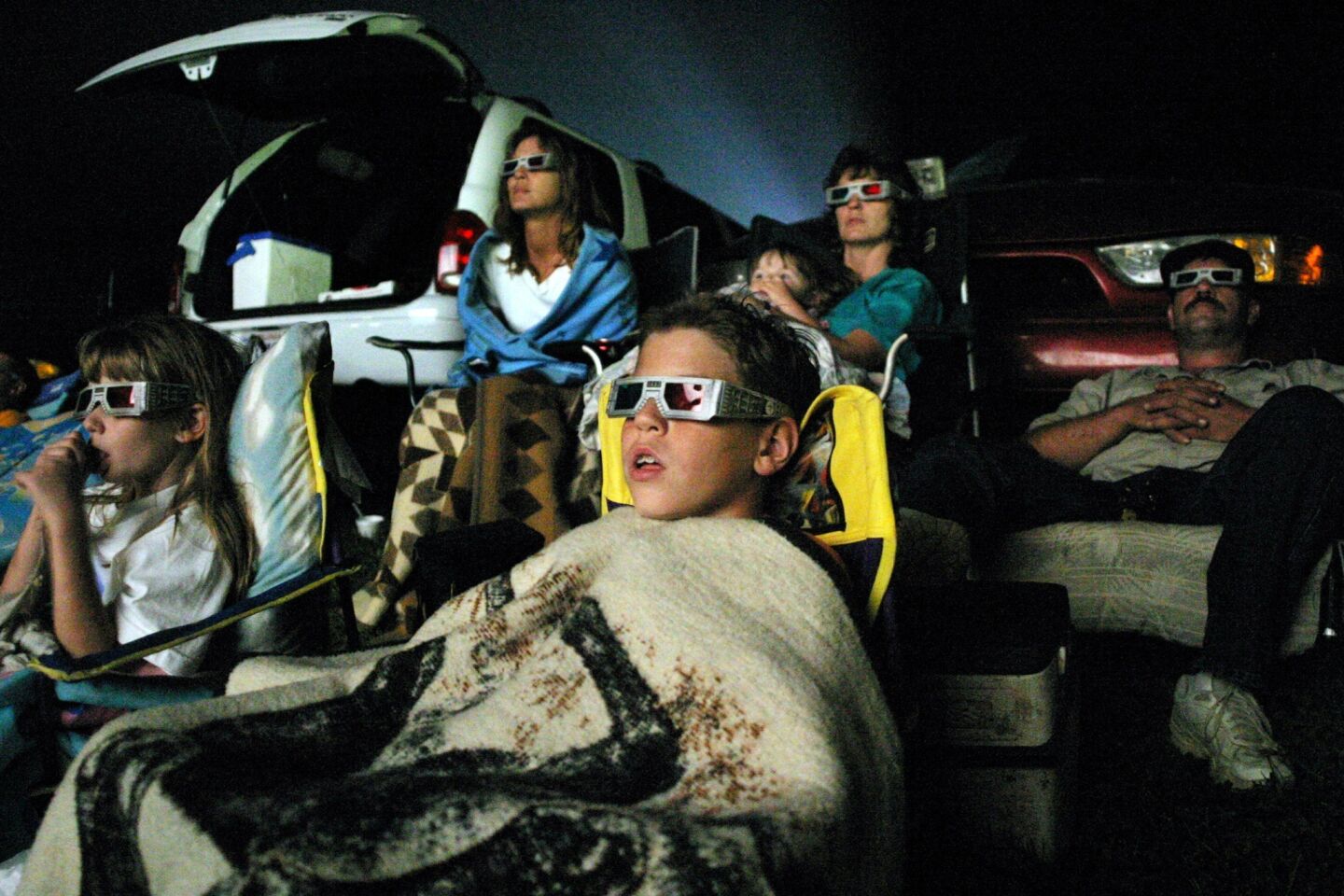 At Hull's in Lexington, Va., a family watches "Spy Kids 3-D."
(Jay Paul / For The Times)
As the night grew darker, a cold wind whipped across the asphalt expanse of the vintage Rubidoux Drive-In Theatre in Riverside. A howling gust banged open the door to the snack bar, where hot dogs glistened on metal spits and the black-and-white linoleum floor gleamed.
Quentin Tarantino's "Django Unchained" flickered to life on the colossal screen — for an audience of eight cars.
This time of year is always slow at drive-in theaters, which have been struggling with declining attendance for decades. But it's not just cold weather that has made this a winter of discontent. The digital revolution is here, and that could mean lights out for many of the nation's 368 surviving drive-ins.
PHOTOS: A look at drive-in theaters in Southland
Hollywood is expected to stop distributing 35-millimeter film prints to all U.S. theaters later this year. The vast majority of indoor theaters — hardtops, in drive-in lingo — have already converted to digital projectors, but 90% of drive-ins have not, according to an industry trade group. Conversion costs of $70,000 or more per screen could be too expensive for many drive-ins.
The Rubidoux plans to convert to digital projection, but its owner says the switch will be a struggle for many others.
"There's been panic, definitely," Frank Huttinger said. "Ma and pop outfits, second- or third-generation places, are hesitant to put up all that money."
The drive-in market today is a shell of what it was in the late 1950s, when teens and big families in big cars found drive-ins a fun alternative to indoor theaters. At their peak, there were more than 4,000 drive-ins, accounting for 25% of the nation's movie screens. Today, that's down to 1.5%.
By the late 1980s, more than three-quarters of American drive-ins had closed as multiplexes proliferated. Urban sprawl and soaring land values led many to be bulldozed to make way for malls and other commercial developments.
The drive-ins that survived have been doing better in the last decade, spurred partly by cost-conscious families who can see double features or first-run movies at half the price of the hardtops, said National Assn. of Theatre Owners spokesman Patrick Corcoran.
For younger audiences, there's the chance to travel back in time.
"My car's pretty roomy, and it's chill to sit there together," said Casey Welch, 19, who was at the Rubidoux Drive-In with girlfriend Jonnie Byrd.
In most of the country, drive-ins close for the winter. Some may not reopen this spring because of the high cost of digital conversion, said John Vincent Jr., the president of the United Drive-In Theatre Owners Assn. He declined to speculate on the number that may close.
None of the eight operating drive-in theaters in Southern California have yet converted to digital.
"It's a tough pill to swallow," Vincent said. He plans to spend $75,000 to convert the drive-in he owns on Cape Cod.
More than a decade ago, Hollywood created a financing plan to help traditional indoor theaters with the digital transition. Each time a cinema shows a digital movie, the studios give them a so-called digital print fee funded by the nearly $1,300 that the studios save on making and shipping a 35-mm print, said Chris McGurk, the chairman and chief executive of Cinedigm, a digital equipment provider for theaters.
But there is no such plan for drive-ins. Cinedigm and NATO officials said they are negotiating with the studios for a virtual print fee for drive-ins, but neither they nor studio officials could give details of the plan or say when it would be introduced.
The Rubidoux is owned by Los Angeles-based DeAnza Land & Leisure Corp. Huttinger, De Anza's chief executive, said converting 21 screens at all six of his company's drive-ins would cost nearly $2 million.
Drive-ins have unique projection needs. The booth typically sits more than a football field away from the screen, so the projector needs a much more powerful bulb to carry the image. Booths with a digital projector also need to be retrofitted with special glass, more vents, stronger air-conditioning and an Internet connection. Projectionists who used to put film onto reels will instead insert a jump-drive into a server the size of a refrigerator.
Jeff Kohlberg, the owner of the Cascade Drive-In in West Chicago, created a Kickstarter online fundraising campaign to help pay for his $100,000 conversion. He raised $1,200. Because getting film this summer seems "wishy-washy at best," he's forging ahead, using extra profits from this year and some money from his landlord.
But some proprietors aren't so fortunate.
The family of Gerry Herringer, owner of the Cottage View Drive-In in Cottage Grove, Minn., once owned 21 theaters in the Twin Cities. Converting his only remaining theater would cost Herringer about $75,000. Instead, he's selling the land to Wal-Mart.
"It's really kind of a stab in the heart to lose it," said Herringer, pausing to clear his throat. "It's a part of our family."
Box office data isn't tracked separately for drive-ins. Many are small, family-owned operations that don't publicly report financial information.
There are also small chains. West Wind, a seven-theater circuit based in San Rafael, Calif., does plan to convert all its screens in California, with company spokesman Tony Maniscalco saying revenue rose 43% over the last three years.
The first U.S. drive-in opened in Camden, N.J., in 1933. A year later, California's first drive-in opened at the corner of Pico and Westwood boulevards in Los Angeles, a city built for the car.
Juan Gonzales took his first drive-in job in 1974. As drive-ins slowly succumbed to changing tastes and became sites for retailers, Gonzales began moving from theater to theater as each shut down. He worked at the Sundown in Whittier, now a Home Depot; the Rosecrans in Paramount, now an El Pollo Loco and a Wendy's; and the Sepulveda, the 101 and the Van Nuys, all now gone.
"It was like a culture that began to disappear," Gonzales said. "A piece that is missing in the heart of California."
Some drive-ins remain as sites for concerts and swap meets, but the only drive-in left in Los Angeles and Orange counties that shows movies is the Vineland Drive-In off Interstate 10 in the City of Industry, which Gonzales manages. Renovating all four screens would cost more than $320,000, he said. Management is considering renting digital projectors as a stopgap for the next few years.
"We know it has to be done before the summer," Gonzales said. "We don't get digital, we don't get movies, we don't get business."
For drive-in fans, the cocoon of a car is again a novelty, and a blessing for those who want to text during movies, run to the snack bar multiple times or pay lower ticket prices. The theaters attract baby boomers who remember the drive-in era and young couples who've heard their parents reminisce about it.
Melanie Medina, 20, and her boyfriend Jesse Gaeta, 19, both from Highland Park, first visited the Vineland after hearing Medina's mother talk about going to the drive-in as a child. They've been back five times. They were sharing a hot dog and nachos at the snack bar before "Sinister" came on, a movie that had already left theaters.
"We like it because you can get out of your car and smoke and not miss anything," Gaeta said.
---
From the Oscars to the Emmys.
Get the Envelope newsletter for exclusive awards season coverage, behind-the-scenes stories from the Envelope podcast and columnist Glenn Whipp's must-read analysis.
You may occasionally receive promotional content from the Los Angeles Times.