Epix and L.A. Times team up on 'Hollywood Sessions' interview series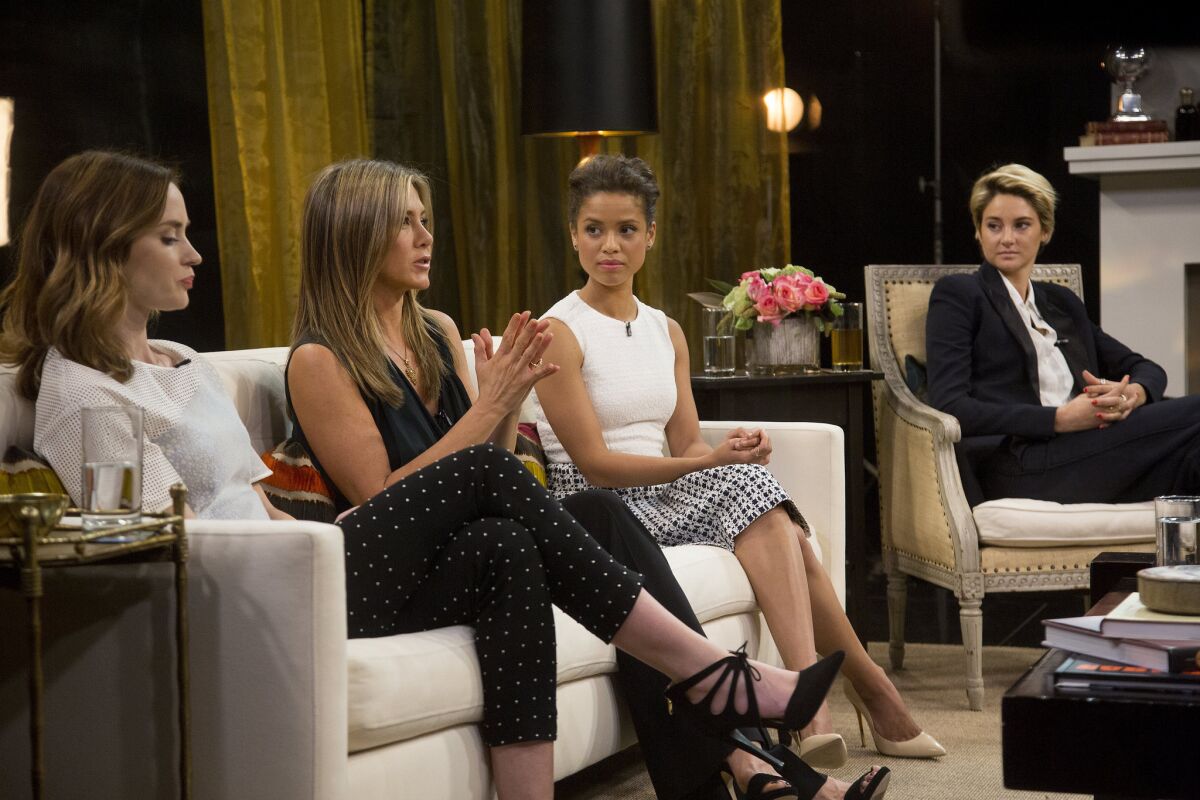 Premium movie channel Epix and the Los Angeles Times have teamed up to co-produce a new series featuring interviews with award-contending film actors and directors.
The five-part series, called "Hollywood Sessions," debuts on Epix at 8 p.m. Dec. 8. Excerpts from the roundtable conversations will also appear in the Envelope print section of The Times, and online at https://www.latimes.com/envelope.
The show is hosted by Times film writers Rebecca Keegan and Mark Olsen, who interview leading contenders for the Oscars and other awards. The first hourlong episode focuses on the lead actress category and features Jennifer Aniston, Emily Blunt, Shailene Woodley, Jessica Chastain and Gugu Mbatha-Raw.
For the lead actor episode airing Dec. 29, the guests will be Steve Carell, Benedict Cumberbatch, Michael Keaton, Eddie Redmayne and Robert Downey Jr. Other episodes will feature conversations with actors and actresses in supporting roles, as well as feature film directors.
The executive producer on the series is Embassy Row President Michael Davies, whose TV credits include Bravo's "Watch What Happens: Live" and AMC's "The Talking Dead." Embassy Row provided production services for Epix and The Times as part of "Hollywood Sessions."
Epix, distributed by Time Warner Cable, Cox Communications, Dish Network and Charter Communications, among others, is available to 50 million homes in the U.S. The 5-year-old network is a joint venture of three movie studios: Viacom Inc.'s Paramount Pictures, Lionsgate and Metro-Goldwyn-Mayer.
Epix has been looking for ways to introduce programming to appeal to movie fans interested in the inner workings and personalities of Hollywood. It will also air "Hollywood Sessions" through its on-demand service, Internet site and mobile app.
From the Oscars to the Emmys.
Get the Envelope newsletter for exclusive awards season coverage, behind-the-scenes stories from the Envelope podcast and columnist Glenn Whipp's must-read analysis.
You may occasionally receive promotional content from the Los Angeles Times.