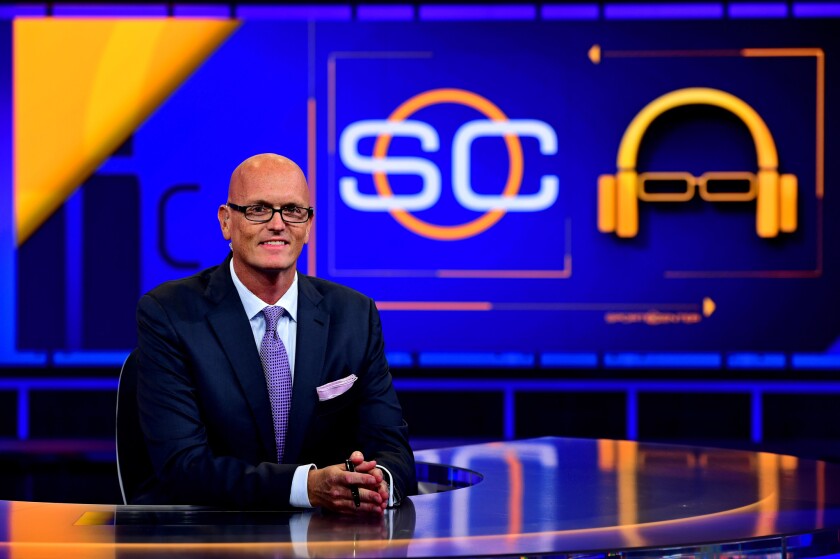 ESPN has been taking a beating in the last few quarterly earnings statements from parent company Walt Disney Co. The refrain is the same every three months — cord-cutting by cable and satellite TV subscribers means less revenue for the sports TV behemoth.
But cable-cutting didn't come up at ESPN's annual "upfront" advertiser presentation at the Minskoff Theatre in Times Square. Madison Avenue doesn't care about lower subscriber revenue the way Wall Street does. The company fought any perception that its audience is any less engaged, despite changes in viewing habits and the departure of some of its high-profile talent.
The theme of ESPN's event, "At the Speed of Live," highlighted one main advantage of sports programming: Viewers want to watch it the moment it happens, unlike scripted shows that can be watched any time on streaming video services or a DVR.
FULL COVERAGE: TV Upfronts: Cancellations, renewals and new series orders
The network also made light of ad industry concerns over whether consumers are getting what they pay for on YouTube and other sites.
ESPN "SportsCenter" anchor Kenny Mayne made his stage entrance by rising halfway through a trapdoor to illustrate the point that consumers don't always see a full ad when they watch streaming online video. The message: TV is a more reliable platform for advertisers.
But ESPN also touted how the audience for its own streaming video content is rapidly growing, a key to connecting with the 18-to-34-year-old demographic that is leaving conventional TV.
Executives emphasized the growth in its "over-the-top" stream, which requires a cable subscription. ESPN's coverage of the NBA playoffs is averaging 252,000 viewers online on its WatchESPN and ESPN apps, up 23% from last year. Overall, WatchESPN is reaching 7.4 million unique devices a month so far in 2016, up 37% compared with the same period last year, the network said. WatchESPN can be viewed anywhere on an Internet-connected device.
The network also fought back against the notion that it's hurting after the high-profile departures of Colin Cowherd and Bill Simmons last year, and the exit of long-timers Mike Tirico, who moved to NBC, and commentator Skip Bayless, who jumped to Fox Sports.
ESPN turned to a veteran voice, Sean McDonough, as Tirico's replacement in the booth at "Monday Night Football," where he'll join Jon Gruden. And the never-shy Steven A. Smith took to the stage to address the exit of Bayless, his co-host on the daily ESPN2 program "First Take."
"I'm going to miss him, but we move on," Smith said. "Because the bosses informed me that it's my show now. Obviously we're going to make room for somebody else to replace Skip. They will be ultra-talented, there is no doubt about that. But since I'm leading the way, I just have to remind them that they can expect insightful, very provocative commentary, and people will be watching. … Whatever you've been getting, you'll continue to get, but even better."
ESPN's ability to develop new stars appears to be generating some ratings results with its efforts to become a destination in late night with Scott Van Pelt's offbeat midnight edition of "SportsCenter."
The program was designed with the late-night comedy audience in mind. Just nine months after its low-key launch, Van Pelt's ratings topped every late-night talk show on broadcast and cable among male viewers ages 18 to 34 in the first quarter of 2016.
"We don't just beat the sports [programs], we beat all of them," Van Pelt said, naming every major late-night host. "I'm as shocked as you are."
---