Faith-based films are building followings at the box office
In the weeks before the opening of Sony Pictures' "Miracles From Heaven," producer DeVon Franklin flew to churches around the country to screen the inspirational Jennifer Garner film about a young girl diagnosed with a rare medical condition.
At one gathering of 400 people in Baltimore, he said, audience members responded to the film by sharing their own stories of healing and loss. One woman took the microphone to talk about her son who was shot to death four years ago.
"This is why I've dedicated my life to making stories like this," said Franklin, a Christian and former Columbia Pictures executive who has a production deal with Sony. "It's more than a ticket sale at the box office. It becomes real-life ministry."
Faith-based films are a growing, often profitable segment of the entertainment industry, and more producers and executives are trying to tap into the market for belief-affirming movies. The 2015 prayer-focused hit "War Room" cost just $3 million to make but grossed $67.8 million in box-office receipts. "Miracles From Heaven" and the biblical epic "Risen" have generated strong business despite opening only a few weeks apart.
Each of those films was produced by Sony's faith-based division, Affirm Films.
And there's plenty more on theater owners' schedules. A sequel to the 2014 indie drama "God's Not Dead" arrives in theaters April 1, courtesy of production company Pure Flix. Paramount Pictures is preparing to unleash its new version of "Ben-Hur," co-produced by Metro-Goldwyn-Mayer, as a big-budget summer tent pole slated for August.
"Hollywood is still learning," said Chris Stone, founder of the Christian advocacy group Faith Driven Consumer, which says 17% of Americans make purchasing decisions primarily based on their religious beliefs. "The community is hungry for content, and there's very little content that is strictly made for them."
Box-office prognosticators routinely underestimate the pull of such movies, partly because they tend to draw people who don't often go to see movies in theaters.
"It's easy to put these movies on the side," said Paul Dergarabedian, box-office analyst at ComScore. "But it's hard to ignore movies that are this successful on a regular basis. I feel like this genre is really coming into its own."
Film industry executives are still trying to find the best ways to pursue religious moviegoers and overcome the enduring perception that the studio system is out of touch with Christians. Movies with biblical themes have generally lacked the star power, financial backing and production quality to compete with secular studio fare.
But that's starting to change.
Mainstream producers, directors and actors are increasingly attaching themselves to such projects as the box-office prospects grow. Dennis Quaid starred in the 2011 offering "Soul Surfer." Joe Roth, known for mainstream blockbusters such as "Maleficent," produced "Miracles From Heaven" and 2014's "Heaven Is for Real." For "Miracles," the studio recruited Patricia Riggen, the director of the Warner Bros. Chilean miner movie "The 33."
The bigger Hollywood names have helped to broaden the audience for Christian films, boosting their box-office appeal.
"Heaven Is for Real," starring Greg Kinnear, caught Tinsletown off guard with its $91 million in domestic ticket sales, and "Miracles From Heaven" grossed $18 million in its first five days in theaters, exceeding the studio's projections.
"The craft is getting better within this space," said Rich Peluso, head of Affirm Films. "If someone had sat me down 10 years ago and said you're going to be working with Dennis Quaid, Jennifer Garner and Patricia Riggen, I would have said you're insane."
Affirm Films in particular has found success within the niche. The unit has developed a track record of deftly marketing its movies by reaching out directly to pastors and other religious leaders. The tactics have paid off, resulting in about $350 million in ticket sales since the unit launched in 2007.
The company takes pains to meet with pastors to see if they're comfortable promoting the movies to their congregations. For some releases, Affirm and its ad agencies even distribute sermon notes and discussion guides for small Bible study groups. Multiple churches held their own screenings for "Miracles From Heaven," including One Church Los Angeles.
One Church bought out two screens at the AMC Century City for members of the congregation to see it for free, in place of the church's traditional Wednesday night worship service.
"We went to that film praying that it was something we could be proud of," One Church Pastor Touré Roberts said. "We were very pleased to see that it was a great movie that also happened to have a faith-based message."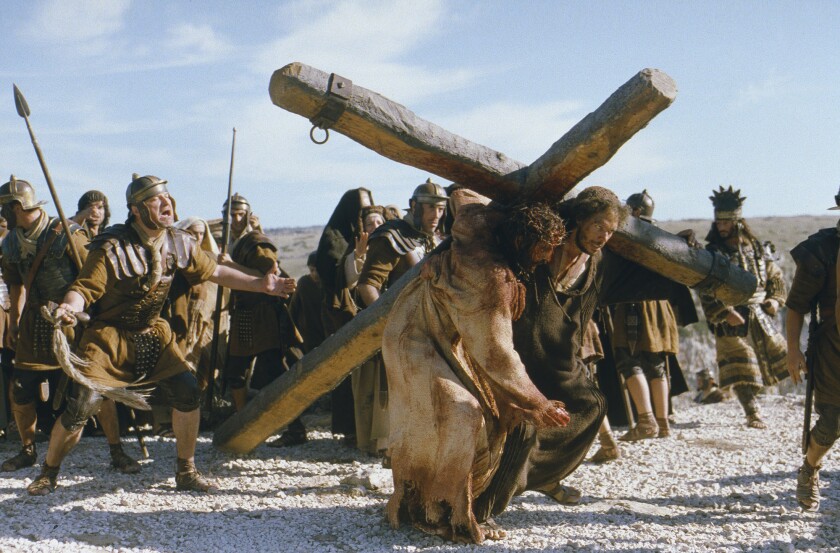 Studios and cinemas have benefited from selling tickets in bulk to places of worship. Mel Gibson's 2004 film "The Passion of the Christ" grossed $370 million in the U.S. and Canada, in part thanks to churches that bused the faithful to cinemas. But religiously inclined marketers have become more digitally adept since then. A Web page for "Miracles From Heaven" encouraged people to share their photos of loved ones, and the movie got social media boosts.
Now the filmmakers and studio executives are hoping to broaden the market. For "Miracles From Heaven," Affirm wanted the movie to reach not only devoted Christian moviegoers but also possible fans who aren't regulars in the pews. Riggen, the director, said she consciously tried to expand the story's audience beyond the hard-core Christian base.
"I didn't approach the material from the religious point of view," she said. "I approached it more as a spiritual and inspiring story."
Not all Christian movies score at the multiplex. Affirm's family comedy "Moms' Night Out" faltered in 2014. More recently, Focus Features' offering "The Young Messiah," the Hayden Christensen drama "90 Minutes in Heaven," and the Kate Mara thriller "Captive" all failed to break out.
------------
FOR THE RECORD
March 28, 1:30 p.m.: An earlier version of this article incorrectly said Rooney Mara starred in the movie "Captive." The star of the film was Kate Mara.
------------
Biblical adaptations can be especially risky for studios, which have to be careful to market their movies to churchgoers without pandering. Filmmakers can sometimes run afoul of Christian advocates by appearing to take liberties with the source material, a problem Paramount encountered with Darren Aronofsky's "Noah."
But others resonate with Christian audiences. That was the case for Bryan Schwartz, a Christian minister, former NFL player and father of seven, who took his family to see "Miracles From Heaven" and used it as a way to talk to his kids about faith.
"We got to reinforce what we believe — that God is alive and still doing miracles today," he said.
---
From the Emmys to the Oscars.
Get our revamped Envelope newsletter for exclusive awards season coverage, behind-the-scenes insights and columnist Glenn Whipp's commentary.
You may occasionally receive promotional content from the Los Angeles Times.