KFWB switching to all-sports format as AM radio fights for survival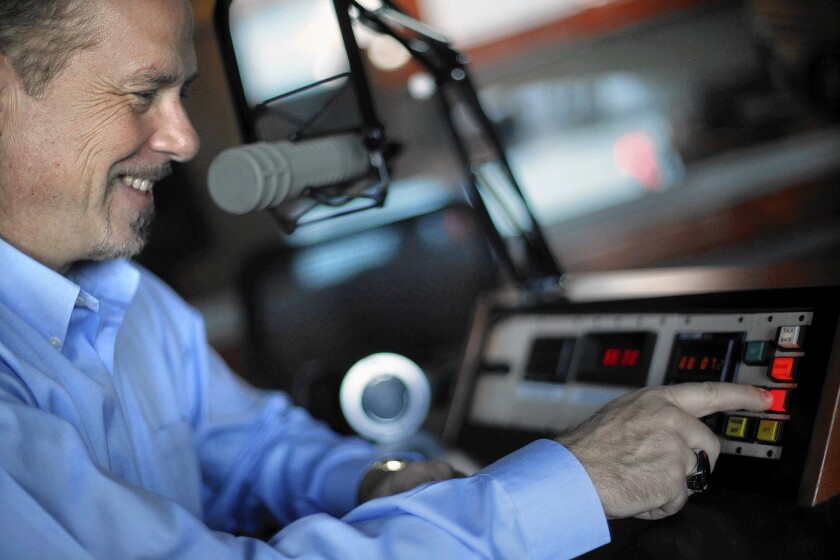 AM radio, the scratchy medium that long ago aired Franklin Delano Roosevelt's fireside chats, soap operas and the day's most popular music, is trying to avoid becoming static.
Across the country, stations are vying to hold on to listeners as AM radio's audience slowly dwindles. The persistent technology, long dwarfed by FM, has weathered more recent threats including satellite and Internet radio. It is also contending with a new assault from smartphones.
How long before AM radio disappears, if ever, is anybody's guess. But analysts say the fight for relevance is playing out in Los Angeles, the nation's largest radio market by revenue. And KFWB-AM (980), a station founded by movie studio mogul Sam Warner back before the golden age of radio, might be in the thick of it.
After 46 years of presenting news and talk, the veteran station of the AM dial is switching to an all-sports format to rev up its paltry ratings. The change comes after years of erosion for an institution that once was one of L.A.'s top outlets, from the early days of rock 'n' roll, when KFWB was known as "Color Radio," to the years when it had news bureaus throughout California.
"This was one of the crowning jewels of news radio for four decades," said longtime newscaster Phil Hulett, who hosted his last show for the station in late August at the Ports O'Call Waterfront Dining restaurant in San Pedro.
KFWB has been particularly hard hit as listeners have abandoned AM radio at a steady rate.
The station drew 172,000 listeners a week in July, a small sum considering that it broadcasts to a region that has millions of potential listeners. Top-rated music station KBIG-FM (104.3) pulled in nearly 3.5 million during the same time frame.
KFWB ranked No. 54 in the Nielsen ratings for Los Angeles, about 10 slots from the bottom. To be sure, some AM stations continue to post strong numbers, such as the Los Angeles Clear Channel talker KFI-AM (640) and CBS Radio's all-news stalwart KNX-AM (1070). But nationwide, the audiences are thinning out.
The tide began to turn against AM radio in 1978, when the stations accounted for more than half of the radio listening hours in the U.S. Last year its share of the national radio audience was 11.5%.
As recently as 1990, AM radio accounted for about 45% of stations licensed with the Federal Communications Commission. Now FM counts roughly 10,700 outlets, more than doubling AM's 4,700.
"Considering all the problems it has, it's amazing AM radio still exists," said Michael Harrison, publisher of Talkers magazine. "It's like the beautiful horses and carriages you see in New York. Sure, they'll keep them around in Central Park, but you're not going to see them on the highway."
Most people listen to AM radio while driving, and the medium is facing an increasingly crowded dashboard. Beyond FM choices, drivers have new options like satellite and Internet radio, and ways to connect their smartphones to their stereos.
Getting up-to-the-minute traffic updates used to be the domain of AM radio coverage. These days, drivers can switch on smartphone apps like Google Maps and Waze.
"There is very little reason to be optimistic about AM radio, though there are some very strong remaining stations," said Larry Rosin, president of Edison Research, who follows the media industry. "AM retooled with talk radio, but even with that, people are listening to it less and less as time marches on."
Some analysts think that AM will eventually leave new car models altogether, in the same way that manufacturers are now less likely to include CD players in vehicles. AM could face even more trouble if music-streaming services including Pandora begin to dabble in talk shows.
BMW drew the broadcast industry's attention when it decided to release its new electric car without AM, because of signal interference from the battery technology. Although the decision stemmed from the technical difficulty, it still prompted the head of the National Assn. of Broadcasters to write a letter to the car company encouraging it to put AM back into the vehicle.
"It doesn't look good for AM radio," Ron Montoya of Edmunds said. "If people aren't using it, I can easily see manufacturers taking it out and using that space for more smartphone friendly features."
But the radio industry is responding to the changes to keep AM alive.
Some AM stations have started using FM translators so that people can listen to the same content with better reception. In addition, the industry and its regulators see hope in a technology called HD Radio, which lets stations transmit digital signals along with the analog variety. The broadcast industry is even testing a possible move to all-digital AM radio.
Analysts and executives still think that the AM dial has a chance to hold on to its share of ears, especially in Los Angeles, where people spend a lot of time in their cars.
Thom Callahan, president of the Southern California Broadcasters Assn. and one of AM's defenders, noted that 3.47 million people in the Los Angeles area listen to AM radio stations every week, down just 300,000 from six years ago.
Callahan also noted that, despite the doomsaying, AM has also found new life among ethnic communities, including Latinos and Asian Americans. Los Angeles' multiple radio homes for Spanish language audio include KTNQ-AM (1020), KHJ-AM (930) and KLTX-AM (1390).
KFWB, already the radio home of the L.A. Clippers, is betting its future on ballgames and personalities.
In the weeks since it told staff about the coming changes, KFWB has brought on a new programming director and announced the return of sharp-tongued sportscaster Jim Rome to the Los Angeles airwaves. Although the official relaunch is still set for later in September, the station has already filled the gaps with CBS Sports Radio broadcasts.
KFWB's all-sports bid faces serious challenges. Los Angeles already had three AM sports stations, including Clear Channel's KLAC-AM (570) and ESPN's KSPN-AM (710), both of which trounced KFWB's news-talk lineup. The third is KLAA-AM (830), which covers the Los Angeles Angels.
But KFWB head Diane Sutter says the station will be able to carve out its own piece of the market where there are more sports teams than in most cities.
"It means that there's a lot of sports to cover and there are great sports stories every single day," Sutter said.
It's a major switch from the days when KFWB and KNX battled for the news radio ratings crown in Los Angeles, even when the two shared CBS as their parent company. Since 2011, KFWB has been run by an independent trust, which is looking to sell the station.
KFWB has changed its format multiple times over the years since its launch in 1925. It ran with a top-40 rock music format until it switched to all-news in 1968. Whereas KNX was known for its broad-based coverage, KFWB took a more staccato, headline news-style approach.
In 2009, KFWB began adding talk shows, banking on the provocative personality Dr. Laura Schlessinger, while KNX stuck to all-news. But the new approach backfired in 2010 when she used a racial slur 11 times during a broadcast. She departed her syndicated show by year's end.
"They were a very robust station," said Don Barrett, a longtime authority on the local radio business who runs the website LARadio.com. "If there was an earthquake or a fire, you'd go to KFWB."
Hulett, who had manned the microphone at KFWB since 1998, noted that AM has survived the decades-long onslaught from television and Internet outlets. He said all it takes is a new, innovative personality or type of show to add 10 to 20 years to AM's life span.
"We're in the middle of a huge vacuum right now," he said. "It's only a matter of time before somebody comes up with something unique and, like lemmings, all the programming directors copy it."
Until he returns to the airwaves, Hulett will try to reach listeners through a decidedly more 21st century portal — his podcast "Phil Hulett and Friends."
---
From the Oscars to the Emmys.
Get the Envelope newsletter for exclusive awards season coverage, behind-the-scenes stories from the Envelope podcast and columnist Glenn Whipp's must-read analysis.
You may occasionally receive promotional content from the Los Angeles Times.