Fox lowers its earnings estimate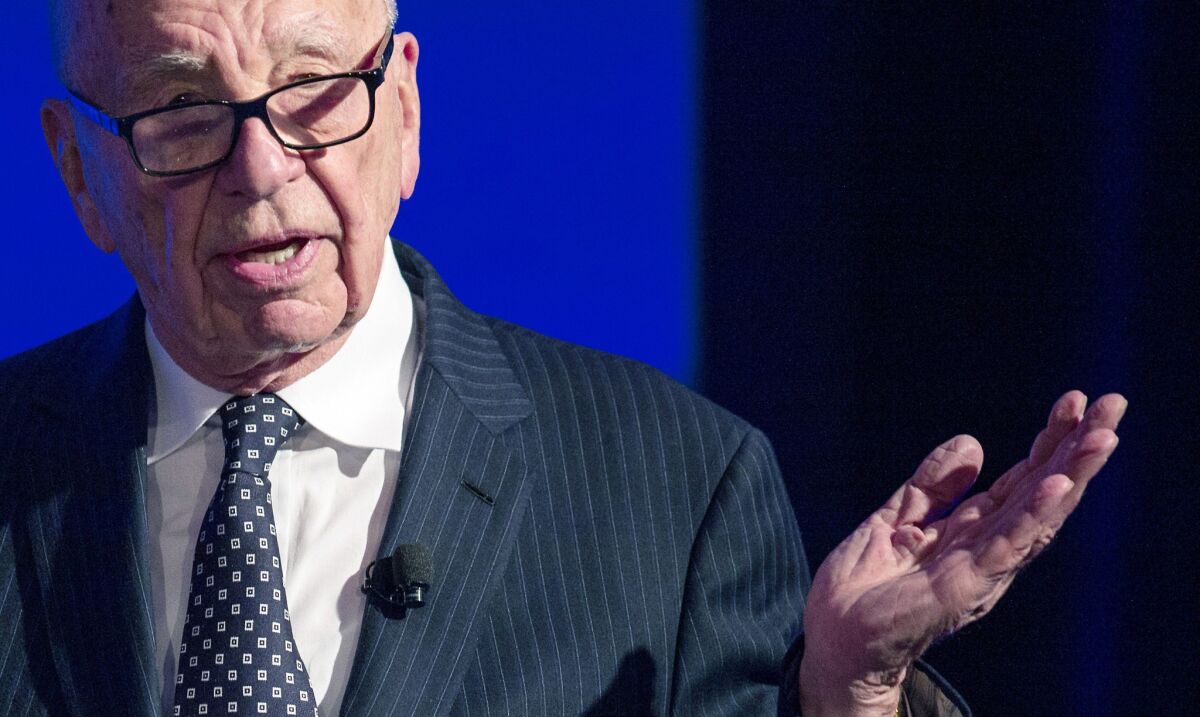 Rupert Murdoch's 21st Century Fox lowered its profit targets for its next fiscal year because of ratings struggles at the Fox Broadcasting network, unfavorable foreign exchange rates and consumers' rapid shift to watching TV shows online.
Fox executives said they were expecting "solid double-digit growth" for the fiscal year that begins July 1. However, the New York media company trimmed its earnings estimates by about $500 million for the upcoming fiscal year because of the head winds.
The TV advertising market has been softer than media companies had anticipated earlier. Advertisers are also shifting more money to digital platforms as viewers increasingly embrace online streaming services for their entertainment.
Fox also is grappling with low prime-time ratings at its Los Angeles-based Fox broadcast network. Fox executives said that despite some weak spots, they were encouraged by the huge audiences flocking to its new prime-time soap "Empire" and the steady performance of "American Idol" since its return last month.
"We also expect the next 12 months to be a period of investment in new programming at our broadcast network," Fox Chief Operating Officer Chase Carey told Wall Street analysts.
The stronger U.S. dollar also has delivered a punch. Fox owns more international TV channels than other U.S. media companies, thus it is more vulnerable to currency fluctuations.
Fox shares, which closed at $34.66 during regular trading, fell in the after-hours market.
Despite a gloomier assessment for the upcoming fiscal year, Fox reported strong fiscal second-quarter earnings that soundly beat Wall Street estimates.
The company reported a profit of $6.2 billion, or $2.88 a share, up from $1.2 billion, or 53 cents a share, a year earlier. Revenue fell slightly to $8 billion.
Much of the profit gain was from the sale of satellite TV systems in Italy and Germany for $5 billion. Stripping out those one-time gains, Fox posted earnings of 53 cents a share, up from 33 cents a year earlier. The results surpassed analysts' projections for 41 cents a share.
Fox cable TV networks, the company's most profitable unit — which includes Fox News, FX and regional sports channels — produced $3.4 billion in revenue, up from nearly $3 billion in the year-ago period.
Increased programming fees and ad revenue drove the gains.
Fox's movie and TV studio unit was propelled by the release of "Gone Girl" and "The Maze Runner." However, the studio's Christmas releases, including the third installment of "Night at the Museum," underperformed. The unit generated $2.8 billion in revenue, up 11% from $2.5 billion a year earlier.
The Fox broadcast network and TV stations held their own, producing $1.6 billion in revenue, down slightly from the year-earlier period. The ratings struggles are coming at a bad time, when the TV advertising market industrywide was softer than expected.
"There are some rays of life, but it is not as robust as we would have liked ... and the local markets are softer than the national markets," Carey said.
Get our L.A. Goes Out newsletter, with the week's best events, to help you explore and experience our city.
You may occasionally receive promotional content from the Los Angeles Times.