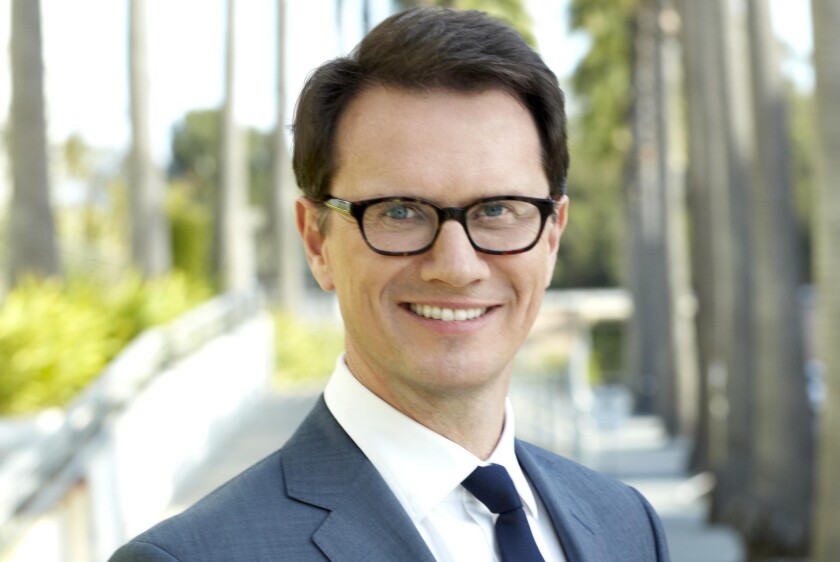 News that Fox TV chief Peter Rice had renewed his employment contract came, fittingly enough, in a press release about Rupert Murdoch's plans for corporate succession of his vast media empire.
Wednesday's news release chronicled the return of Murdoch's eldest son, Lachlan Murdoch, 42, to a prominent role as co-chairman of the two companies. It detailed the elevation of James Murdoch, 41, into the powerful post of co-chief operating officer of 21st Century Fox.
Midway through the release appeared this line: "In addition to these appointments, the company also announced that Peter Rice, chairman and CEO Fox Networks Group, has agreed to extend his employment agreement."
Within News Corp. and 21st Century Fox, Rice long has been viewed as being like a son to Murdoch. A Murdoch without the Murdoch name.
ON LOCATION: Where the cameras roll
Rice, 47, has held prominent roles in Fox's Los Angeles operations for the past 15 years.
In 2012, he was named chairman and chief executive of the Fox Networks Group -- the most profitable unit of the company.
The TV division includes the Fox broadcast network, Fox cable channels, including FX, National Geographic and the juggernaut Fox regional networks. (Roger Ailes separately runs the Fox News Channel and Fox Business Network).
During the last two and a half years, Rice has worked closely with James Murdoch, who was elevated on Wednesday to co-chief operating officer of the company, managing the business operations of Fox's TV portfolio.
"Under Peter Rice's leadership Fox Networks Group has continued to push creative boundaries across the Company, and has grown tremendously with successful channel launches including Fox Sports 1 and FXX, an increased international footprint and enhanced sports offerings across the world," James Murdoch said in the news release.
PHOTOS: Behind the scenes of movies and TV
Before Rupert Murdoch shifted Rice into the television division in March 2009, Rice ran the company's specialty movie labels, Fox Searchlight Pictures and Fox Atomic.
He joined Fox Searchlight 2000, and during his tenure the unit released the Oscar-winning movie "Slumdog Millionaire," as well as such fan favorites as "Napoleon Dynamite" and "Little Miss Sunshine."
In the 1990s, Rice served as a production executive at the "big" film studio, 20th Century Fox. A family connection helped Rice launch his career in Hollywood. He landed a position as a marketing intern at the Fox film studio in July 1987.
Rice was the son of a prominent electrical union executive in London who played a pivotal role when Murdoch was building his British newspaper empire and battling the unions in London in the 1980s.
Rice's father passed away a few years ago.
ALSO:
Rupert Murdoch easily retains position as Fox chairman
Rupert Murdoch positions sons Lachlan, James for succession
Morning Fix: Lachlan, James Murdoch on the rise; overseas fuels box office
Twitter: @MegJamesLAT
---