Hulu subscribers can soon access Showtime content -- at an additional cost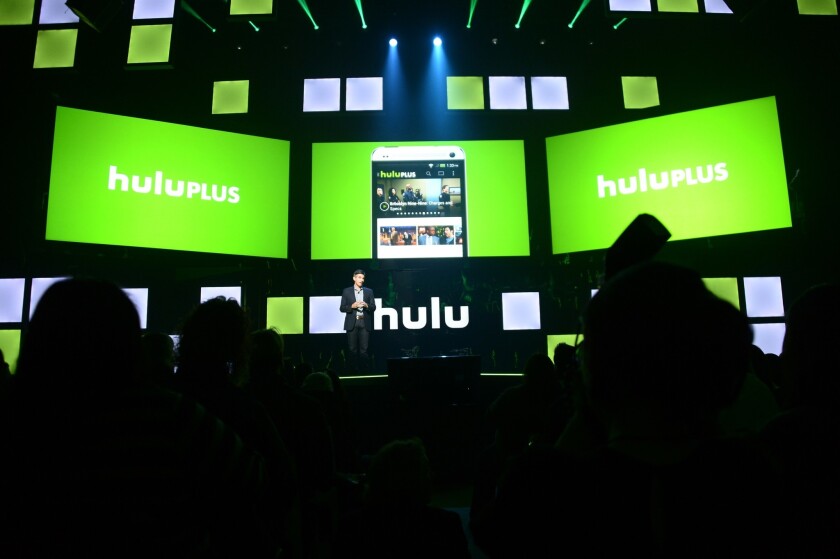 Hulu and Showtime, two unlikely partners in the increasingly raucous TV battlefield, are teaming up to build up their streaming arsenals.
Hulu will offer its nearly 9 million paying subscribers Showtime's stand-alone service for an extra $8.99 a month, giving them access to hit shows like "Ray Donovan" and "Masters of Sex." The deal also enables Showtime to tap a wider audience as it launches its own stand-alone streaming service next month.
This marks the first deal that Hulu has made to showcase a premium cable channel, and underscores the Santa Monica company's aggressive push to take on industry giant Netflix. Streaming services are scrambling to chase younger consumers and others who live in the more than 10 million U.S. homes that pay only for broadband Internet access with no cable package.
The pursuit of this growing audience is leading to some out-of-the-ordinary partnerships. With the stakes so high, established players are not afraid to mingle with a company that previously might have been considered an adversary.
"Showtime is a great partner and a great one to start with," said Tim Connolly, Hulu's head of distribution and partnerships. "I think we're going to learn a lot from working with them, and we'll see as time goes on whether it makes sense for us to add more."
It is all part of a reshaping of the TV landscape in which streaming companies try to mold themselves into more economical competitors to cable companies. Services like Hulu, Sling TV and Sony's Playstation Vue are all trying to scoop up programming deals to stand out in an increasingly competitive business.
They are trying to attract a growing number of consumers fed up with paying more than $100 a month for
a premium package of cable channels. About 126,000 cable subscribers canceled their services in the U.S. last year, according to consulting firm Leichtman Research Group.
At the same time, the amount of video content being watched on televisions hooked up to the Internet has increased.
An estimated 29% of adults watched Internet-delivered video weekly via a connected TV, up from 5% in 2010, according to Leichtman.
"We are seeing this great revolution in the television industry," said Hui Zhang, chief executive of video streaming analytics company Conviva. "You are still going to have a sophisticated ecosystem — just more flexibility. There will be much more interesting business models emerge."
Analysts say the new options will encourage more consumers to cancel their expensive pay-TV subscriptions, particularly as it becomes easier to customize a smaller package of channels. It has also prompted traditional companies to diversify their offerings.
HBO this spring launched stand-alone service HBO Now for an extra $14.99 a month on Apple products as well as on Dish Network's Sling TV service. Sling is offering an assortment of packages at various price points, as is telephone company Verizon, which this spring rolled out its own mix-and-match programming options.
Showtime, which is owned by broadcasting giant CBS Corp., also is scurrying to keep up by offering its stand-alone service for
$4 less than HBO. Meanwhile, CBS also offers its broadband-only service — CBS All Access — for $5.99 a month.
The streaming industry is looking to find the kind of success that Netflix has achieved. The company's premium original shows as well as an extensive library of movies have attracted 40 million subscribers in the U.S. and are widely seen as a benchmark.
"You're going to see more deals being announced," said Macquarie Capital analyst Amy Yong. "It's only going to accelerate more players trying to partner with each other."
David Bank, an analyst with RBC Capital Markets, said the Showtime-Hulu pact was a "powerful offering" for broadband-only homes. But he said it still felt like "a solution looking for a problem" for everyone else.
"A deal like this doesn't seem to be about economics or a better deal for a consumer's pocket," Bank said. "It's more about the illusion of choice."
Indeed, some analysts and programmers say that some of the options often add up to about the same price of an existing cable-TV subscription.
Talks between Showtime and Hulu grew serious at the end of last year. It was an unexpected partnership considering that Hulu is a consortium of three competing media companies: Walt Disney Co., NBCUniversal and Rupert Murdoch's 21st Century Fox.
The duration of the deal was not disclosed, but Connolly described it as a chunk of time that would enable "enough runway to really invest in the service and get customers comfortable with it, but also allowing us some flexibility."
For Hulu, whose basic subscription is priced at $7.99 a month, the deal keeps the flow of content going. Its offerings tend to be lighter in the summer months because the service relies heavily on programming from the major networks. Showtime's roster of hits will beef up Hulu's slate without the streaming service having to take on the risks of
developing its own original programming.
At the same time, Showtime expands its distribution for the stand-alone service, which also has distribution deals with Apple, Sony and Roku.
And considering how many Internet-connected devices — streaming boxes, game consoles, connected TVs — are flooding the marketplace, the challenge of having a broad device footprint is all the greater for an emerging over-the-top player like Showtime.
"Consumers really expect you to be on all those devices, and it's really a hard thing to do," Connolly said.
I tweet about TV (and other things) here: @villarrealy
---
From the Emmys to the Oscars.
Get our revamped Envelope newsletter for exclusive awards season coverage, behind-the-scenes insights and columnist Glenn Whipp's commentary.
You may occasionally receive promotional content from the Los Angeles Times.