Google, Paramount team up to create 'Interstellar Space Hub'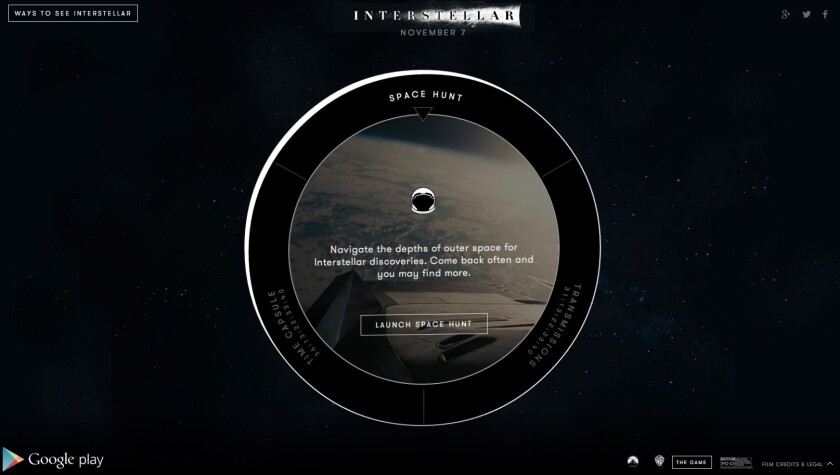 Google and Paramount Pictures are using the upcoming release "Interstellar" to explore a new frontier in movie marketing.
On Friday, the studio and Internet giant launched an innovative marketing campaign that brings Christopher Nolan's film and Google platforms together for one immersive experience: the "Interstellar Space Hub."
Using platforms such as Google+, Google Play, YouTube and Google for Education, the Hub gives users the opportunity to immerse themselves in the Nolan film, which will open in wide release Nov. 7.
"It's like a playground of innovation," Megan Colligan, president of worldwide distribution and marketing for Paramount, told The Times. "The partnership with Google gives us the opportunity to do things we'd never do on our own."
Though Google has collaborated with studios in the past, this is the first time the company has integrated several of its platforms to market a single film. The announcement reflects the company's efforts to strengthen its ties with Hollywood as more and more studios embrace digital platforms.
In June, YouTube partnered with Legendary Entertainment tied to the release of "Godzilla," allowing creators to film on movie sets that were brought to the YouTube Space LA.
More recently, YouTube Spaces partnered with Legendary Entertainment and filmmaker Guillermo del Toro to deliver horror-inspired content for Halloween.
"Google is excited to help our studio partners develop innovative marketing programs that support the lifecycle of their films," said Brian Irving, Google Play's global head of marketing, in a statement.
"Interstellar" producer Emma Thomas echoed similar enthusiasm for the partnership.
"Having the power of Google behind our efforts to inform the audience and enhance their experience…is an exciting new development in the relationship between filmmakers and audiences," she said in a statement.
Google and Paramount, led by LeeAnne Stables, Paramount's president of consumer products and executive vice president of worldwide marketing partnerships, worked closely together for several months to come up with the immersive experience.
The three-hour film follows Cooper (Matthew McConaughey), an engineer and pilot who has been called upon to lead an expedition through a wormhole to find a hospitable new planet for humanity because Earth is turning into a giant dust bowl. His costars include Michael Caine, Jessica Chastain, Anne Hathaway, Wes Bentley and David Oyelowo.
Upon entering the Hub, users are told they can start their own "space hunt" by clicking around the galaxy. As users click on stars and various other clues, they can unlock new movie-related factoids.
In addition to the space hunt, users can look up show times, learn more about different film platforms (70mm, 35mm, 70mm Imax, digital motion picture viewing), purchase tickets and partake in Google+ Hangouts.
The companies also created a "Time Capsule Project," which allows users to generate content that will be put together into a short film, curated by Google Play and Nolan.
Using Google for Education, the companies will deliver math and science movie-themed lesson plans to students at thousands of schools across the country.
"Audiences are really smart and they want a special experience when they go to the movie theater and Chris wants that too," Colligan said. "We see this as a life cycle marketing project that will go all the way through home video release of the film. There are still a lot of exciting things to come."
The announcement of the partnership follows a series of other recent marketing campaign efforts for the film.
On Wednesday, Paramount Pictures and Warner Bros., co-financiers of the film along with Legendary Pictures, announced advance showings of the space drama will play on 240 screens -- including 70 mm Imax, 70 mm and 35 mm -- in 77 markets across the U.S. and Canada beginning Nov. 5, before expanding to digital theaters. Legendary Pictures also co-financed "Interstellar."
Short TV spots of the film released last weekend teased new footage of McConaughey and costars on their expedition.
For more news on the entertainment industry, follow me @saba_h
---
From the Emmys to the Oscars.
Get our revamped Envelope newsletter for exclusive awards season coverage, behind-the-scenes insights and columnist Glenn Whipp's commentary.
You may occasionally receive promotional content from the Los Angeles Times.