Wall Street shows interest in possible Lionsgate, Starz merger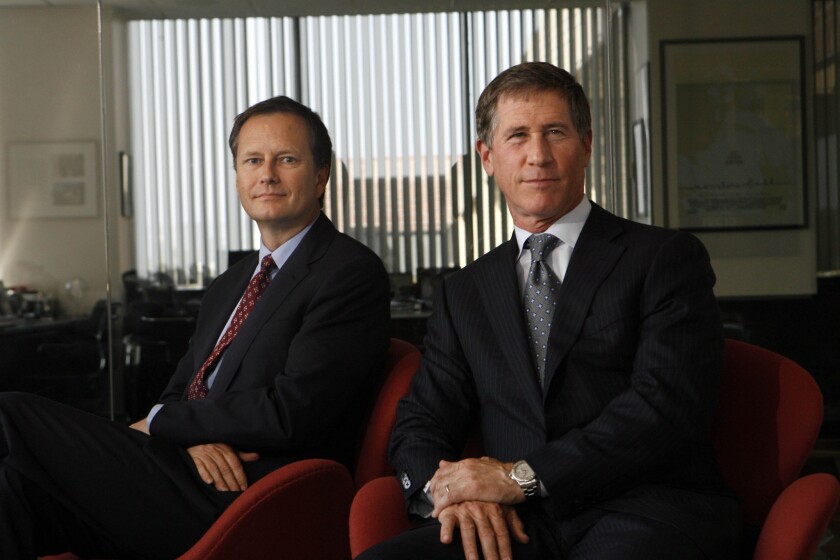 Lionsgate and Starz shares opened higher Tuesday as Wall Street expressed enthusiasm for a potential merger between the two companies.
Lionsgate topped $40 a share in morning trading -- near an all-time high. Its shares then settled in around $39 a share. Starz shares opened higher before erasing much of its gains. By mid-morning, its shares hovered around $39.
The Los Angeles Times reported Monday that Lionsgate and Starz have held high-level discussions for several months about a possible merger. The prospect of a union helped fuel interest on Wall Street.
SIGN UP for the free Indie Focus movies newsletter >>
"Merger would have benefits for both companies," Eric Wold, an analyst with B. Riley & Co., wrote in a report Tuesday morning.
"While Lionsgate has built powerful/valuable theatrical and TV production operations ... the studio would clearly benefit from the increased distribution reach and visible recurring revenue that the Starz operations would bring," Wold wrote.
With an estimated 57 million subscribers to its Starz and Encore cable channels, Starz last year generated $1.7 billion in revenue.
If Lionsgate and Starz were to unite, it would create an entity with more than $4 billion in annual revenue and annual cash flows around $900 million.
Analysts speculate that billionaire John Malone -- who has stakes in both entities -- appears interested in such a combination.
A tie-up of the two independents -- Lionsgate and Starz -- could form the foundation of a new major media company that eventually could sweep up other prized assets.
"We would not be surprised if this merely represented a first step towards additional transactions," Wold said.
Intrigue surrounding Lionsgate has built since Malone, chairman of Liberty Media Corp., invested in Lionsgate in February. The Colorado-based mogul joined Lionsgate's board.
"We continue to think that the inclusion of John Malone on the board is conducive to Lionsgate emerging as an entertainment consolidator," Wunderlich Securities media analyst Matthew Harrigan wrote in a research report Tuesday.
For now, Starz's valuation -- about $4 billion -- appears to be the major obstacle.
Lionsgate is worth nearly $6 billion -- not enough to easily swallow Starz.
Lionsgate "remains quite price disciplined," Harrigan added.
Piper Jaffray analysts James Marsh and Stan Meyers also weighed in.
"Challenges to that deal remain relatively full pricing for Starz, what to do with Epix, if and when a Starz deal happens, and comfort with the long-term trends at Starz," Marsh and Meyers wrote in a Tuesday report.
Lionsgate owns 34% of movie service Epix, which competes with Starz.
Viacom Inc. and MGM are the other equity owners in the profitable movie service, which relies heavily on Lionsgate movies. Epix has locked up the rights to Lionsgate films for several years.
Epix, however, would benefit from the increased distribution of Starz. But it is not clear the other equity partners are enthused about combining Epix with Starz. Such a move would dilute their stakes.
Recent reports have suggested that another independent, AMC Networks, might be interested in beating Lionsgate to the punch by adding Starz to its portfolio.
Starz, under Chief Executive Chris Albrecht, has made progress in developing high-quality original programming -- which is increasingly important as cable and other pay-TV providers consider shedding channels.
Twitter: @MegJamesLAT
MORE ENTERTAINMENT NEWS:
'Dancing With the Stars' recap: Bindi Irwin snags season's first 10; Gary Busey goes home
Luke Bryan, Carrie Underwood, Eric Church top 2016 Stagecoach
How Coachella, EDC, Rock in Rio, Stagecoach and other festivals rank in Times report card
---
From the Emmys to the Oscars.
Get our revamped Envelope newsletter for exclusive awards season coverage, behind-the-scenes insights and columnist Glenn Whipp's commentary.
You may occasionally receive promotional content from the Los Angeles Times.