MGM buys 55% stake in production firms of Roma Downey and Mark Burnett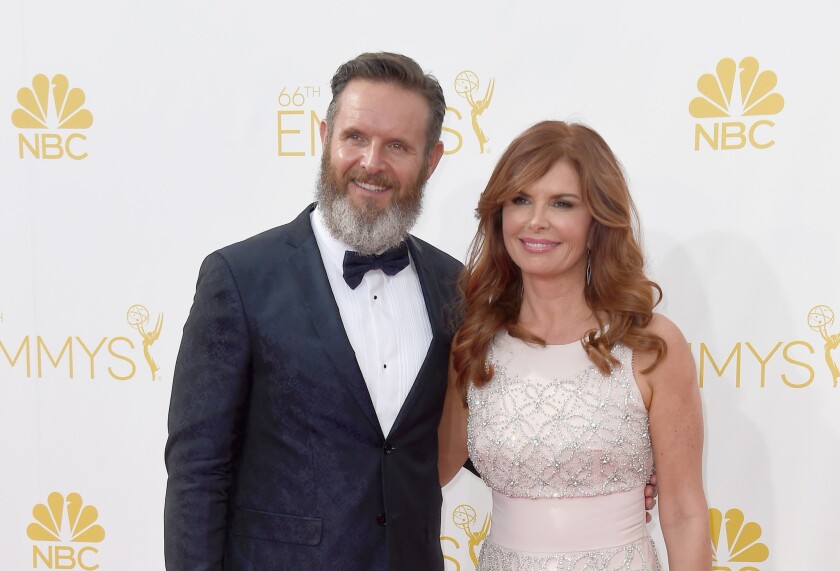 Metro-Goldwyn-Mayer Inc. on Monday acquired a 55% interest in the two production companies of actress Roma Downey and "Survivor" producer Mark Burnett.
The Beverly Hills-based film and television studio is reviving the vaunted United Artists label to serve as a home for Downey and Burnett's entertainment ventures, which include a planned faith-based over-the-top channel.
Terms of the deal were not disclosed. The agreement also involved Hearst Entertainment Inc., an investor in the husband-and-wife team's One Three Media and LightWorkers Media production entities.
MGM also is acquiring all of Downey, Burnett and Hearst's interests in television shows "Survivor," "The Voice" and "The Bible," among others.
Gary Barber, chief executive of MGM, said that he met with Burnett about six months ago for breakfast, and knew immediately that he wanted to work with the producer.
After the meeting, Burnett and Downey joined the MGM-Paramount Pictures film "Ben-Hur" as producers in April. That project, which is expected to be released in February 2016, is based on the Lew Wallace novel "Ben-Hur: A Tale of the Christ," and will have a different focus from the Charlton Heston version of "Ben-Hur" from 1959.
"The relationship just fostered from there," Barber said. "I'd been following them a long time. They are so widely respected."
Burnett, who along with his wife scored a faith-based film hit with this year's "Son of God" — about the life of Jesus — will serve as chief executive of United Artists Media Group.
United Artists has a storied history in the movie business, though another recent attempt to restart it sputtered.
The company was founded by Charlie Chaplin, Mary Pickford, Douglas Fairbanks and D.W. Griffith in 1919. It became part of MGM in 1981. MGM and Tom Cruise restarted United Artists in the mid-2000s, but the venture foundered, releasing just two pictures, "Lions for Lambs" and "Valkyrie."
Under Burnett, who also is known for TV shows "The Apprentice" and "Shark Tank," United Artists will focus on development, production and financing for television programs, films and digital content. Downey, best known for starring on the TV program "Touched by an Angel," will serve as president of LightWorkers, now the faith and family unit of United Artists.
"I am honored to become the CEO of United Artists Media Group," Burnett said in a statement. "Together we look forward to growing our television, film and digital business while also creating a whole new platform of entertainment."
Barber said it made sense to dust off the United Artists name for use in conjunction with Downey and Burnett because partnering with them offers the chance at "another terrific success story to build value in the brand again."
"The brand value of United Artists Media Group is a very important strategic focus," Barber said. "We were not looking to sell the brand, but build value in it."
United Artists' forthcoming over-the-top channel, which does not yet have a launch date, will air original content, film and television catalog titles and Christian music videos, among other offerings. Over-the-top channels, or OTTs, are digital video channels that let people watch content online.
"We think the OTT business will be a large value contributor in the road ahead," Barber said. "We think this is an incredible opportunity to grow the business."
---
From the Emmys to the Oscars.
Get our revamped Envelope newsletter, sent twice a week, for exclusive awards season coverage, behind-the-scenes insights and columnist Glenn Whipp's commentary.
You may occasionally receive promotional content from the Los Angeles Times.