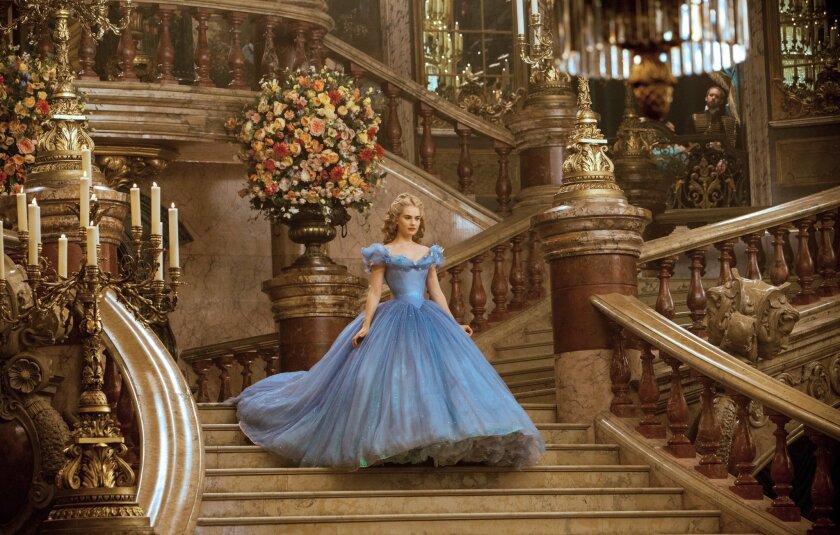 Disney's live-action version of "Cinderella" will likely enchant audiences this weekend.
The film, which brings back the classic animated fairytale, could premiere to as much as $65 million, according to people familiar with pre-release audience surveys.
That puts it on top of the box office charts and ahead of fellow newcomer "Run All Night," which is expected to pull in roughly $15 million.
Despite the weak start to March, robust ticket sales in January and February (including the juggernauts "American Sniper" and "Fifty Shades of Grey") have kept the overall year-to-date box office up about 5% over last year.
The year has been dominated by mostly R-rated films, but "Cinderella" is expected to bring back families and younger audiences to theaters.
The Kenneth Branagh-directed film, which cost about $95 million to produce, follows Ella (Lily James) who is treated like a servant by her stepmother (Cate Blanchett) and step-sisters Anastasia (Holliday Grainger) and Drisella (Sophie McShera) after her father's death. Her luck changes with the help of a beggar woman (Helena Bonham Carter) who helps her get to a ball at the royal palace.
A short film -- featuring princesses Anna and Elsa from the blockbuster "Frozen" -- will precede the Disney movie. Some analysts said the animated short could boost the box-office haul for "Cinderella" by as much as 10% over its kickoff weekend.
Many schools and colleges -- roughly 20% -- will also be out for spring break, which will likely help give "Cinderella" an additional push, according to research firm Rentrak.
Movietickets.com, an online ticketing service, reported that the film is the No. 1 movie on the website, with "Cinderella" representing 63% of advanced tickets sold since Wednesday.
It is selling more than 40% of the usual number of tickets per transaction on ticketing website Fandango. Of the ticket-buyers Fandango who surveyed, an estimated 83% said they plan on bringing the entire family. The movie represents 80% of the weekend's ticketsales.
The film will also dance overseas, where Disney will release the film in about 30 markets.
Disney had enormous success when it released "Maleficent," which stars Angelina Jolie, in May of 2014. The live action film, a spinoff from "Sleeping Beauty," debuted to a whopping $70 million and went on to make $241.4 million in the U.S. and Canada.
Meanwhile, Liam Neeson's "Run All Night," which cost about $50 million to make, will likely draw in male audiences.
The action film, which is being released by Warner Bros., follows a hitman (Neeson) fighting to save his son. It co-stars Joel Kinnaman and Ed Harris.
Neeson resonates at the box office, in large part because of his appeal as a vigilante. His latest action film "Taken 3" debuted to roughly $40 million and went on to make $88.3 million domestically.
However, "A Walk Among the Tombstones," which came out in September, fell short of Universal Pictures' mid-to-high-teens forecast with a $13.1-million debut.
For more news on the entertainment industry, follow me @saba_h
---