Can 'Entourage' make a successful leap to the big screen?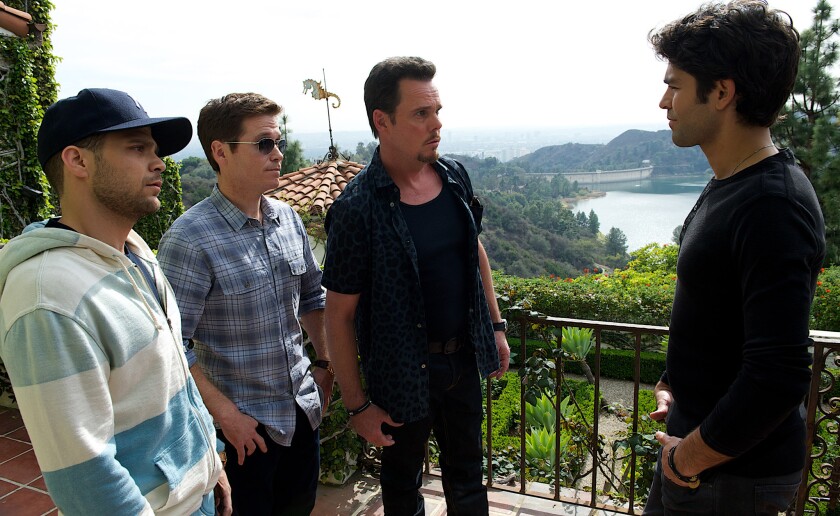 Four years after the HBO series came to an end, Warner Bros. is hoping "Entourage" fans will turn up in theaters to see Vinny Chase and the boys on the big screen.
The film, which rolls out on Wednesday, is poised to make between $12 million to $17 million its opening weekend, according to people familiar with pre-release audience surveys.
Warner Bros. knows the film won't open at No. 1. In fact, "Entourage" is expected to trail far behind the Melissa McCarthy comedy "Spy" and horror film "Insidious Chapter 3," both which are tracking to debut with at least $25 million over the weekend.
But with a modest budget of under $30 million, "Entourage" doesn't necessarily need a big opening. The show's built-in fan base may be enough to sustain life at the box office.
INDIE FOCUS: Sign up for Mark Olsen's newsletter about film
"Entourage," which had an eight-season run from 2004 to '11, found a fervent following similar to that of HBO's "Sex and the City." Fans, mostly males, watched the series in part because they worshipped the Hollywood lifestyles of the on-screen ensemble.
The show was nominated for five Emmys and six Golden Globes for best comedy series. The most popular season of "Entourage" averaged 8.4 million viewers per episode, according to HBO. By comparison, the top season of popular HBO series "Girls" averaged 5 million viewers.
Written and directed by series creator Doug Ellin, the movie picks up shortly after the 2011 TV finale with the boys — Hollywood star Vincent Chase (Adrian Grenier), E. (Kevin Connolly), Turtle (Jerry Ferrara) and Drama (Kevin Dillon) — back to their usual shenanigans.
There are of course a handful of celebrity cameos, including Pharrell Williams, Jessica Alba, Liam Neeson, Warren Buffett and Tom Brady. Mark Wahlberg, producer and series inspiration, also makes an appearance.
"People always complained the episodes [of 'Entourage'] were too short," Wahlberg told The Times. "This was a world people were interested in. But it took some work to get the film made. You had to convince the network and go to the studio.... I felt there was always a demand for [the movie]. People always wanted more."
This is not the first time an HBO show has made a leap from television to the big screen. "Sex and the City," a wildly popular show that followed pals Carrie, Samantha, Miranda and Charlotte in New York City, was made into two films. The show's final season, which ended in 2004, averaged $10.3 million viewers.
The first film, released in 2008, opened with a robust $57 million. Though it received lukewarm reviews, loyal female fans flocked to the film and helped it climb to No. 1. It went on to rack up $152.6 million in the U.S. and Canada and $415.2 million worldwide.
Other notable show-to-movie adaptations include "The X Files," "The Simpsons" and "Charlie's Angels." More recently, fans of the CW show "Veronica Mars" donated to a Kickstarter campaign and raised $6 million to help turn the show into a movie. Warner Bros. released the film, which stars Kristen Bell, in theaters in March 2014. It went on to make $3.3 million in the U.S. and Canada.
However, adapting a TV show for the big screen can be a gamble. "Sex and the City 2," for example, failed to replicate the big box office revenue of the first film. It opened with $37 million over the four-day Memorial Day Weekend in 2010.
Additionally, not everyone loves "Entourage." Some critics have bashed the show for glorifying a storyline about shallow dudes who objectify women. The film has racked up a paltry 22% positive rating on Rotten Tomatoes.
But Wahlberg is optimistic that the movie will both draw in die-hard fans of show and attract new ones.
"Hopefully a lot of people really enjoy the movie and we can introduce it to a new audience," Wahlberg said.
Staff writer Amy Kaufman contributed to this report.
For more news on the entertainment industry, follow me @saba_h
---
From the Oscars to the Emmys.
Get the Envelope newsletter for exclusive awards season coverage, behind-the-scenes stories from the Envelope podcast and columnist Glenn Whipp's must-read analysis.
You may occasionally receive promotional content from the Los Angeles Times.