'Minions' to bring mayhem to box office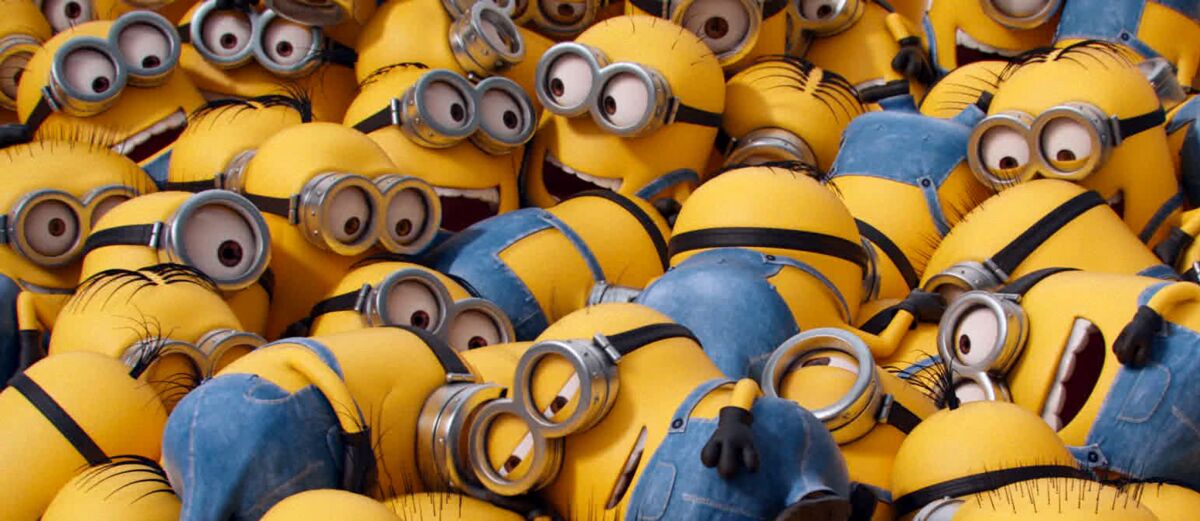 "Minions" is expected to bring their mayhem to the box office this weekend as family films continue to draw in large numbers of moviegoers.
Universal Pictures' animated film, an extension of the "Despicable Me" franchise, is tracking to make between $95 million to $110 million, according to people familiar with pre-release audience surveys. Universal has a more modest estimate, on par with the $83.5-million launch of "Despicable Me 2" in 2013.
The robust expectations come after a string of successful animated films have hit theaters, including DreamWorks Animation's "Home" in April and Pixar's "Inside Out" last month.
"I think the success of animated movies this year is a breath of fresh air," said Phil Contrino, chief analyst at BoxOffice.com. "The hunger for really strong animated films is always there and this year is proving that with 'Home,' 'Inside Out' and the upcoming 'Minions.'"
Last year, there was a dearth of animated family films, which typically draw wide audiences during the summer when school is out. Just two were released in summer 2014 compared with six in summer 2013. Analysts said the lack of films in the popular genre likely contributed to the 2014 box office decline. Industry totals were down about 5.2% from 2013's record $10.9 billion.
Historically, animated films have rarely failed to prove their box office might.
Disney's hit musical "Frozen," which was released in 2013, became the highest-grossing animated movie of all time with a global haul of $1.27 billion.
"Shrek the Third" holds the record for biggest opening weekend for an animated film, debuting with $121.6 million domestically in 2007, according to Rentrak. "Toy Story 3" is second with a $110.3-million domestic opening in 2010.
In 2010, "Despicable Me" launched with a surprisingly strong $56.4 million and went on to collect $251.5 million in the U.S. and Canada -- about 46% of its eventual $543-million global tally. The sequel, which opened over the five-day Fourth of July holiday in 2013, took in $142.1 million. It went on to make $368 million domestically and $970.7 million worldwide.
There's little doubt among analysts that the third installment will be as successful, if not more successful, than its predecessors.
Universal has already slated "Despicable Me 3" for a summer release in 2017.
"Minions," an origin story, features the voice of Sandra Bullock as super-villain Scarlet Overkill. It also stars Jon Hamm, Michael Keaton, Allison Janney and Steve Coogan. Universal and its Illumination Entertainment produced the film, which cost $74 million to make.
Buzz for the film has built up in the last year. It was ranked as movie-ticketing website Fandango's top pre-seller among animated films to date. It is also currently the No. 1 trending film on MovieTickets.com. Trailers for the film have generated more than 250 million views globally.
Overseas, "Minions" has already collected $141.5 million. It scored No. 1 openings in 25 markets.
"'Minions' is almost definitely the next member of the billion-dollar global club," Contrino said. "I'd be surprised if it didn't reach that mark, which is a huge accomplishment for Universal because it would make three billion-dollar movies in one year after 'Furious 7' and 'Jurassic World.'"
Such a big opening will be refreshing for the box office after a slow holiday weekend. The Fourth of July's falling on a Saturday dealt a blow to ticket sales, with some moviegoers ditching theaters for barbecues and fireworks.
But some analysts believe the holidays are no longer as important as they used to be to a film's success, with studios increasingly turning to more unconventional release dates. Last year, "Guardians of the Galaxy" became the biggest film of the summer, despite opening in August. It debuted to a whopping $94 million.
Despite a slower Fourth of July weekend last week, year-to-date the 2015 box office is up almost 7%.
"Ten years ago, there were four weekends that counted in the year: Memorial Day, July 4, Thanksgiving and Christmas," said Bruce Nash, founder and publisher of TheNumbers.com, a website with movie financial information. "Now I think the studios have managed to successfully transition to a little bit more of a broad time frame where they can release films earlier and still see them do well. They actually now want to be ahead of the holiday weekends."
Warner Bros. will release horror film "The Gallows" this weekend. The film, which was produced by Entertainment360 and Blumhouse Productions, is tracking to make between $8 million to $10 million.
The film follows a group of students in a small town as they put on a play to honor the anniversary of the death of a student who died 20 years earlier while playing the lead role.
It was made by first-time directors Chris Lofing and Travis Cluff, whose footage on YouTube caught the attention of Dean Schnider from Management 360 and Blumhouse.
"Self/Less," another new offering from Focus Features, is tracking to make between $6 million to $8 million. The sci-fi thriller, which cost $26 million to make, was financed and co-produced by FilmDistrict and Endgame Entertainment.
The film follows a wealthy man (Ben Kingsley) who is dying from cancer. After undergoing a radical medical procedure, his consciousness is transferred into the body of a healthy young man (Ryan Reynolds). It is geared toward male audiences between the ages of 18 and 34.
Meanwhile, "Terminator Genisys" and "Magic Mike XXL" will likely drop 45 to 55% in their second weekends.
Tentpoles "Jurassic World" and "Inside Out" will likely remain in the top five.
For more news on the entertainment industry, follow me @saba_h
---
From the Oscars to the Emmys.
Get the Envelope newsletter for exclusive awards season coverage, behind-the-scenes stories from the Envelope podcast and columnist Glenn Whipp's must-read analysis.
You may occasionally receive promotional content from the Los Angeles Times.