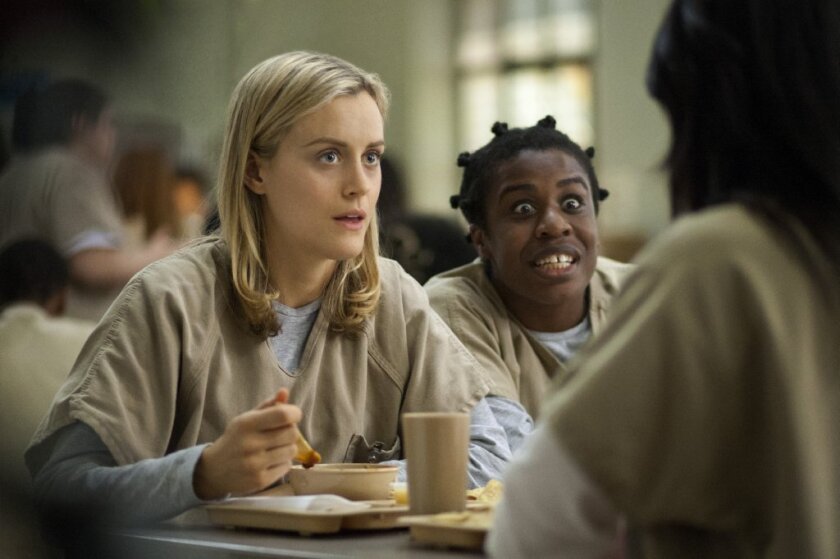 Netflix has surpassed rival HBO in domestic subscribers in the third quarter, a milestone it credits to buzz surrounding such original series as "Orange Is the New Black," the Emmy nominations for the political drama, "House of Cards," and its exclusive content.
The online movie and television subscription service reached 31 million subscribers in the U.S., compared with 28.7 million domestic subscribers for HBO, according to SNL Kagan.
" 'Orange Is the New Black' has been a tremendous success for us," said Chief Executive Reed Hastings in a note to investors. "It will end the year as our most-watched original series ever and, as with our other previously launched originals, enjoys an audience comparable with successful shows on cable and broadcast TV."
TALKING TV: 'Orange is the New Black' is the new hot
The total number of Netflix subscribers worldwide exceeded 40 million, up from less than 30 million a year earlier. Premium cable network HBO had 117 million subscribers worldwide at the end of 2012, according to Time Warner.
Netflix reported a third-quarter net income of $32 million, or 52 cents a share, for the three months that ended Sept. 30. That's four times the earnings of $8 million, or 13 cents a share, from the same time last year. Its revenue reached $1.1 billion, up 22% from the third quarter of 2012.
ALSO:
'12 Years a Slave' off to strong start in limited box-office debut
TV Ratings: Colts vs. Bronchos wins Sunday night for NBC
Fox Home Entertainment President Dunn talks about the digital future
---