CBS's Les Moonves calls Nina Tassler's departure 'bittersweet,' says Glenn Geller's 'ready to do the job'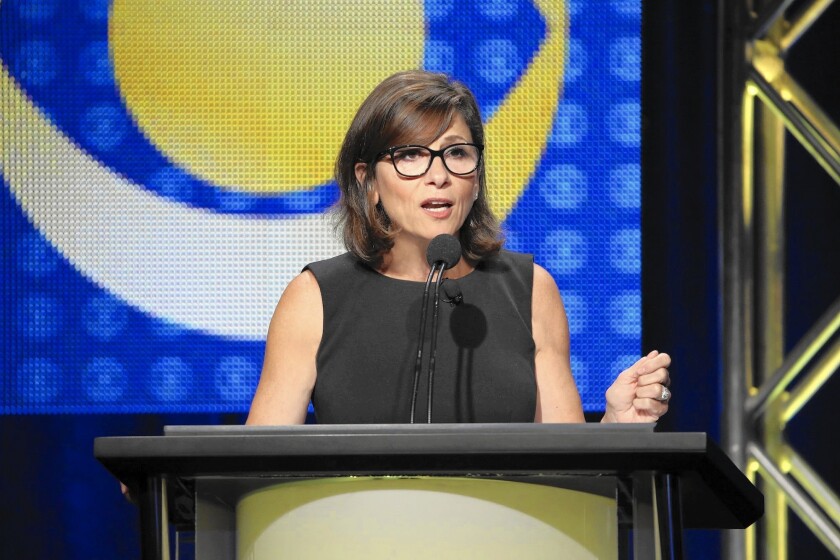 CBS Entertainment Chairman Nina Tassler — a key architect of the network's ratings success — will step down from her role running CBS programming at the end of the year, the company announced Tuesday.
Glenn Geller, who oversees current programming for CBS Entertainment and its production studio, will succeed Tassler with his promotion to president of CBS Entertainment.
The transition is by all accounts an orderly one. Tassler, 58, has made it known internally for a while that she wanted to move on. There was chatter in the TV industry that she considered departing last year before she signed a new three-year contract. In recent years, she has been editing a book on leadership and studying to become a cantor, although she has no current plans to make that her next profession.
Stunning photos, celebrity homes: Get the free weekly Hot Property newsletter >>
Tassler acknowledged that she initiated discussions with CBS Corp. President and Chief Executive Leslie Moonves about ending her tenure two years ago before she agreed to stay on and sign another contract.
"I committed wholeheartedly to doing the job," she said.
But in July, she again approached Moonves about rolling the credits on her career as a TV executive, and he knew her mind was made up.
"He could just tell," Tassler said. "We've known each other for so long, and I just said that 'I'm done.' It was from my heart, and he was unbelievably respectful and gracious."
Moonves said the departure of Tassler is "bittersweet," but he believes the entertainment division will be in good hands under Geller.
"I love Nina and we have been together 25 years," Moonves said in an interview with The Times. "But we have been talking about this for a while, and as sad as this makes me on a personal level, I totally understand where Nina is at and, at the same time, Glenn is ready to do the job."
Geller, 43, has been with the network as a program executive since 2001. During the last two years in which he worked closely with Tassler, he discussed with her his interest in the top entertainment job.
Still, he was surprised two months ago when Tassler and Moonves first told him of their plans for the transition.
"When they told me what was happening and that I was going to be given this opportunity, I said to Nina, 'You're leaving?'" Geller said.
Geller's reaction reflects how rare executive changes are at CBS under Moonves, who has had much of the same team he assembled after joining the network in 1995.
Tassler and Moonves worked together at Warner Bros. Television before he recruited her to oversee drama programming at CBS in 1997.
Tassler was named president of CBS Entertainment in 2004. Her tenure as the head of a broadcast network entertainment division is the longest of any executive in the role since the legendary Brandon Tartikoff oversaw the rise of NBC from 1981 to 1991.
Over the years, she helped nurture such hits as "The Big Bang Theory," "How I Met Your Mother," "CSI: Crime Scene Investigation," "NCIS," "The Good Wife" and "Criminal Minds." She also was in charge of the transition in late-night programming, helping recruit its current host lineup of Stephen Colbert and James Corden.
CBS has ranked as the No. 1 network in total viewers for 12 of the last 13 years, and Tassler developed a reputation for passionately defending material she believed in and forging strong relationships with producers and talent.
"She's a great executive and a pleasure to work with," said Rick Rosen, who is head of television at the talent agency William Morris Endeavor. "She leaves a great legacy at CBS, and she will be sorely missed."
Tassler exits at a time when the TV business faces increasing challenges from technology that gives viewers more choices and greater control over what they watch. Launching new series in the new landscape of multitudinous options is getting more difficult each year.
Nevertheless, Tassler said she is optimistic about the prospects of what will be her last fall TV schedule. She is particularly proud of adding the new series "Supergirl."
"We have our very own female superhero in prime time," Tassler said.
She will continue in her current role as entertainment chairman until the end of the year, when she will segue into an advisory position that will run through at least 2017.
Geller, meanwhile, has been part of CBS' executive team for 14 years. For the last two years, he served as executive vice president for current programming. In that role, Geller oversaw creative issues and story lines for more than 30 prime-time shows on CBS and its sister network, CW.
In his new role, Geller is not expected to alter the winning strategy of developing broad-based hits for mass audiences in the U.S. that have also been successfully sold to international broadcasters and streaming video services.
Geller is a native of Schererville, Ind., and has deep family roots in the Midwest — a suitable background for someone charged with engaging CBS' mainstream audience.
A TV addict as a youth, he said he stayed home to watch "Dallas" on Friday nights while the rest of his friends were at the high school football game. His favorite current show is the CBS drama "The Good Wife."
Geller's first job in the TV industry was a receptionist for the Fred Silverman Co., the production outlet run by Silverman, the former veteran network executive known as "the man with the golden gut."
Geller said he listened and learned from Silverman during those formative years.
"Fred always trusted his gut, and that's something I've always tried to remember," he said. "You have to go with your instinct."
MORE:
NBC replaces Trump with Schwarzenegger on 'Celebrity Apprentice'
Curt Schilling done for the season at ESPN due to Hitler tweets
Consumers want fewer TV channels and lower monthly bills - will 'skinny' packages work?
---
From the Emmys to the Oscars.
Get our revamped Envelope newsletter, sent twice a week, for exclusive awards season coverage, behind-the-scenes insights and columnist Glenn Whipp's commentary.
You may occasionally receive promotional content from the Los Angeles Times.