O'Reilly defends his war reporting record again, this time in El Salvador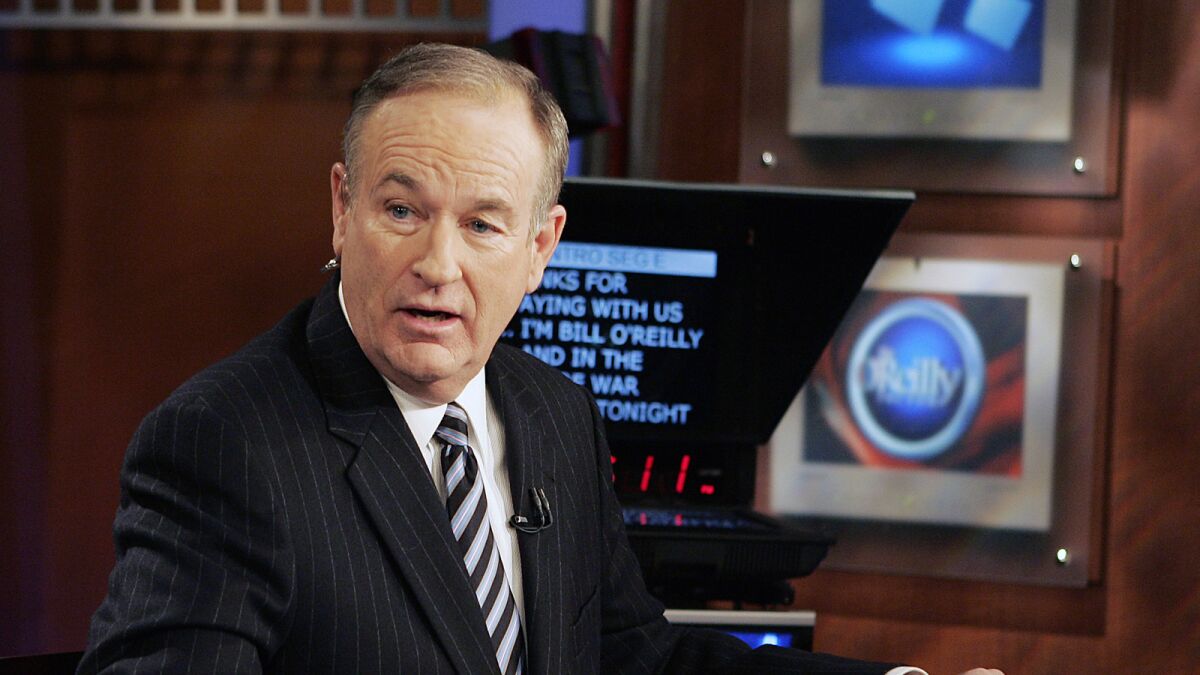 Fox News host Bill O'Reilly defended himself Wednesday night against a new charge that he misrepresented his record as a war correspondent, this time during the civil war in El Salvador.
Media Matters, a nonprofit organization that monitors conservative news outlets, claimed O'Reilly said on the Dec. 14, 2012, edition of "The O'Reilly Report," and another time on his radio program, that he witnessed the murder of three American nuns by the Salvadoran national guard. A lay worker was also killed in the Dec. 2, 1980, incident.
Media Matters said O'Reilly's remarks contradicted statements made multiple times on TV and in one of his books that he did not arrive in El Salvador as a CBS News correspondent until 1981.
O'Reilly denied the charge, telling The Times that any references he's made to the El Salvador murders are related to images he was shown of the incident.
"While in El Salvador, reporters were shown horrendous images of violence that were never broadcast, including depictions of nuns who were murdered," he said. "The mention of the nuns on my program came the day of the Newtown massacre."
O'Reilly is referring to the mass shooting that took the lives of 20 children and six teachers at Sandy Hook Elementary School in Newtown, Conn.
"The segment was about evil and how hard it is for folks to comprehend it," O'Reilly added. "I used the murdered nuns as an example of that evil. That's what I am referring to when I say, 'I saw nuns get shot in the back of the head.' No one could possibly take that segment as reporting on El Salvador."
O'Reilly's long record of commentary as the top-rated host in cable news has come under scrutiny in light of the misstatements made by "NBC Nightly News" anchor Brian Williams regarding his involvement in an attack on a Chinook helicopter during the 2003 U.S. invasion of Iraq.
Williams is serving a six-month suspension as the network reviews his past work to determine whether there are other discrepancies.
In recent days, O'Reilly aggressively countered a story in Mother Jones magazine that said he had distorted his role in covering the 1982 Falklands war.
The article said O'Reilly referred to his coverage of riots in Buenos Aires that followed conflict as being in "a war zone." The military action between the countries took place 1,200 miles away from where U.S. reporters were based.
It also questioned O'Reilly's account of the violence at the riots, which his CBS News colleagues during that time said was overstated.
On his Monday program, O'Reilly presented tape of the CBS News riot coverage and enlisted a former NBC News executive who covered Latin America to back up his contention that a dangerous atmosphere existed in Buenos Aires.
O'Reilly appeared to be past that debate, but a threatening comment he made to a New York Times reporter probably has extended the coverage. O'Reilly's statements and history have continued to be examined.
Fox News Chief Executive and Chairman Roger Ailes has backed O'Reilly throughout the controversy.
"This is nothing more than an orchestrated campaign by far left advocates Mother Jones and Media Matters," a Fox spokesperson said in a statement.
O'Reilly's ratings also haven't suffered. His audience on Monday was his largest in the 25-to-54 age group that news advertisers favor since November 2012.
"The more the mainstream press goes after him, the more his audience loves him," said one former cable TV news executive who has competed against Fox News.
Media Matters also disputed an anecdote O'Reilly told in his book "Killing Kennedy." O'Reilly had put himself at the scene of the Florida home of a Russian émigré and an associate of Lee Harvey Oswald who committed suicide with a shotgun in 1977.
Media Matters cited an investigation that quotes O'Reilly's co-workers at a Dallas TV station as saying he traveled to Florida after learning of the incident.
A statement from O'Reilly's publisher Henry Holt did not express any concern over the conflicting information.
"This one passage is immaterial to the story being told by this terrific book and we have no plans to look into this matter," the statement said.
Get our L.A. Goes Out newsletter, with the week's best events, to help you explore and experience our city.
You may occasionally receive promotional content from the Los Angeles Times.