Sumner Redstone should undergo an 'immediate medical evaluation,' Viacom CEO says
Lawyers for Viacom Chief Executive Philippe Dauman assert in new court papers that ailing Sumner Redstone should submit to an "immediate medical evaluation" by a neutral doctor to determine the media mogul's mental capacity.
Dauman and his legal team are preparing for an important court appearance in Massachusetts on Tuesday – the first hearing in the matter brought by Dauman and fellow Viacom board member George Abrams. The two men filed a lawsuit two weeks ago to contest their removal as trustees of the trust that will oversee Redstone's business holdings and as board members of the Redstone family investment vehicle, National Amusements Inc.
National Amusements holds the Redstone family's controlling shares of Viacom and CBS Corp. The high-stakes court proceeding is expected to decide who will make decisions about Redstone's more than $40 billion media empire long after the mogul is gone.
In their court documents, submitted Monday morning, Dauman and Abrams say that Redstone's precarious health necessitates an immediate examination to determine the extent of his neurological disorder.
The filing also notes that Redstone was hospitalized in the last few weeks.
"Time is of the essence. ...There is grave risk that Sumner Redstone will not be able to provide any evidence in this case," said the filing signed by Dauman lawyer Joseph L. Bierwirth Jr.
"He is a 93-year-old man suffering from overwhelming physical ailments, including an inability to speak, stand, walk, eat, write or read. He suffers from a progressive neurological disease characterized by dementia," the filing reads.
Dauman's documents attempt to counter court papers filed Friday by lawyers hired to represent Redstone. In those documents, a UCLA geriatric psychiatrist, Dr. James Spar, detailed two recent visits with Redstone – on May 20 and May 24 – and verbal exchanges the two men had. Spar determined that Redstone had legal mental capacity to make changes to his trust.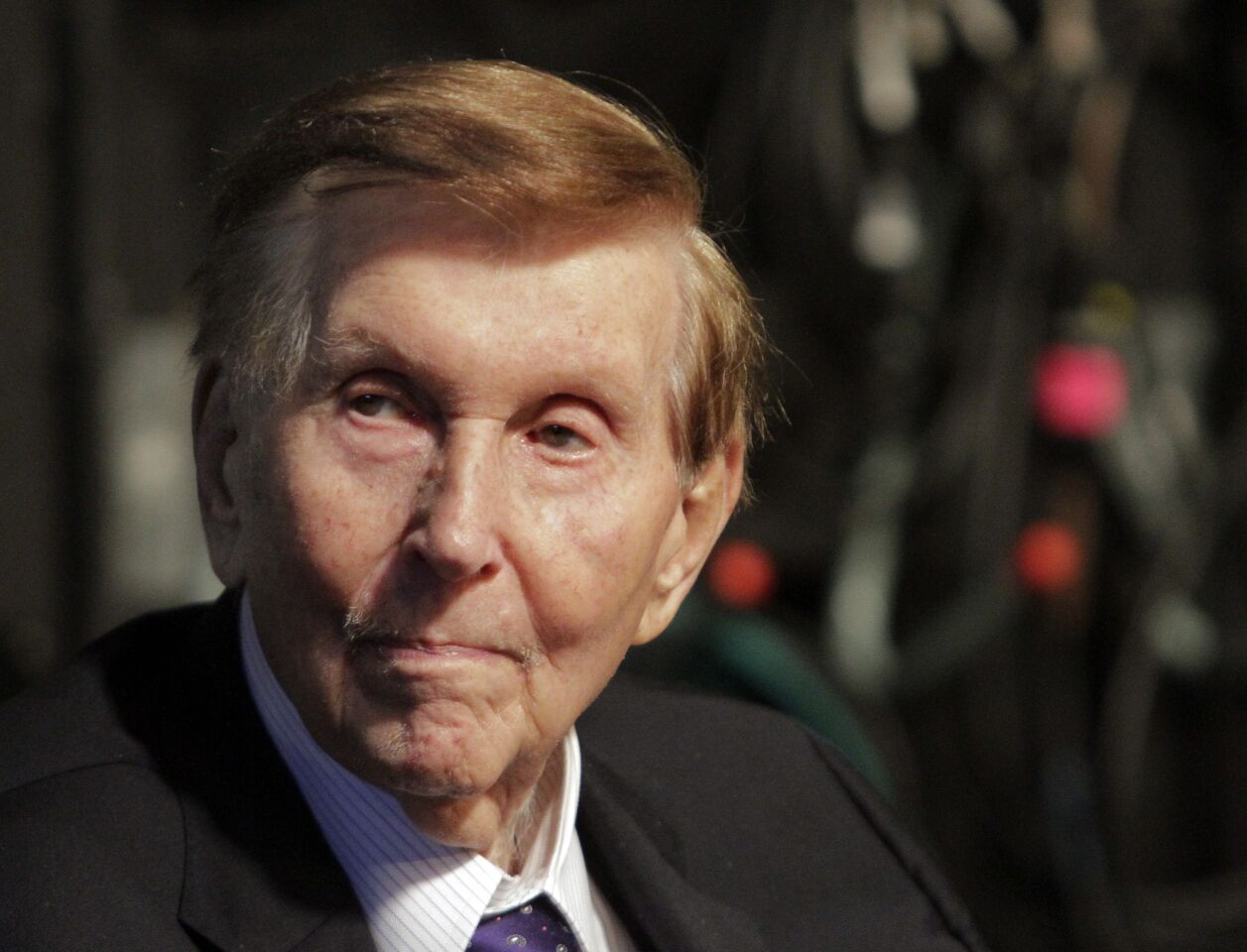 Media magnate Sumner Redstone attends the dedication of the Sumner Redstone Production Studios at USC on Feb. 5, 2013.
(Lawrence K. Ho / Los Angeles Times)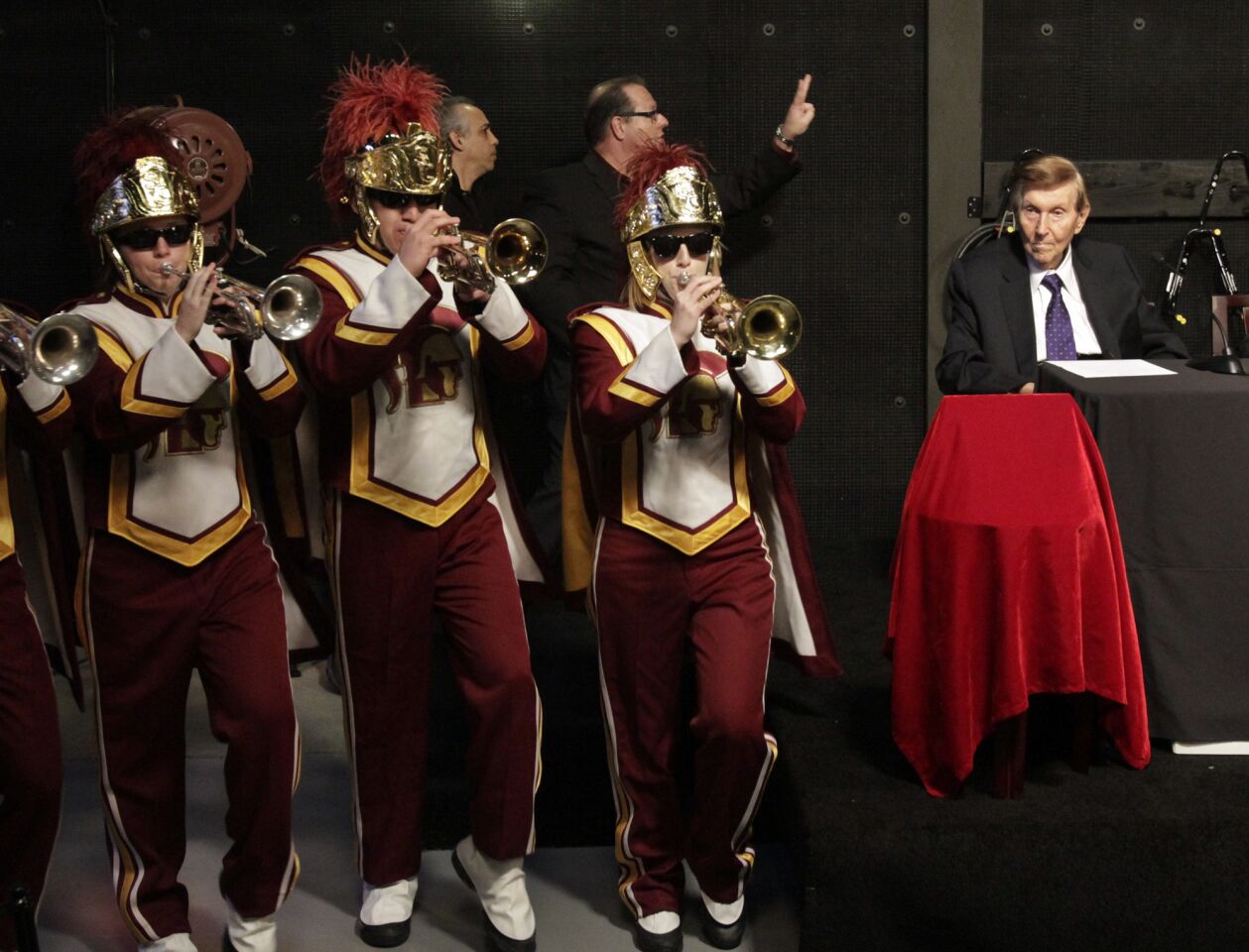 Sumner Redstone, right, and members of the USC marching band are shown at the dedication of the Sumner Redstone Production Studios at USC on Feb. 5, 2013.
(Lawrence K. Ho / Los Angeles Times)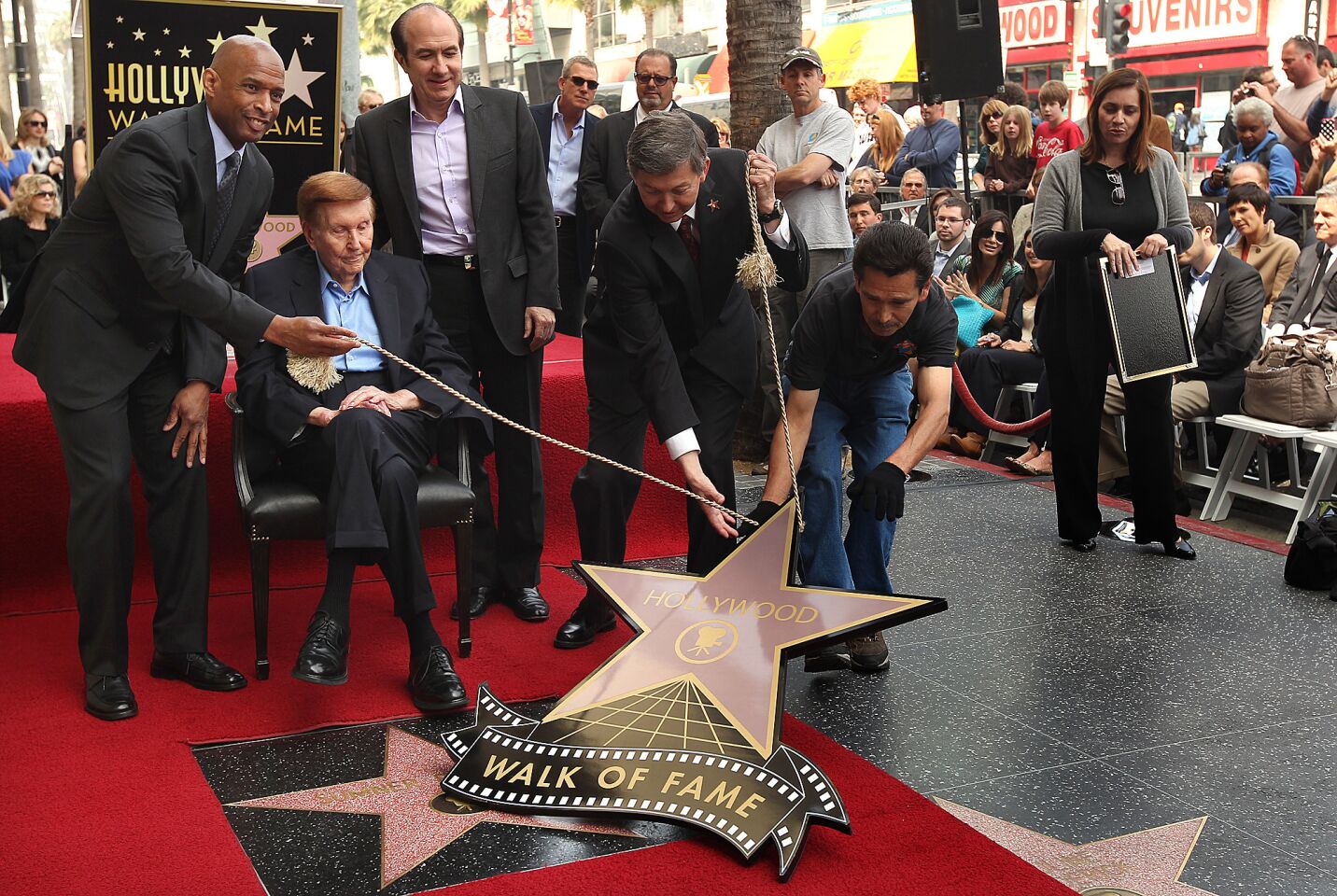 Sumner Redstone, seated, was honored by the Hollywood Chamber of Commerce with a star on the Hollywood Walk of Fame on March 30, 2012.
(Christina House / For the Los Angeles Times)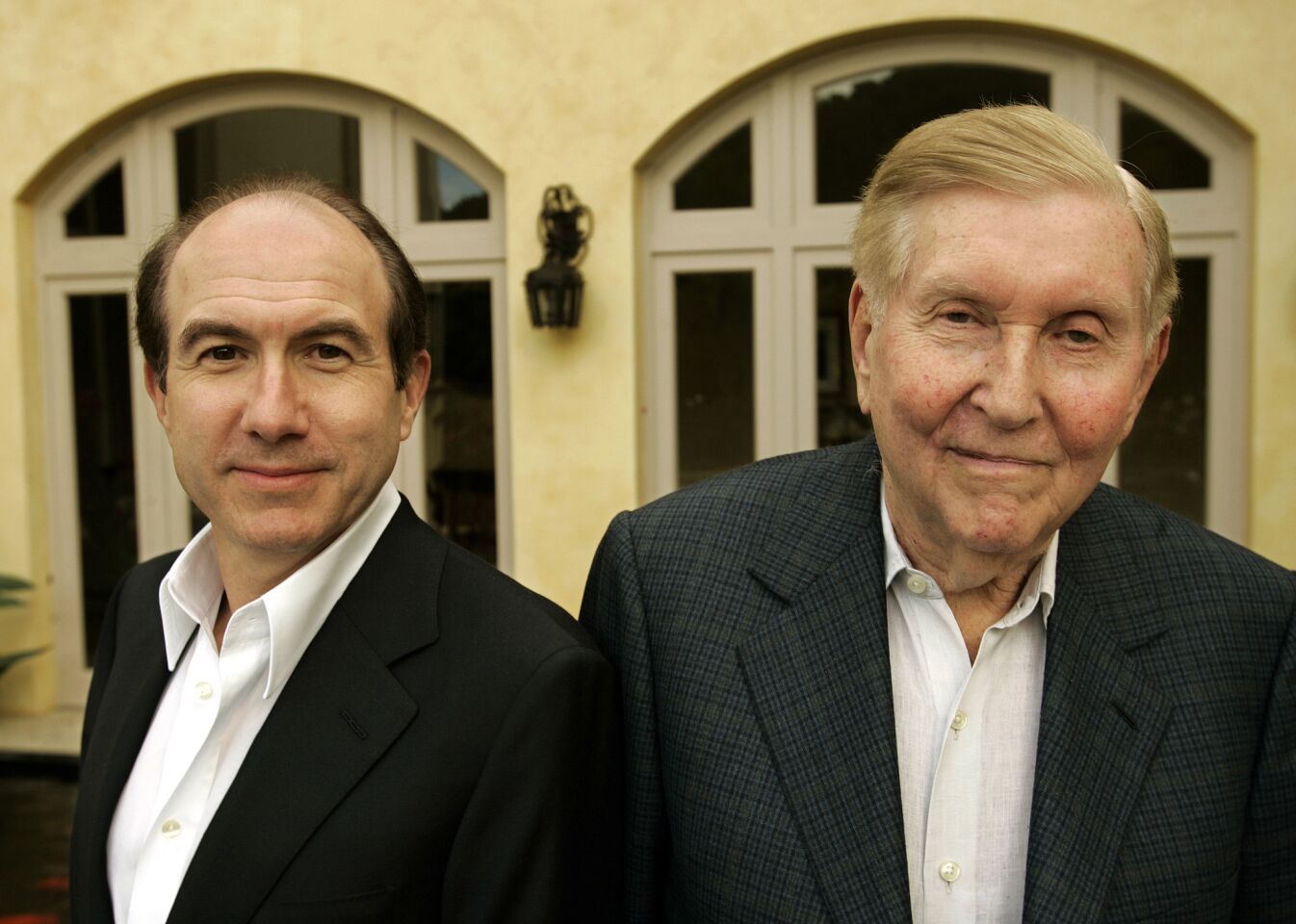 Philippe Dauman, left, now the chief executive of Viacom, and Sumner Redstone are photographed at Redstone's home in Beverly Hills on September 27, 2007.
(Mel Melcon / Los Angeles Times)
Sumner Redstone and his then-wife, Paula Fortunato, attend the premiere of Paramount's "Zodiac" in Los Angeles on March 1, 2007.
(Reed Saxon / Associated Press)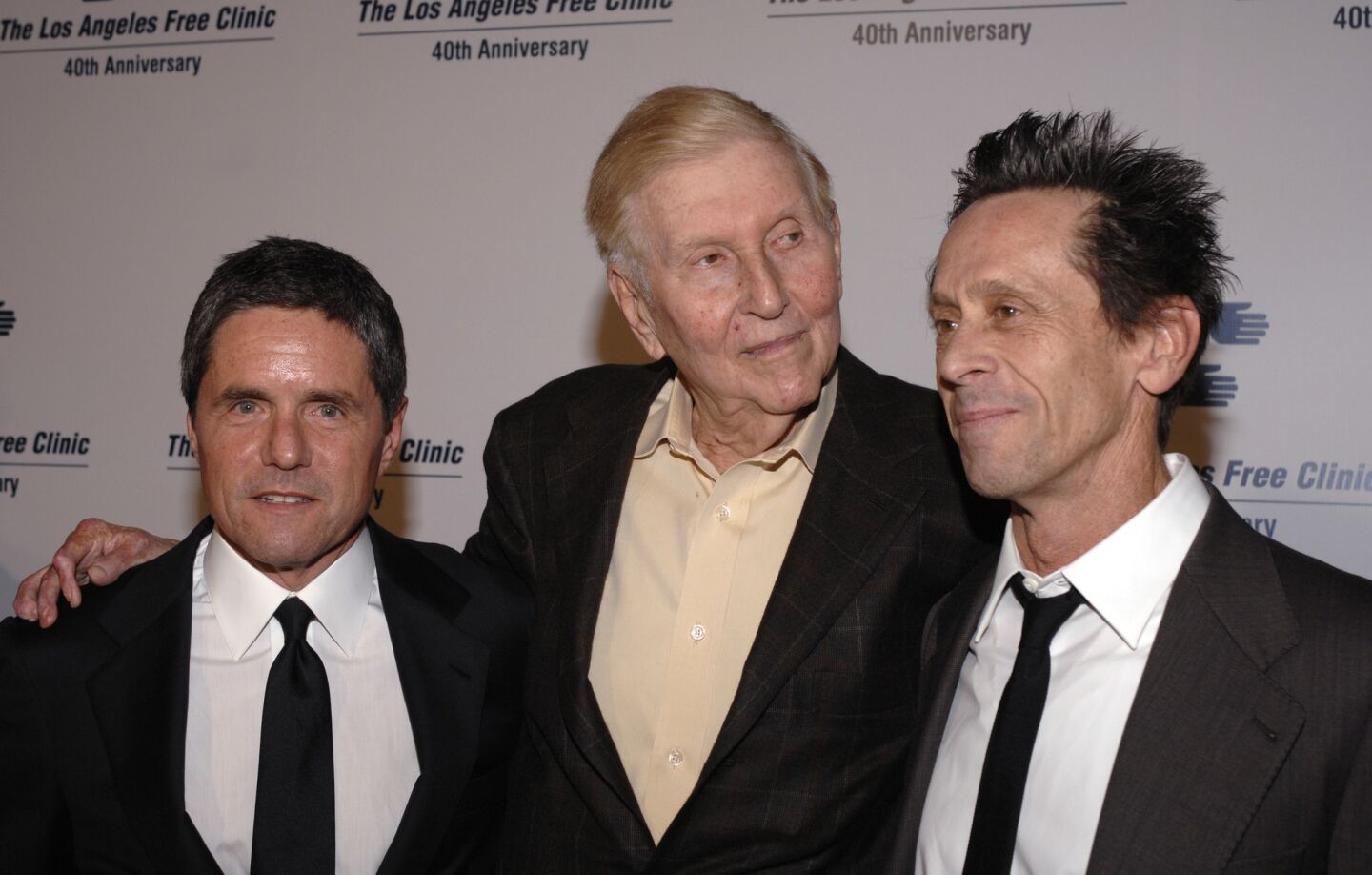 Paramount Pictures Chief Executive Brad Grey, from left, Sumner Redstone and producer Brian Grazer attend the Friends of the Los Angeles Free Clinic annual gala at the Beverly Hilton Hotel on Nov. 20, 2006.
(Phil McCarten / Associated Press)
Actor Clint Eastwood, from left, businessman Sumner Redstone, director Steven Spielberg and Paramount Pictures Chief Executive Brad Grey attend the Paramount Pictures premiere of "Flags of Our Fathers" in Beverly Hills on Oct. 9, 2006.
(Kevin Winter / Getty Images)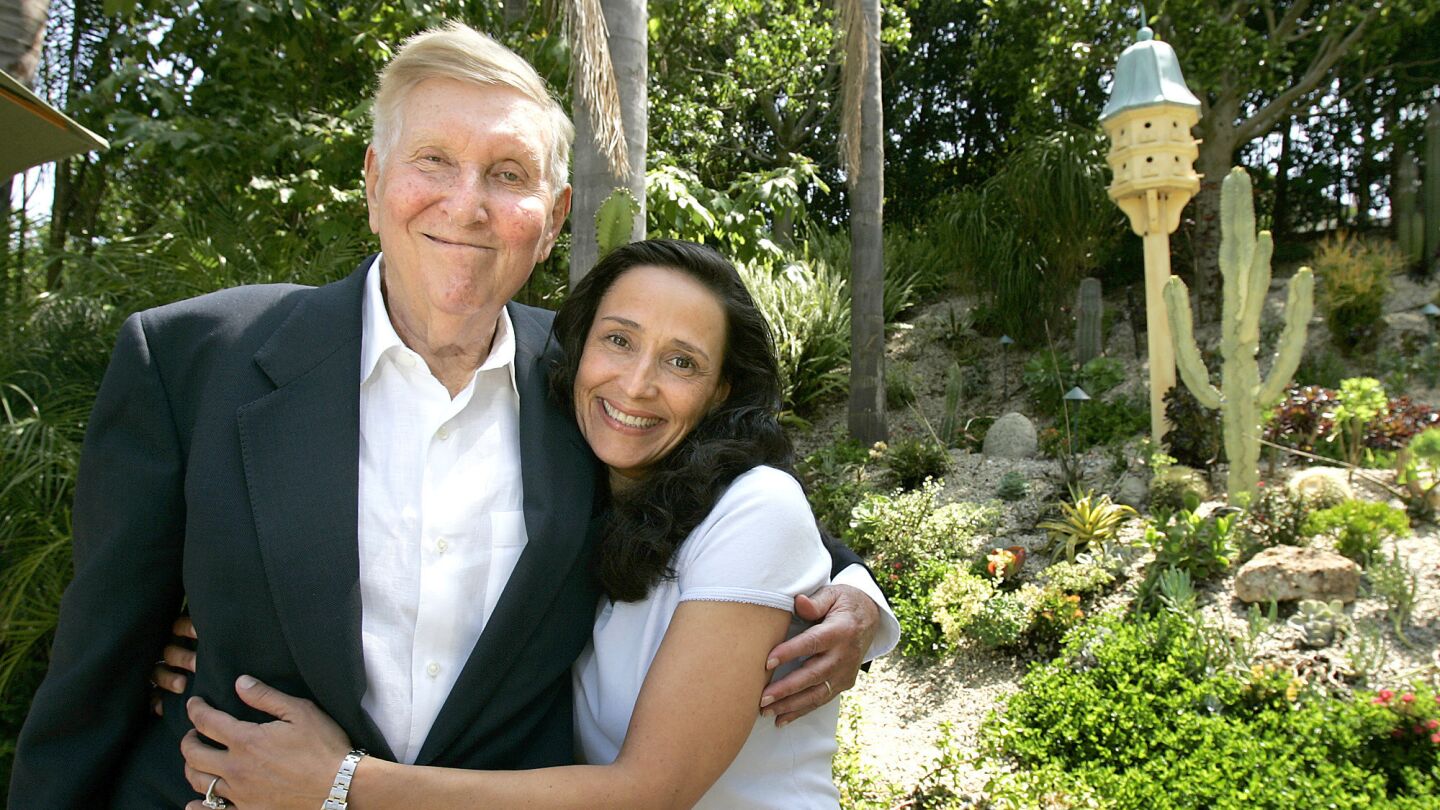 Sumner Redstone poses with his then-wife, Paula Fortunato, at their Beverly Hills home on June 10, 2005.
(Brian Vander Brug / Los Angeles Times)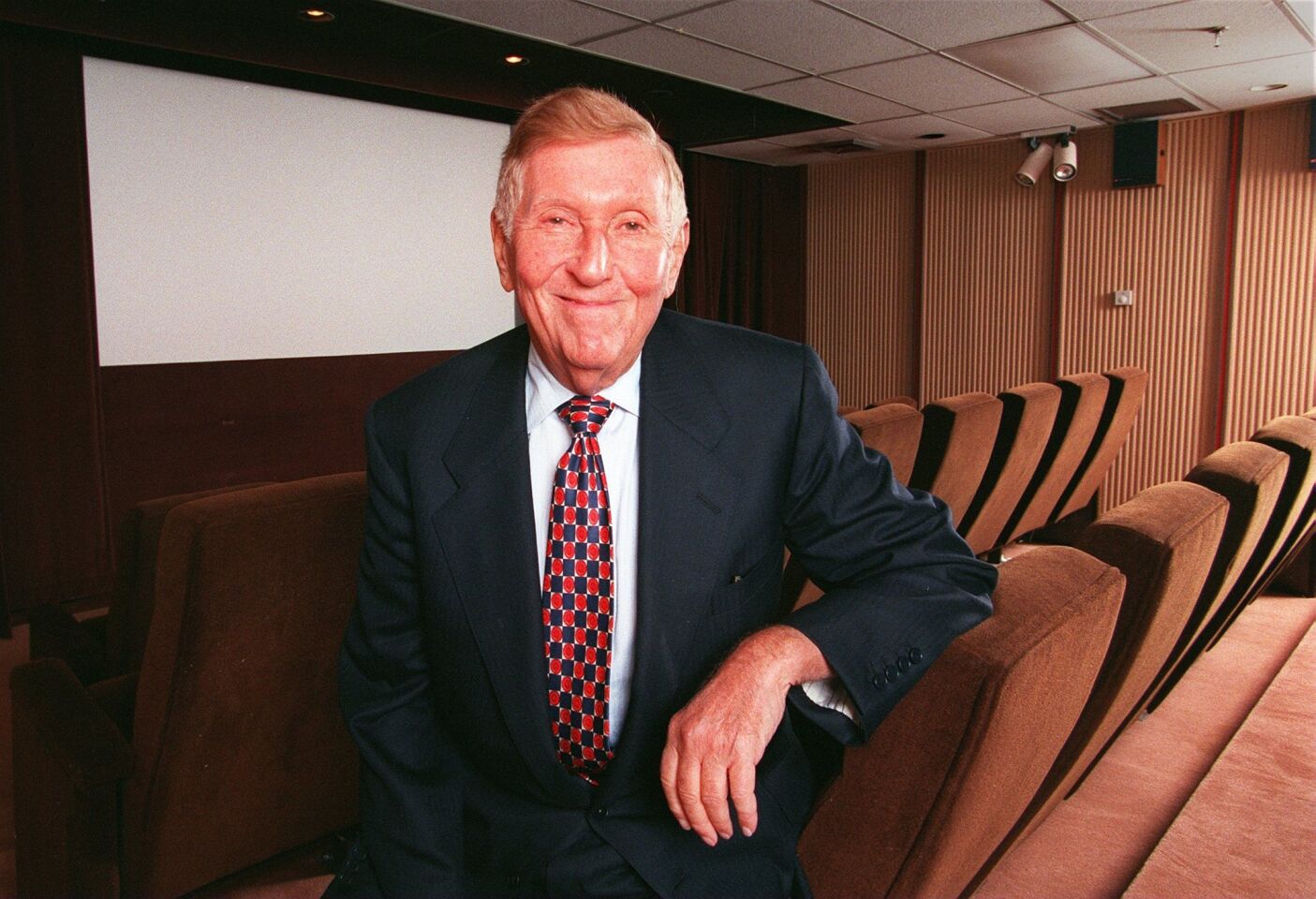 Businessman Sumner Redstone is photographed in a screening room at National Amusements on Oct. 2, 1998.
(John Blanding / Boston Globe via Getty Images)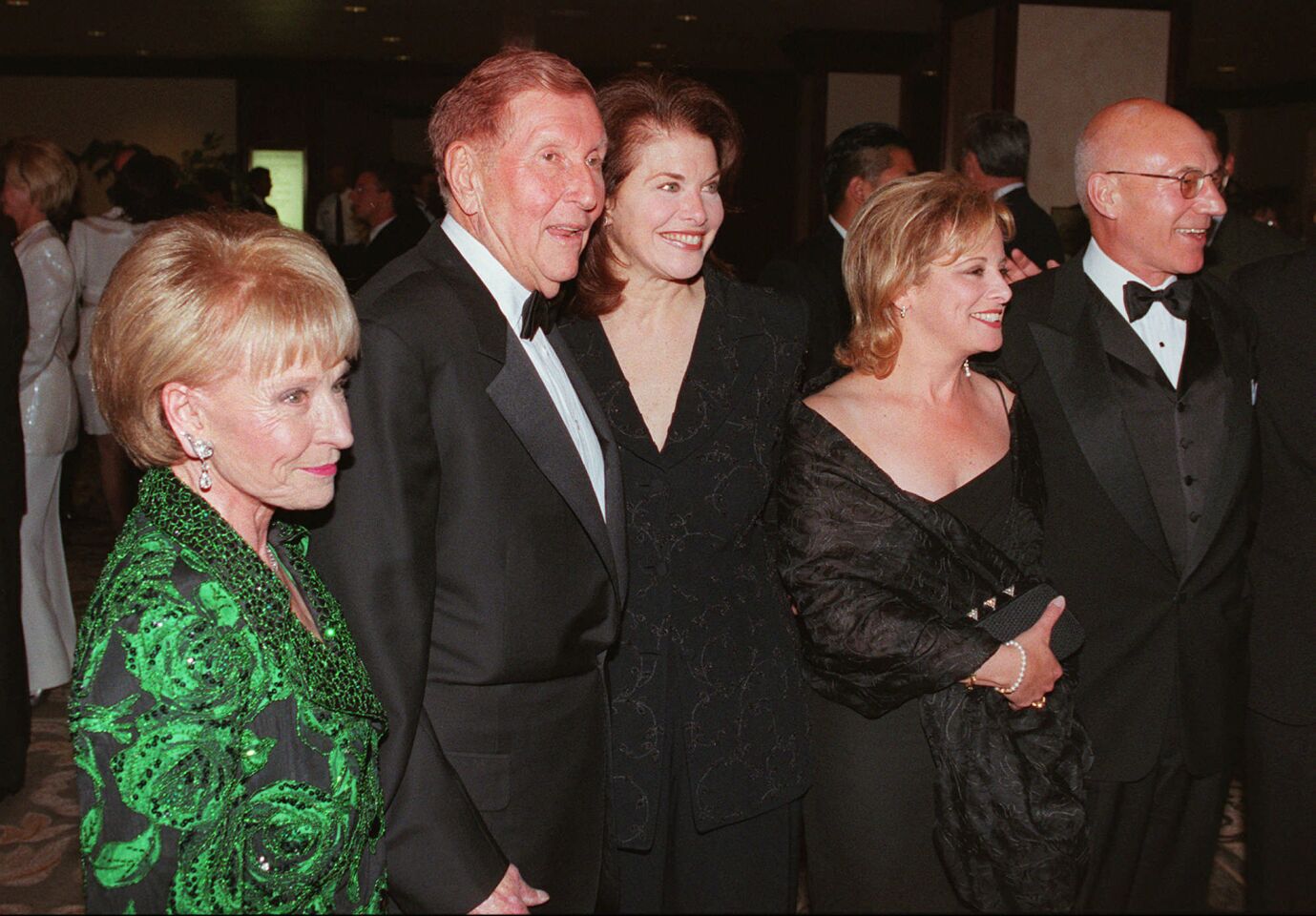 From left, Sumner Redstone's then-wife, Phyllis Raphael, poses with Sumner Redstone, Sherry Lansing, Wendy Neuss and Patrick Stewart at the National Conference of Christians and Jews' annual Humanitarian Award Dinner on April 23, 1998, at which businessman Sumner Redstone was honored.
(Mark J. Terrill / Associated Press)
The UCLA doctor, Spar, "presents a one-sided, uncross-examined and distorted view of Mr. Redstone's mental condition," the filing said. "Dr. Spar's submission … reads like an interview or deposition summary, as if Mr. Redstone was capable of conducting a conversation."
Redstone's legal team fired back.
"Sumner Redstone is physically stable, engaged with legal counsel, and participating in strategic decisions," a representative of Redstone's legal team said. "He's making his views clear, as Dr. James Spar indicates in his report filed with the court."
The mogul's lawyers argued that Spar wasn't just some hired hand, that he was a respected geriatric psychiatrist at the David Geffen School of Medicine at UCLA and author of three books and dozens of articles, with a specialty on capacity and undue influence.
"He is highly qualified to provide expert observations on this matter, and has evaluated Sumner Redstone several times over the past two years," the representative said. "We look forward to upcoming legal proceedings, so the truth can come out."
"In fact, as even Dr. Spar effectively acknowledges, Mr. Redstone is unable meaningfully to speak at all," the filing said.
Dauman and Abrams suspect that Redstone is acting under the influence of his long estranged daughter, Shari Redstone, who returned to his life late last year after Redstone expelled his former companion, Manuela Herzer, from his life.
Dauman, other Viacom board members and one of Redstone's grandchildren, Keryn Redstone, say they have not been allowed to see the mogul for more than two months.
"Dauman and Viacom directors have repeatedly sought to meet with Mr. Redstone to discuss business matters including a potential Paramount [Pictures] transaction. They have been rebuffed," the filing said.
Sumner Redstone is said to be furious over Viacom's plan to sell a minority stake in the Los Angeles movie studio.
The court documents also assert that Massachusetts – not California – is the proper jurisdiction for the matter since many of the Redstone trustees live in Massachusetts and because National Amusements is based in Massachusetts.
In addition, they say, Sumner M. Redstone National Amusements Trust was formed under Massachusetts law.
MORE REDSTONE:
Sumner Redstone says Philippe Dauman has 'done a bad job running Viacom'
Keryn Redstone to join legal battle along with Viacom CEO Philippe Dauman
Shari Redstone has 'no desire' to run Viacom, says spokesperson
Drama, Sex and Millions at Stake: Key players in the Sumner Redstone Saga
Sumner Redstone says his former girlfriends received $150 million from him
---
UPDATES:
12:55 p.m.: This article was updated to include a statement from a representative of Sumner Redstone's legal team.
This article was first published at 8:27 a.m.
---
Get our L.A. Goes Out newsletter, with the week's best events, to help you explore and experience our city.
You may occasionally receive promotional content from the Los Angeles Times.