'The Queen Latifah Show' turns in solid debut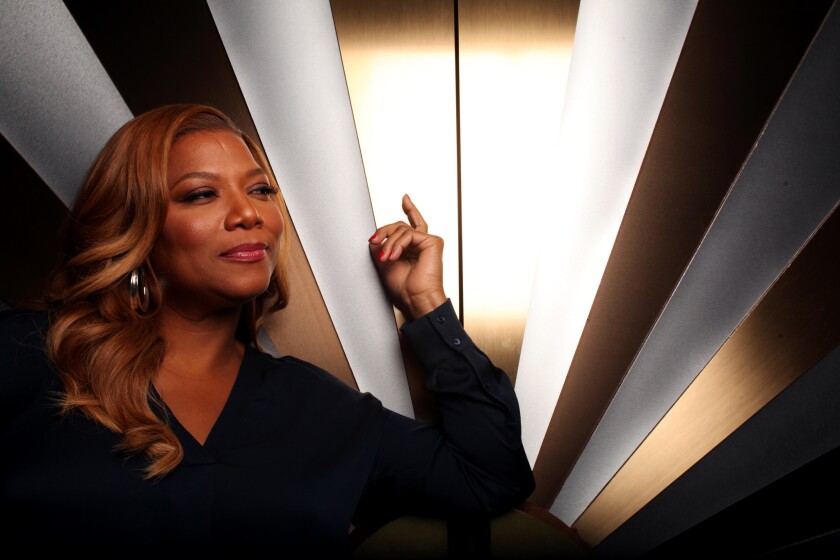 Sony Pictures Television's big syndication bet this season, "The Queen Latifah Show," got off to a solid start Monday.
The hourlong talk show, produced on Sony's movie lot in Culver City, ranked as the second most popular debut of a talk show since "Dr. Oz" went on the air in 2009, according to preliminary audience totals released Tuesday.
"The Queen Latifah Show" generated a 1.7 household rating in the nation's largest TV markets, according to Nielsen data. The highly promoted episode tucked in behind last season's premiere of "Katie" featuring journalist Katie Couric.
CRITIC'S PICKS: What to see, hear, do and more
The initial episode of "Katie" achieved a 2.0 household rating in the largest TV markets. Over the course of last season, "Katie" averaged 2.2 million viewers an episode, making it a decent performer.
Queen Latifah's debut was pre-empted on Monday in Washington, D.C., and Richmond, Va., where local TV stations ran news coverage of the aftermath of the deadly Navy Yard shooting.
Final ratings for the first telecast are expected next week.
The former rap singer kicked off her new talk show with guests John Travolta and Willow Smith, the 12-year-old daughter of Will Smith and Jada Pinkett Smith, who also serve as executive producers on the show. Rocker Lenny Kravitz designed the studio set, which Queen Latifah has dubbed "The Big Sexy."
This is Queen Latifah's second outing as a talk-show host. She was featured in a short-lived talk show distributed by Warner Bros. from 1999 to 2001. The subject matter of that show got "too heavy," Queen Latifah said in an interview last week with The Times.
"Sometimes it was really hard for me to leave the job and go home and shake it off," she said, and the show felt too much like other daytime offerings.
"Where I am at my best is by competing in ways that are unique to me," she said.
Queen Latifah's performance Monday generated 30% higher viewership than the former time period occupant. In Los Angeles and New York, "The Queen Latifah Show" replaced "The Doctors."
In Los Angeles, the initial 2 p.m. airing of "The Queen Latifah Show" on KCBS-TV Channel 2 generated about 80,000 viewers. The show airs opposite "Dr. Oz," also produced by Sony, "The Wendy Williams Show" and the game show "Who Wants to Be a Millionaire" with Cedric the Entertainer.
A repeat of "The Queen Latifah Show" on KCAL-TV Channel 9 at 7 p.m. generated 83,000 viewers.
In New York, Queen Latifah proved to be a bigger draw. The 9 a.m. telecast on WCBS-TV Channel 2 attracted more than 206,000 viewers -- despite going head-to-head against the popular "Live with Kelly and Michael" on the ABC station.
Queen Latifah, whose real name is Dana Owens, is a native of New Jersey.
"At the end of the day, I want to create something that people want to watch," she told The Times. "If people want to watch my show, we're going to get great bookings, we're going to have a good time and hopefully we can make something special that affects people ... for the next 10 or 15 years at least."
ALSO:
Queen Latifah returns to daytime talk show arena
Univision's Cesar Conde leaves for big role at rival NBCUniversal
Jeff Shell's promotion to run Universal Pictures surprises Hollywood
Review: Queen Latifah is clearing some space between "Oprah" and "Ellen"
Follow Meg James on Twitter: @MegJamesLAT
---
From the Emmys to the Oscars.
Get our revamped Envelope newsletter for exclusive awards season coverage, behind-the-scenes insights and columnist Glenn Whipp's commentary.
You may occasionally receive promotional content from the Los Angeles Times.