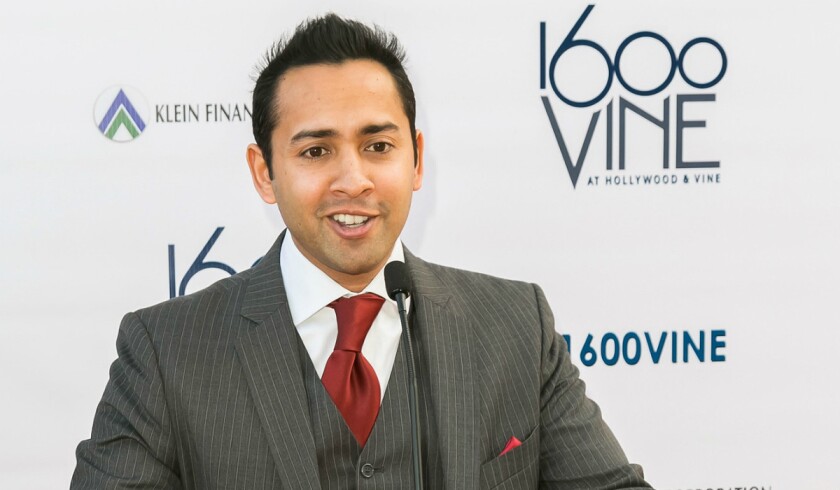 Rajiv Dalal, the Los Angeles deputy film czar who helped rally support for bolstering California's film tax credits, is stepping down to run for the California Assembly.
Dalal on Thursday announced his candidacy for the 43rd District, which covers the eastern end of the San Fernando Valley and parts of Hollywood. The district is represented by Mike Gatto, who will be termed out in 2016.
In announcing his campaign, Dalal touted his role in organizing a coalition of entertainment industry groups and unions last year to win passage of AB 1839. The law, which tripled annual funding for California's film and television tax credit to $330 million a year, is intended to curb the flight of production from Southern California.
"Working closely with current 43rd District Assemblyman Mike Gatto and the industry to pass AB 1839 was a monumental accomplishment – helping the hard-working, middle-class backbone of our industry," said Dalal, who is running as a Democrat. "But we can't stop there. Our industry is in the midst of tremendous change. With new technologies reshaping our business, we need a voice that grasps the future and makes government part of the solution."
Dalal, a former Time Warner executive and managing director of India for the Motion Picture Assn. of America, was tapped by veteran Hollywood executive and film czar Tom Sherak to be his deputy in 2013.
After Sherak died in January 2014, Dalal then worked with entertainment industry attorney Ken Ziffren, who was charged with completing the work Sherak had started. The pair lobbied lawmakers to support the tax credit bill and helped craft changes to make L.A. more film-friendly.
Until this week, Dalal ran the mayor's office of motion picture and television production.
His departure comes at important time for Mayor Eric Garcetti's film efforts. The mayor recently announced a marketing plan called Greenlight Hollywood to promote the state's newly expanded tax credits to studio executives, agents and film financiers.
On Wednesday, Garcetti unveiled a series of steps aimed at making the city more film-friendly, including having city departments designate a film liaison, streamlining the permit process and having city staff attend a seminar on how to work with the film industry. Garcetti also announced that Kevin James would be the city's new point person on film issues. James ran for mayor in 2013 and is president of the board of public works.
At a reception Wednesday, Garcetti praised Dalal's contributions to the city.
"Rajiv has simply been amazing," he said. "From helping to engineer passage of the tax credit/jobs bill to setting in place the city's infrastructure plan, I could not imagine that one man could deliver so much for us – but he did and then some."
Twitter: @rverrier
---