It's Game of Thrones at Viacom: Dauman vs. his mentor Sumner Redstone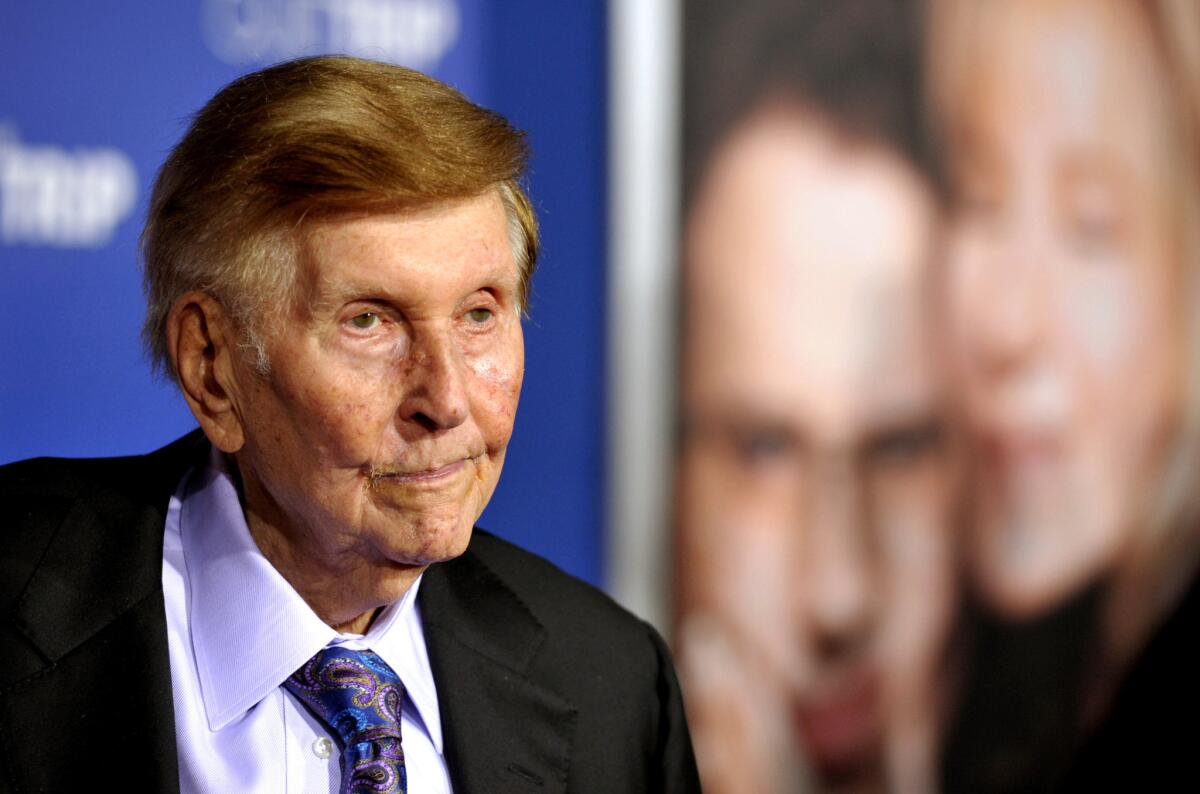 Media mogul Sumner Redstone for years has lavished praise on his protégé, Philippe Dauman, calling him "the wisest man I have ever known," and trusting him with the keys to his corporate kingdom.
Not anymore. The ailing mogul abruptly removed Dauman from his family trust last week, suggesting that Redstone's next step might be to use his clout as controlling shareholder of Viacom to push Dauman out as chairman and chief executive of the struggling media company.
"Game of Thrones – you're watching it," said Mario Gabelli, whose Gabelli funds make up the second-largest voting shareholder of Viacom and CBS, the other major media company that the Redstone family controls. "It's hard to tell how this all works out."
Dauman, 62, won't go without a fight. He filed court papers Monday to block the 92-year-old mogul's efforts to oust him and fellow board member George Abrams from the trust that will oversee Redstone's controlling shares of Viacom and CBS when the billionaire dies or becomes incapacitated.
They contend that Redstone is being manipulated by his once-estranged daughter Shari Redstone, who is vice chair of Viacom and has taken a more active role recently in the care of her ailing father. Sumner Redstone's health has been deteriorating for more than two years, and the mogul struggles to speak clearly.
Analysts said they have never seen anything like the family-corporate drama enveloping Viacom, which owns such properties as Paramount Pictures and cable channels MTV, VH1, Nickelodeon, Comedy Central and BET.
"What a mess," said Charles Elson, a corporate governance expert at the University of Delaware. "You've got a fight between the controlling shareholder, the CEO and the daughter of the controlling shareholder. … How can you run the company with all of this going on?"
Dauman's ouster as a trustee of the family trust is a significant victory for Shari Redstone. She has long chafed when her father or Dauman marginalized her role at Viacom, and should the banishment of Dauman from the trust be upheld, then she and her family would be able to make decisions without interference from her adversaries.
Dauman's removal comes at a time when he is most vulnerable. Viacom's stock price has plummeted 40% in the last year and some shareholders have agitated for management changes. Viacom stock rose 2% Monday to close at $39.95.
How can you run the company with all of this going on?
— Charles Elson, University of Delaware
Wall Street analysts say one possible successor could be Leslie Moonves, the chairman and chief executive of Viacom's sister company, CBS. Shari Redstone has been a key ally of Moonves over the years. That, however, could only happen if the companies were reunited like they were before 2006.
"If you combine the companies again, and you put them under Les, who has a proven track record as the best television programmer in America, the market would be ecstatic," said Laura Martin, media analyst with the brokerage Needham & Co.
Through a spokesman, Moonves declined to comment. But there would be significant hurdles for him to take over at Viacom. Viacom and CBS are separate publicly traded companies, and there's no indication that CBS' board would be inclined to merge the healthier CBS with the weaker Viacom. Board members and shareholders of the two companies would have to approve any merger, a process that would take months.
Also, Dauman is supported by a majority of Viacom board members, who say they have been denied access to Redstone in recent months. Frederic Salerno, the lead independent director of Viacom, said Saturday that he has been "denied access to Sumner for a face-to-face meeting."
Viacom alleges that Shari Redstone has her father's hilltop mansion overlooking Beverly Hills "on lockdown," preventing him from having any contact with executives and board members at Viacom.
Dauman and George Abrams, a Redstone friend and advisor for 50 years, filed their lawsuit in probate court in Massachusetts – where the Redstone family business, National Amusements Inc., is based. They contend that the ailing mogul is in diminished capacity and that Shari Redstone is calling the shots.
"She is now on the verge of seizing control of her father's companies," according to the lawsuit. Two months ago "Redstone appeared almost totally non-responsive, and could not meaningfully communicate at all."
Sumner Redstone is in "the grip of a neurological disorder" and has become dependent on his once-estranged daughter for his care, according to the suit.
In a statement Monday, Abrams added: "My sole purpose in joining in this lawsuit is to allow a court to determine whether Sumner Redstone, in his current diminished capacity, has been subject to undue influence in his recent actions in changing his Trustees and in changing other documents."
Redstone's attorney denied that his client had been manipulated.
"Mr. Redstone has been clear and unequivocal in his desire to remove Philippe Dauman and George Abrams as trustees," said the attorney, Robert Klieger. Klieger filed a petition in Los Angeles Superior Court on Monday asking a judge to uphold Redstone's changes to the trust.
For Dauman, Redstone's decision to oust him from his lofty perch as one of the trustees overseeing the Redstone family business represents a particularly harsh fall from grace.
Dauman has been Redstone's lawyer, and later lieutenant, for more than 30 years. He was installed as chief executive in 2006 after Redstone jettisoned another former favorite, Tom Freston, who had spent two decades builing MTV into a cultural juggernaut.
Redstone has a long history of bulldozing allies, including former CBS honcho Mel Karmazin, former Viacom chief Frank Biondi and Viacom founder Ralph Baruch, who was ousted when Sumner Redstone grabbed the controls following a hostile takeover of the company in 1987. Even Dauman was bounced out of Viacom in 1999 when the company took over CBS.
"The chain of events … are confusing and surprising and would likely make for a great movie at Paramount one day combining family drama, love, rage, corporate intrigue and more," Richard Greenfield, media analyst with BTIG Research, wrote in a blog. "If Sumner Redstone is unhappy and has capacity, it is hard to see how Philippe Dauman and his management teams survive the wrath of Redstone."
---
UPDATES:
6:30 p.m: This was was updated throughout.
11:13 a.m.: This post was updated to include news that Sumner Redstone's attorney filed a petition in Los Angeles seeking to affirm changes to the trust.
This post was originally published at 6:47 a.m.
From the Oscars to the Emmys.
Get the Envelope newsletter for exclusive awards season coverage, behind-the-scenes stories from the Envelope podcast and columnist Glenn Whipp's must-read analysis.
You may occasionally receive promotional content from the Los Angeles Times.