SAG-AFTRA and studios reach deal on new film and TV contract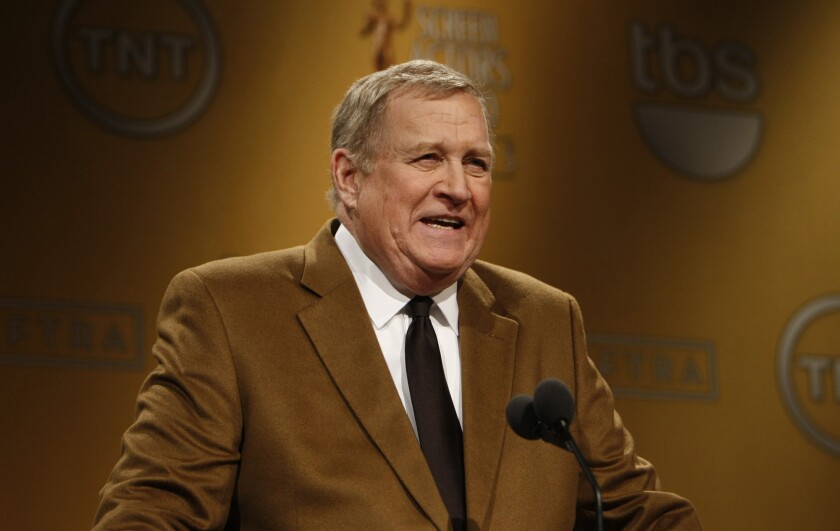 Hollywood's largest union representing actors and other performers has secured a new film and TV contract that will provide modest pay hikes for its approximately 165,000 members.
SAG-AFTRA and the Alliance of Motion Picture and Television Producers announced early Friday that they had reached an agreement on a new three-year film and TV contract to replace one that expired at midnight on June 30 and was extended three times.
The two sides worked until nearly midnight most nights this week to reach a breakthrough agreement that should ensure labor stability in Hollywood for at least another three years.
The SAG-AFTRA contract was the third major pact that AMPTP has negotiated in recent months. It previously reached agreements with the unions that represent Hollywood's directors and writers.
SAG-AFTRA was able to wrangle rate hikes of 2.5% in the first year of the proposed agreement, and another 3% in the second and third year. The group also mustered a slight increase in contributions that producers will make to guild members' pension and health plans.
"The deal also calls for improved terms and conditions and full television rate minimums for productions made for subscription video on demand (SVOD) services such as Netflix, Hulu Plus and similar platforms," Ken Howard, SAG-AFTRA president, and David White, the guild's chief negotiator, said in a message distributed to members Friday morning.
In addition to providing coverage for such big-budget Netflix shows as "Orange Is the New Black," and "House of Cards," the producers also agreed to pay slightly higher residuals for shows created for advertising-supported Internet sites.
The talks mark the first time the union has bargained on a film and TV contract since the Screen Actors Guild merged with its smaller rival union, the American Federation of Television and Radio Artists, two years ago. In addition to actors, AFTRA also represented recording artists, disc jockeys, broadcast journalists and dancers.
"We are pleased to have reached a tentative agreement with SAG-AFTRA for theatrical, television and new media production," the producer group AMPTP said in a separate statement. "This deal memorializes our partnership with the new union as we worked together to forge a new unified television agreement."
AMPTP is the entertainment industry's official collective bargaining organization. It represents more than 300 producers of movies and TV shows, including the major studios, broadcast networks, cable channels and independent producers.
Proponents of the merger argued that combining the disparate groups into a single entity would give them more clout in negotiations with the studios, which had contentious relations with the Screen Actors Guild in the past. SAG nearly went on strike in 2008.
"We achieved a number of significant gains, including the historic unification of our legacy SAG and AFTRA primetime television contracts into one SAG-AFTRA Television Agreement," Howard and White said in their message.
Terms of the new agreement will be presented to the SAG-AFTRA National Board of Directors at its July 12 meeting.
The agreement, which is subject to approval by the union's members, brings uniformity to TV contracts, bringing them under a single master contract to replace separate agreements that existed before the two former rival unions combined in 2012.
That had been one of the chief goals of the negotiations, which began May 5 and were expected to wrap in mid-June, following similar deals reached earlier this year by unions representing writers and directors.
However, the talks took longer than anticipated mainly because of complications surrounding creating a single master contract.
Howard, who was the union's first elected president and a strong proponent of the merger, led the talks. White, SAG-AFTRA national executive director, was the union's chief negotiator.
In February, White was considered a leading candidate to be director of the NBA Players Assn., but the players union is still conducting its search. Meantime, White has committed to remain with SAG-AFTRA until the negotiations are finalized.
Staff Writer Meg James contributed to this report.
Follow @rverrier for news about the business of entertainment
---
From the Oscars to the Emmys.
Get the Envelope newsletter for exclusive awards season coverage, behind-the-scenes stories from the Envelope podcast and columnist Glenn Whipp's must-read analysis.
You may occasionally receive promotional content from the Los Angeles Times.