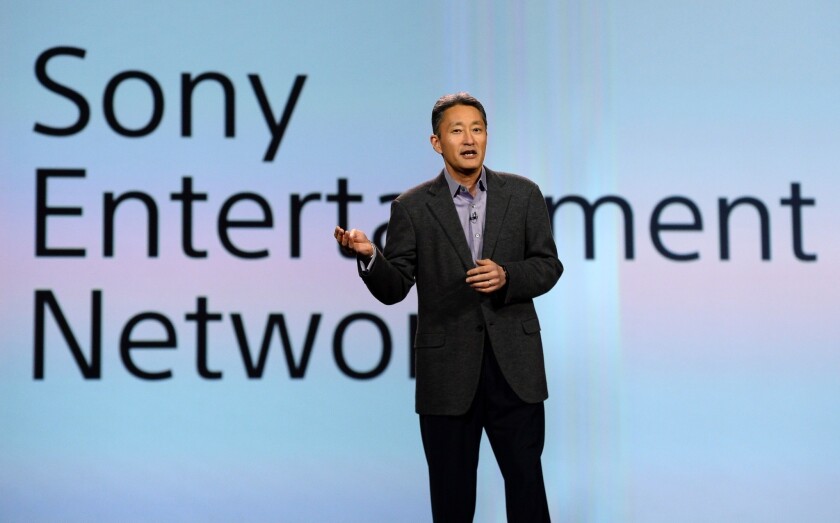 Sony Corp. is getting into a new facet of the TV business: launching an Internet service that will bring live television programs and on-demand content into the home.
Andrew House, chief executive of the Sony Computer Entertainment Group, unveiled plans for a new type of Internet-delivered television service Tuesday, in a keynote presentation at the Consumer Electronics Show in Las Vegas.
This new cloud-based video service would seek to combine the best of cable TV offerings and digital services, which it would offer through its Sony PlayStation 3 video game consoles in the United States.
ON LOCATION: Where the cameras roll
"It's really just trying to bring a new experience of TV viewing," said Sony Corp. President and CEO Kazuo Hirai in a press briefing. "We always talk about it, as an industry, but we've never been able to bring that together."
The road to delivering a revolutionary TV experience is littered with casualties -- most recently, Intel Corp., which killed its Internet TV service because it was unable to strike content deals. Sony's own partnership with Silicon Valley giant Google Inc. on the Google TV (recently renamed Android TV) met with tepid consumer response.
Hirai dismissed questions that Sony would encounter the same obstacles as Intel. He said that's because Sony offers something that the newcomer lacked: an established base of 25 million PlayStation 3 users in the U.S. who might not sign up for traditional cable or satellite service.
FULL COVERAGE: Winter TV preview
"We're talking to broadcasters; that's a compelling number," Hirai said.
The Japanese conglomerate is a known quantity in Hollywood, as owners of Sony Pictures film studio and as a major seller of television shows including "Breaking Bad," "Shark Tank" and "Justified."
Hirai was careful to position Sony, not as a rival to cable or satellite television distributors, but as a hardware-maker seeking to solve a nagging consumer problem.
"What we're trying to do is resolve one of the biggest hurdles that a lot of consumers have," Hirai said. "Watching live TV on one device, watching streamed video another device."
The TV service is expected to launch sometime this year.
ALSO:
Sony Pictures details budget and film slate cuts at Thursday meeting
CES 2014: Sony launches PlayStation Now streaming game service
CES 2014 live: Marissa Mayer touts Yahoo's Aviate, new digital efforts
---