'Star Wars: The Force Awakens' grosses estimated $247 million in U.S. and Canada
Claudia Colindres had never seen a "Star Wars" film, so before her friend Christian Alvarado would take her to the franchise's reboot, "Star Wars: The Force Awakens," the two binged for two days on all six of the earlier films.
"It's crazy," said Colindres, 17, of Los Angeles as she and Alvarado settled into the back row of Hollywood's TCL Chinese Theatre on Saturday for the 7 p.m. show.
"I made sure she could understand," said Alvarado, 19, of Culver City.
It's that kind of dedication that propelled "Star Wars: The Force Awakens" out of the stratosphere and into the Hollywood record books, as millions of watchers — ranging from fanboys like Alvarado to newcomers like Colindres who wouldn't know a Wookie from a Wonka — swarmed theaters nationwide to give "Star Wars" the largest opening in movie history.
The Disney picture grossed an estimated $247 million in the U.S. and Canada.
First Order stormtroopers are shown in a scene from "The Force Awakens."
(Film Frame / Associated Press)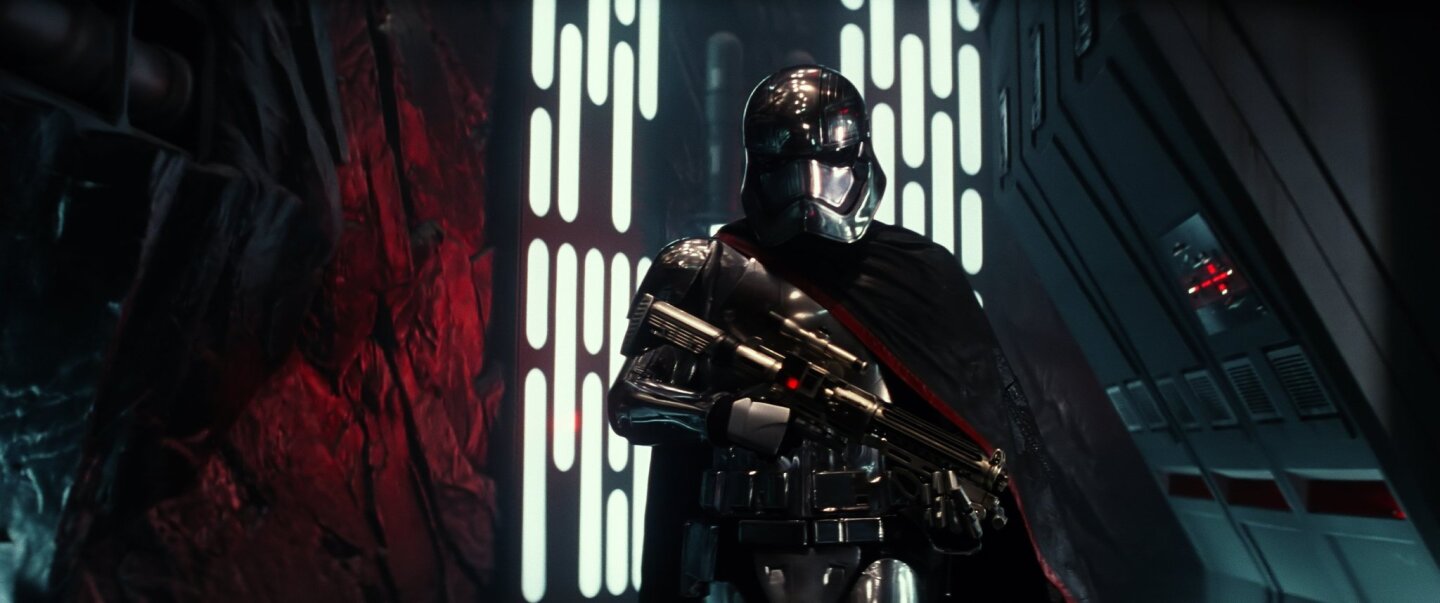 Shown is Captain Phasma, played by "Game of Thrones" star Gwendoline Christie, in a scene from "The Force Awakens."
(Film Frame / Associated Press)
Domhnall Gleeson stars as General Hux in "The Force Awakens."
(David James / Associated Press)
Rey (Daisy Ridley), left, the pint-sized droid BB-8, and Finn (John Boyega) make a break for it in a scene from "The Force Awakens."
(Film Frame / Associated Press)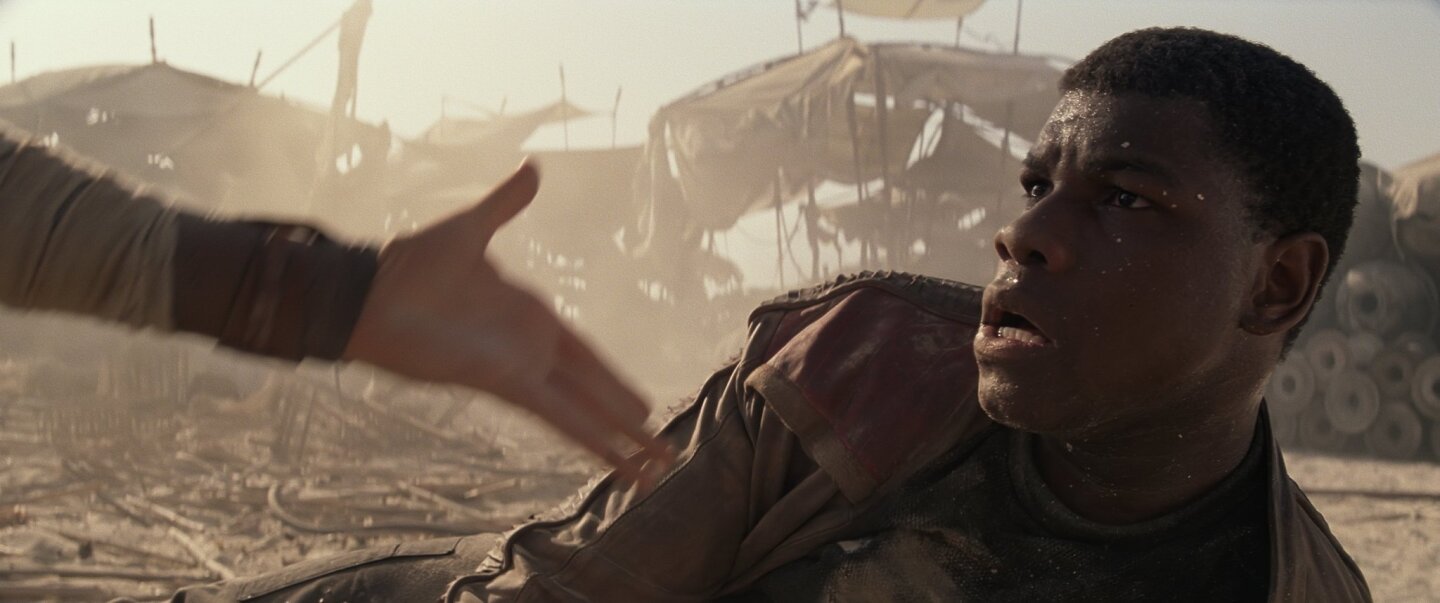 Finn gets a helping hand in a scene from "The Force Awakens."
(Film Frame / Associated Press)
Steering the phenomenon that captivated the nation is J.J. Abrams, who directed the new film, and George Lucas, the visionary who in 1977 launched the franchise distinguished by high-flying heroics, dazzling special effects and the classic battle between good and evil.
"It's been three years of preparation for this moment, and it started with great storytelling," said Dave Hollis, Disney's head of distribution. "J.J. and Lucasfilm delivered a true Star Wars experience."
The space saga outpaced previous record holders: Universal's "Jurassic World," which opened in June with $208.8 million, and Marvel's "The Avengers," also from Disney, which debuted in 2012 with $207.4 million. "Star Wars" also smashed analysts' optimistic projections of $220 million, and has now positioned the film industry for a record box office year as the winter holiday season picks up.
The film wasted no time in showing its strength: Early showings on Thursday brought in $57 million in ticket sales. That performance far exceeded the previous benchmark of $43.5 million set by "Harry Potter and the Deathly Hallows — Part 2" in July 2011. When Friday numbers were tallied, the official first-day total was estimated at $120.5 million from more than 4,000 theaters. This gave the film the highest single-day profits on record, and also the record for the first film to break the $100-million mark in a single day.
FULL COVERAGE: 'Star Wars: The Force Awakens'
Other records the film now holds: the best December opening; best performing 3-D title; highest opening weekend per theater average for a wide release ($57,568); and highest December opening theater count (4,134).
Mixing stars from the original "Star Wars" films such as Harrison Ford and Carrie Fisher with new cast members Daisy Ridley, John Boyega and Lupita Nyong'o, the new release was well received among audiences and critics alike. The film received an A grade overall from audiences, according to polling firm CinemaScore, and an A-plus among women and younger audiences. Rotten Tomatoes critics gave it a 95% positive rating.
At the TCL Chinese Theatre's Thursday night showing, fans cheered enthusiastically for the first bars of John Williams' opening theme and the introductions of characters familiar and new.
"The crowd just went nuts for everything," said Sabarish Chandramouli, a 24-year-old video game engineer. "It was a throwback to the good old days."
At downtown's L.A. Live Regal Cinemas the same night, Eric Dermanouelian agreed.
"'Star Wars' is itself again and I think that's a good thing," said Dermanouelian, 24, of Culver City, referencing the three prequels, starting with "The Phantom Menace," which were not fully embraced by die-hard "Star Wars" fans. "The future of 'Star Wars' is looking good."
His comments reflect the high stakes for the Walt Disney Co., which paid $4.1 billion in 2012 for Lucasfilm, largely for the "Star Wars" franchise. The big numbers for "The Force Awakens," however, bode well for the studio, which counts on the movie to kick off years of sequels and stand-alone spinoff films. Burbank-based Disney also stands to generate sizable returns across other business segments, including video games, merchandise and theme parks.
Such a spectacular showing for "Star Wars" is on par with the palpable anticipation demonstrated by fans and the movie theater industry ahead of the release. Audiences set a number of records for advance ticket sales on sites such as Fandango, and the movie racked up more than $100 million in pre-sales by its Thursday night opening.
The interest of fans led to expectations across the industry that "Star Wars" would drive up ticket sales as October and November box office numbers, compared with last year, were lower. Theater owners set aside huge portions of their auditoriums for the film, with some showings as early as 2 a.m.
It remains to be seen whether "Star Wars" will have a halo effect on the industry and get theatergoers to also see other movies. Highly anticipated offerings, including Sony's "Concussion," Paramount's "Daddy's Home," Fox's "Joy" and Warner Bros.' "Point Break" will hit theaters later this week.
Though some analysts worry such films could get lost in the shadow of "Star Wars," others suggest more films may benefit from that movie's huge success as more people are inspired to leave their residences and go to the multiplex. That film's performance has brought out consumers who haven't been to a theater in a long time — welcome news to theater owners who have seen attendance stagnate in recent years.
"You've got people coming out who aren't frequent moviegoers," said Will Palmer, chief executive of the film marketing analytics firm Movio. "This is [bringing in] a whole raft of customers who don't usually go to the movies and have disengaged with the cinema."
The industry is also waiting to see whether the fantasy film can help push U.S.-Canada ticket sales to a record $11 billion. If the film's performance thus far is any indication, the force is with them.
trevell.anderson@latimes.com
ryan.faughnder@latimes.com
Times staff writers Lauren Raab and Meredith Woerner contributed to this report.
Twitter: @TrevellAnderson and @rfaughnder

MORE:
Carrie Fisher thinks slave Leia bikini haters are asinine
Harrison Ford on reuniting with Han's blaster, and forgiving Lawrence Kasdan for the Ewoks
J.J. Abrams on going old school and how 'Star Wars' differs from 'Star Trek'
Star Wars screenwriter Lawrence Kasdan on the past, present and future of 'Star Wars'
The women of 'Star Wars' speak out about their new Empire
The harsh reality of building a 'Star Wars' fantasy in Abu Dhab
'Star Wars: The Force Awakens': The tweets, the memes, the fan reactions
---
From the Oscars to the Emmys.
Get the Envelope newsletter for exclusive awards season coverage, behind-the-scenes stories from the Envelope podcast and columnist Glenn Whipp's must-read analysis.
You may occasionally receive promotional content from the Los Angeles Times.