Sumner Redstone's lawyers want competency case dismissed; Viacom CEO accused of ducking deposition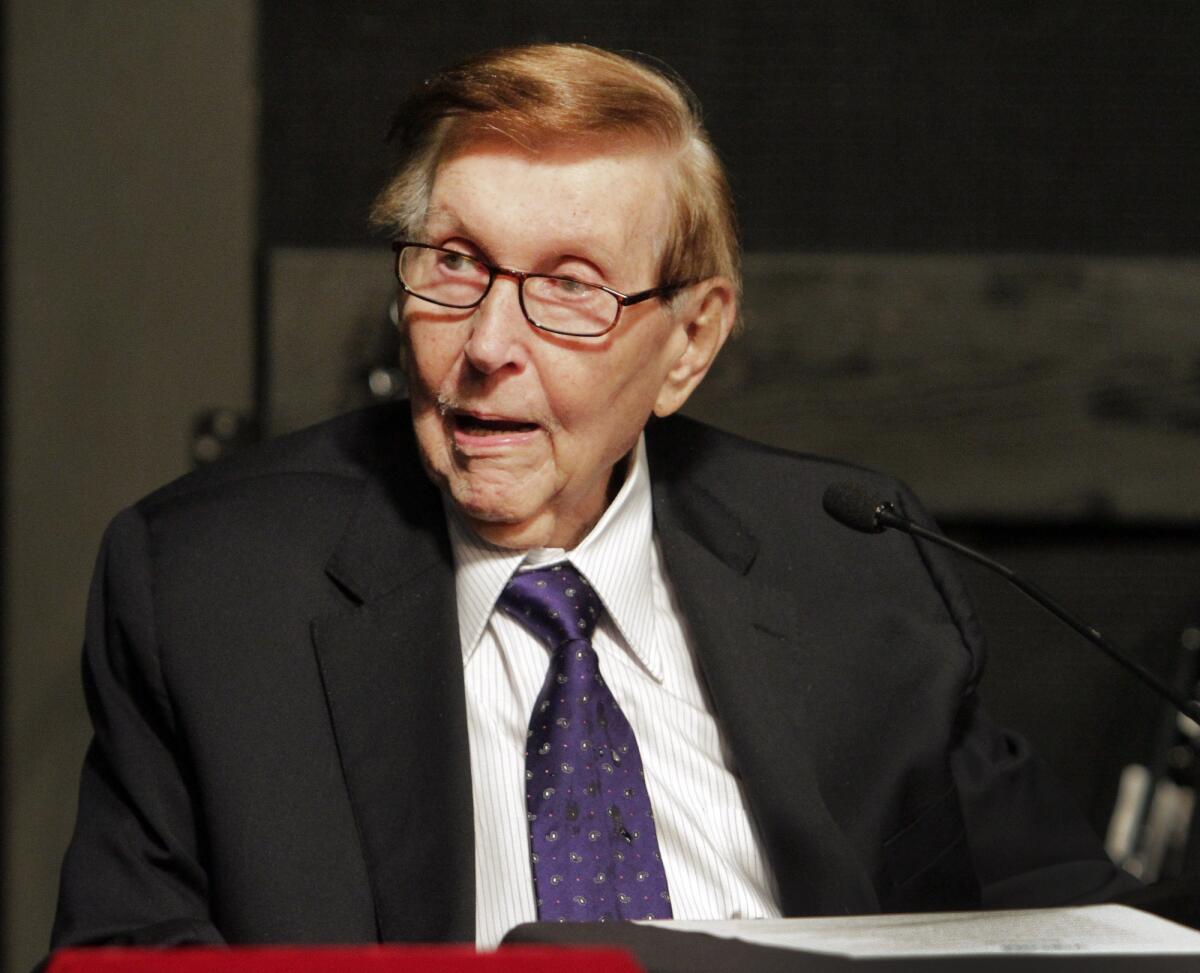 Sumner Redstone's lawyers are asking a judge to dismiss a petition that seeks to have the media mogul declared mentally incompetent, claiming the case is an unwarranted intrusion into Redstone's privacy.
"This proceeding is not reasonably necessary to protect Mr. Redstone's interest in receiving appropriate medical care," one of Redstone's attorneys, Amy Koch, wrote in the motion filed late Monday.
Redstone, who is executive chairman of Viacom Inc. and CBS Corp., continues to make his own healthcare decisions, according to court documents filed by his legal team. The latest motion included a declaration from Redstone's personal physican, Dr. Richard Gold, who said he visited Redstone on Dec. 30.
See more of Entertainment's top stories on Facebook >>
"Mr. Redstone seemed to be his usual self, and he joked with me," Gold said.
Redstone's former companion, Manuela Herzer, 51, filed the petition in November after she was tossed out of Redstone's house in Beverly Park and removed from her position of authority overseeing the billionaire's household affairs.
Until mid-October, Herzer was authorized to make decisions about Redstone's healthcare should the mogul become incapacitated. But on Oct. 16, Viacom Chief Executive Philippe Dauman replaced Herzer as the agent in charge of Redstone's advance healthcare directive.
Herzer's camp sharpened its attack this week, with Herzer's attorney, Pierce O'Donnell, alleging that Dauman was trying to dodge efforts to be deposed.
O'Donnell has said that he wants to probe Dauman's previous statements that Redstone is engaged in his company's affairs and is capable of carrying on in-depth conversations.
Dauman also has said that Redstone had told him that Herzer wanted Redstone's money.
"We will be serving a subpoena under New York law to compel Mr. Dauman to testify under oath and finally own up to his previous -- and patently specious -- claims that Mr. Redstone has the mental capacity required to carry on complex personal and professional conversations," O'Donnell said in a statement released late Monday.
The issue is an awkward one for Dauman, who is in charge of the day-to-day affairs of Viacom and who simultaneously agreed to serve as Redstone's agent in charge of healthcare decisions should Redstone become incapacitated.
Herzer's lawyers are attempting to pull Dauman -- and Viacom -- further into the contentious case.
"On. Dec. 21, Los Angeles Superior Court Judge David Cowan ruled that we had the right to take the deposition of Mr. Dauman," O'Donnell said in his statement. "The truth is this: Mr. Redstone is in rapidly failing health, has severe cognitive deficits, cannot write or speak intelligibly, and is simply incapable of making his own healthcare decisions."
A Viacom spokesman declined to comment.
A hearing in the case is scheduled for Feb. 8.
Redstone's lawyers sought Tuesday to focus the case on Redstone's healthcare directive -- and not whether Dauman ultimately testifies.
"This action is about the healthcare decisions of a 92 year-old man whose own doctor confirms his ability to make them," Redstone's attorney Gabrielle Vidal said in a statement.
"We appreciate the court's express regard for Mr. Redstone's privacy and leave it to the court to decide what additional information it needs to consider Mr. Redstone's motion to dismiss," Vidal said.
Twitter: @MegJamesLAT
ALSO
Is there anything more to say about O.J. Simpson's murder trial? Two projects say yes
China's Wanda in talks to buy Legendary Entertainment
With 'Chi-Raq,' Spike Lee takes on gun violence — and angers Rahm Emanuel
From the Oscars to the Emmys.
Get the Envelope newsletter for exclusive awards season coverage, behind-the-scenes stories from the Envelope podcast and columnist Glenn Whipp's must-read analysis.
You may occasionally receive promotional content from the Los Angeles Times.