Sumner Redstone resigns as CBS chairman; Viacom board to discuss succession Thursday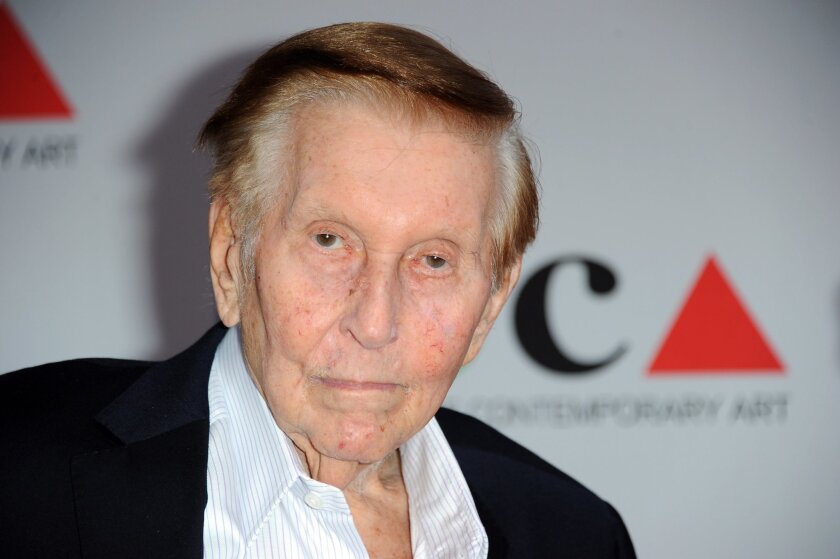 Ailing Sumner Redstone, the 92-year-old mogul who helped shape modern Hollywood, is relinquishing his oversight of the two entertainment companies he controls: CBS Corp. and Viacom Inc.
The leadership transition was smooth at CBS Corp., where the board members Wednesday unanimously elected CBS Chief Executive Leslie Moonves to replace Redstone as chairman. But a high-stakes showdown over leadership is shaping up at Viacom, whose board is set to grapple with succession Thursday.
Redstone's trust documents express his desire that his daughter, Shari Redstone, succeed him as the leader of both companies. However, Shari Redstone, who serves as vice chair of both CBS and Viacom, declined the offer to become chairman of CBS and instead nominated Moonves.

Adding a layer of corporate intrigue and family drama, Shari Redstone signaled Wednesday that she would not support the elevation of Viacom's chief executive, Philippe Dauman, a man who has been her father's trusted lieutenant for three decades.
Such a move could trigger division among Viacom board members. Dauman enjoys the support of some board members and his employment contract stipulates that he is next in line to become chairman when Redstone steps down. Electing someone else would constitute a breach of Dauman's agreement and could prompt him to leave the media company at an awkward time.
"It is my firm belief that whoever may succeed my father ... should be someone who is not a trustee of my father's trust or otherwise intertwined in Redstone family matters, but rather a leader with an independent voice," Shari Redstone said in a statement.

Dauman and Shari Redstone are two of the seven members of a trust that will eventually decide the fate of the Redstone family's empire, which includes the CBS broadcast network, Paramount Pictures movie studio and the cable channels MTV, Showtime, VH1, Comedy Central, BET and Nickelodeon.
Sumner Redstone and his family control 80% of the voting shares in the two media companies.
A Viacom spokesman declined to comment.
An activist shareholder firm, which last month began agitating for changes at Viacom, also called on Viacom's board to elect someone other than Dauman, 61.
"We strongly urge management and the board to appoint an independent director as executive chairman and that it not be Philippe Dauman," SpringOwl Asset Management said in a statement.
Sumner Redstone has been one of the most influential architects of the media landscape over the last three decades, overseeing the construction of a entertainment colossus. But his precarious health during the last year has become a distraction for the two companies he controls.
CBS board members concluded that Redstone was too frail to serve as executive chairman, according to two people close to the company who declined to be identified discussing internal matters.
Shari Redstone, who has been staying in Los Angeles with her father, helped coordinate the transition with her father and members of CBS' governance committee.
"My singular focus is to act in the companies' best interests by ensuring that each company has a strong chair, a board of directors which diligently oversees management, and an outstanding leadership team," she said.
On Tuesday, Sumner Redstone authorized a letter that was sent to Moonves, saying he would resign as executive chairman. The letter was also sent to CBS board members, who met in a special meeting Wednesday. CBS said Redstone's resignation was effective Tuesday.
Sumner Redstone now holds the title of chairman emeritus.
People close to the two companies said Redstone's deteriorating health necessitated the change. Redstone has not participated in public corporate events since early 2014 and has difficulty speaking intelligibly.
"It's a wise move. The big issue is that the controversy surrounding his leadership affects the investors' view of the company," said Charles Elson, director of the John L. Weinberg Center for Corporate Governance at the University of Delaware.
"It's appropriate for the executive to remove themselves from the controversy and let the focus be on the company, rather than on the controversy involving them," Elson added.
The situation became untenable after a former girlfriend of Redstone's filed a lawsuit in November that seeks to have the mogul declared mentally incompetent. The court filing was filled with salacious details about the mogul and described him as "a living ghost."
Last Friday, a doctor hired by the former girlfriend's legal team examined Redstone, though the doctor's findings are confidential.
The probate case, playing out in Los Angeles County Superior Court, rattled investors who demanded that executives of CBS and Viacom come up with more complete succession plans.
Moonves, 66, joined CBS in 1995 after making a mark in Hollywood as the head of Warner Bros. Television and Lorimar Television. He became president and chief executive of CBS Television in 1998 and chairman in 2003. When Redstone divided his empire into two publicly traded companies in 2006, Moonves became chief executive of CBS Corp.
Moonves is credited with taking a struggling TV network and turning it into the nation's most-watched.
"I was honored to nominate Les as the CBS chair and am delighted to congratulate him on his new
position," Shari Redstone said in a statement. "He follows in the visionary tradition of my father, and I know that Les will successfully lead CBS into the digital future."
Shari Redstone also serves as co-founder and managing partner of Advancit Capital, a venture capital firm that invests in early stage companies focusing on media, entertainment and technology.
meg.james@latimes.com
Times staff writer Ryan Faughnder contributed to this report
---
From the Oscars to the Emmys.
Get the Envelope newsletter for exclusive awards season coverage, behind-the-scenes stories from the Envelope podcast and columnist Glenn Whipp's must-read analysis.
You may occasionally receive promotional content from the Los Angeles Times.