Sumner Redstone will not be called to testify at upcoming competency trial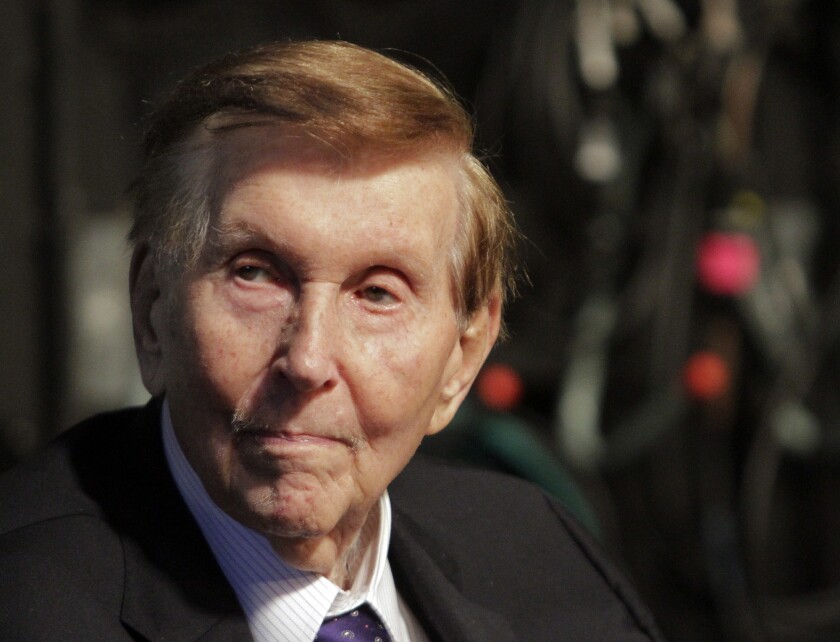 Sumner Redstone will not be called to testify next month at a trial to determine whether the ailing media mogul is mentally competent.
Los Angeles County Superior Court Judge David J. Cowan on Thursday asked lawyers involved in the contentious case to shed some light on their legal strategies for the trial, tentatively set to begin May 6.
One of the big questions in the case has been whether the controlling shareholder of Viacom Inc. and CBS Corp. would be physically able to testify in court. Redstone, who turns 93 next month, has a severe speech impediment that worsens when he becomes agitated, according to his attorneys.
"How is he going to testify at trial -- and is he going to testify at trial?" Cowan asked the attorneys Thursday during a 10-minute hearing on the matter.
Both sides agreed that they would try to avoid compelling the mogul, who is largely confined to his hilltop mansion, to testify during the trial.
Redstone's attorney, Robert N. Klieger, said Redstone's legal team had simply wanted to reserve the right to call him to testify. Klieger said lawyers would like to have Redstone represented at trial in "some sort of written form," perhaps by submitting a declaration.
But Cowan said a written declaration would not carry much weight.
Thursday's hearing was held to settle an issue over whether lawyers representing Redstone's former girlfriend, Manuela Herzer, would have the right to question Redstone in a deposition in advance of the trial.
Herzer filed the petition challenging Redstone's capacity to handle his affairs in late November after she was removed from a position of power in his household. Until that time, Herzer was Redstone's primary caregiver.
This week's issue popped up after Redstone's lawyers added him to a list of 35 potential witnesses for the trial.
"We all agree that he would be Exhibit A under normal circumstances," Pierce O'Donnell, Herzer's lead attorney, told the judge during the hearing. "But I don't want to put Mr. Redstone through a circus or public spectacle. I'm not going to call him."
After the two sides agreed that Redstone would not be called as a witness, Cowan ruled that the mogul would not have to submit to a deposition conducted by O'Donnell.
Activity in the case heated up this week after lawyers representing the various parties failed to structure a settlement to avoid what is expected to be a highly publicized trial. But settlement negotiations collapsed on Monday.
This week marked the second time that O'Donnell and Herzer's other lawyers asked to depose Redstone. In February, after being examined by an outside psychiatrist, Redstone stepped down as executive chairman of Viacom and CBS.
He and his family control nearly 80% of the voting shares of the two companies.
"Mr. Redstone will not be testifying and that dooms their case," O'Donnell announced outside the courtroom after the hearing. "This moves us closer to the goal line to protect Mr. Redstone by having him declared mentally incompetent."
The mogul's daughter, Shari Redstone, 62, is scheduled to be deposed in New York on Tuesday. That same day, Redstone's longtime lawyer, David Andelman, is scheduled to give a deposition in Los Angeles.
Viacom Chief Executive Philippe Dauman is scheduled to submit to questioning on April 26. A New York judge ordered Dauman to testify in the case regarding Redstone's healthcare arrangement after Dauman first balked at O'Donnell's attempts to depose him.
Redstone in 2014 named Herzer as the agent in charge of his advance healthcare directive should he become incapacitated. But in mid-October, the mogul threw her out of his home and his life and appointed Dauman as his healthcare proxy.
Herzer contends that Redstone was mentally incapacitated when he cut her off last fall. The lawsuit is designed to restore some of Herzer's legal rights.
Herzer is also demanding that she be allowed to meet with Redstone.
"Manuela really feels that she should see Sumner. She wants to have some peace, healing and reconciliation," O'Donnell said. "She was literally thrown out of his house."
Earlier this month, Redstone changed his healthcare proxy once again. This time, the mogul authorized Shari Redstone to make decisions on his behalf should he be unable to do so.
Shari Redstone has been a frequent visitor to Redstone's home since her father ended ties with Herzer and another former girlfriend, Sydney Holland.
Redstone last fall changed his estate planning documents, removing Holland and Herzer from his will. Until October, Herzer had been in line to receive $50 million upon his death and his home in the Beverly Park section of Los Angeles.
The home has an estimated value of $20 million.
Redstone's attorneys have insisted that Herzer is trying to protect her financial interests and that Redstone, who struggles to speak, should not be put through the rigors of a deposition. On Wednesday, Redstone's attorney, Klieger, said the pursuit of a deposition of Redstone was "pointless and cruel."
"We are deeply gratified that the court continues to protect Mr. Redstone's privacy and dignity," Gabrielle Vidal, another attorney for Redstone, said in a statement after Thursday's hearing. "Ms. Herzer's eagerness to subject a 92-year old man with a severe speech impairment to these intrusive proceedings is offensive."
"We also find it telling that while Ms. Herzer claims to be acting for Mr. Redstone's benefit, she refers to him in court as her 'opponent,'" Vidal said.
---