Thomas Staggs, Disney's No. 2 executive, is leaving the company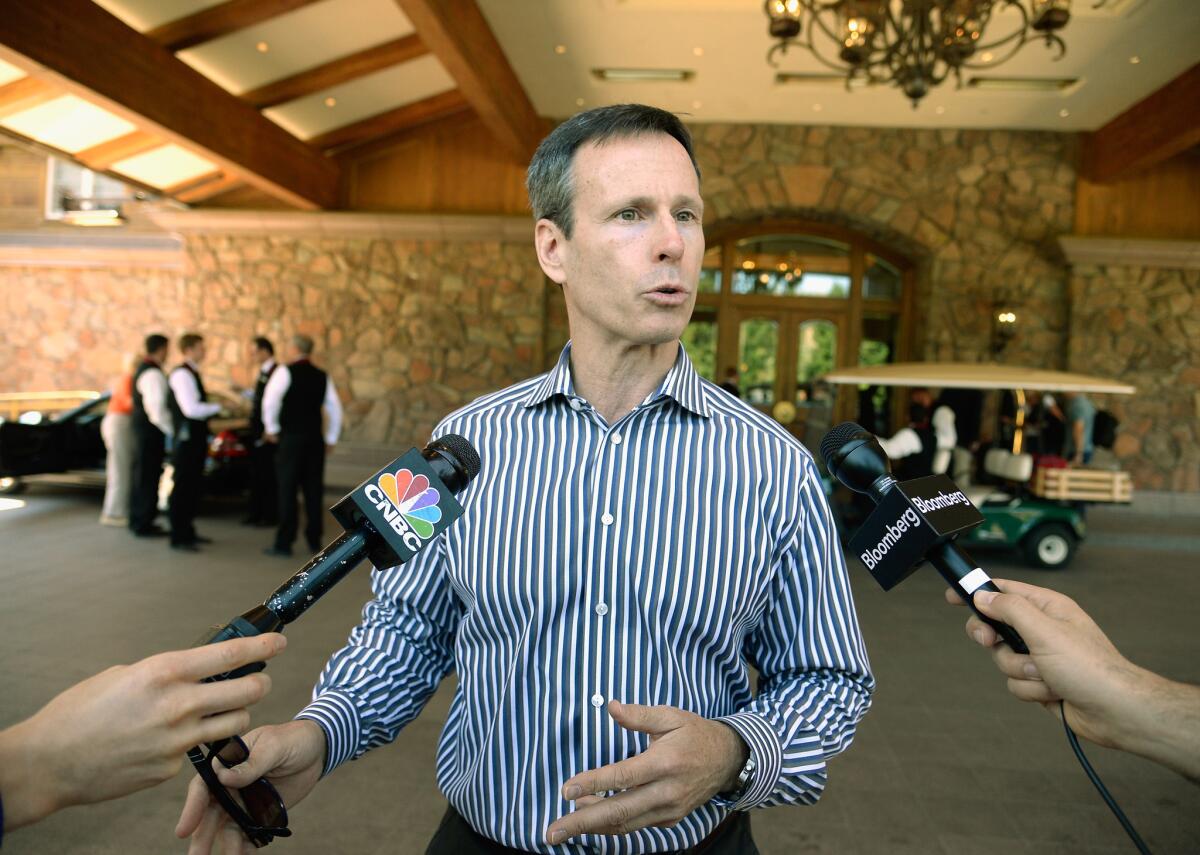 Walt Disney Co. Chief Operating Officer Thomas Staggs will depart the Burbank company this year, throwing into question the company's succession plans.
Staggs had been seen as the favorite to replace Chairman and Chief Executive Robert Iger when his contract expires in 2018. His departure means that Disney will have to redouble its efforts to find a new leader.
Staggs, 55, was named chief operating officer early last year. The No. 2 job -- which was once held by Iger -- was seen as a way to groom Staggs for the top post.
In a statement, Disney said that its board of directors would "broaden the scope of its succession planning process to identify and evaluate a robust slate of candidates for consideration."
Staggs will step down from his position May 6 and remain employed with Disney through the end of the fiscal year, the company said in a statement.
He has spent 26 years at the company, serving as chief financial officer and head of the parks and resorts department.
"Tom has been a great friend and trusted colleague for more than 20 years," Iger, 65, said in a statement. "He's made important contributions to this company, earning wide respect across the organization for his achievements and personal integrity. I'm proud of what we've accomplished together, immensely grateful for the privilege of working with him, and confident that he will be enormously successful in whatever opportunity he chooses."
Staggs praised Disney and Iger in a statement, saying: "Disney truly stands alone, not only because of the company's phenomenal creativity, but also because of the thousands of remarkable people who make it such an extraordinary place."
The move stunned Hollywood and also shocked Wall Street on Monday, sending the company's stock tumbling in after-hours trading.
Staggs is well-liked by many of the analysts who cover the company and got to know the investment community while serving as the company's chief financial officer for 12 years.
"Tom Staggs is Wall Street's fair-haired boy," said Laura Martin, a Needham & Co. analyst who covers Disney. "I think it is shocking that the board, after stringing him along ... is doing this to him."
Staggs and Iger declined to comment.
The executive's impending exit was first reported by the New York Times.
Iger, who became chief executive in 2005, will be a tough act to follow for any executive who replaces him. Iger engineered the purchases of Pixar Animation Studios in 2006, Marvel Entertainment in 2009 and Lucasfilm in 2012. Those multibillion-dollar deals transformed Disney, sending the company's stock soaring to record highs while providing it with a trove of new content to pump through its many ventures.
"There are questions as to whether there are people able to fill Bob Iger's shoes," said Stephen Unger, a veteran executive recruiter who has led CEO searches for IMAX Entertainment, Telemundo and Public Broadcasting System. "But as far as indispensable people are considered, as the saying goes, the cemeteries are filled with indispensable people. I'm sure Disney will find someone fantastic."
The succession effort at Disney already has been protracted, and not without its casualties: After former Chief Financial Officer Jay Rasulo was passed over for the No. 2 job last year, he departed the company.
Staggs' forthcoming exit comes at a critical time for Disney, which in June will open its $5.5-billion Shanghai Disney Resort, a project that Staggs -- the former head of the company's parks and resorts division -- worked on over several years.
Follow @DanielNMiller on Twitter for film business news.
MORE:
So what to make of 'Batman v Superman's' box-office plummet?
Film4 head David Kosse jumps to STX to lead international division
Disney's Bob Iger discusses Shanghai resort, 'Star Wars' and ESPN at media conference
You can get tattoos and photocopies in the Los Feliz building where Walt Disney once made magic
From the Oscars to the Emmys.
Get the Envelope newsletter for exclusive awards season coverage, behind-the-scenes stories from the Envelope podcast and columnist Glenn Whipp's must-read analysis.
You may occasionally receive promotional content from the Los Angeles Times.