How Turner is changing the program to keep up with a new TV era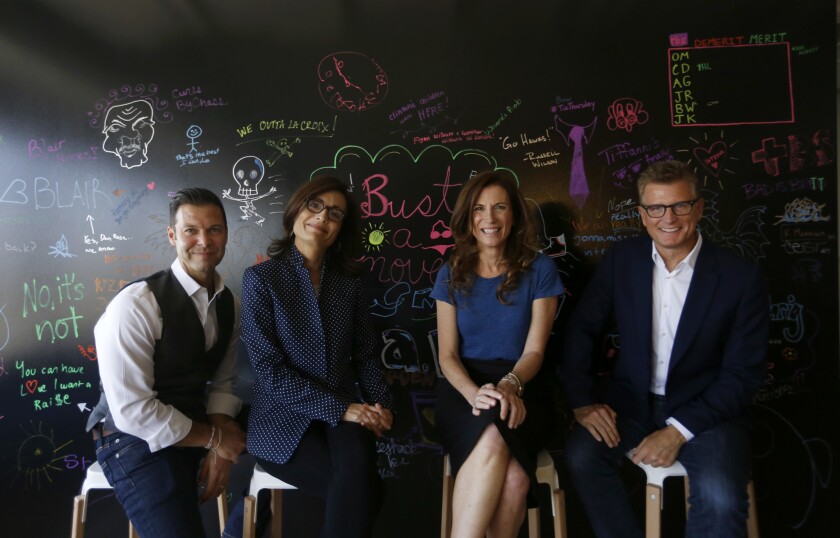 The ax just fell on one of cable television's most popular programs.
TNT's crime-fighting duo, "Rizzoli & Isles," solved their final murder mystery Monday, capping a successful seven-season run. The police procedural long had been the highest-rated scripted drama on the Turner channel, buoyed by more than 6.5 million viewers -- including millions of older women. Fans warmed to the witty female protagonists, Jane Rizzoli and Maura Isles, whose long-running friendship felt like the TV equivalent of comfort food.
Kevin Reilly and cable programming giant Turner Broadcasting pivot their strategy and programming line-up in a bid for younger viewers. Read the story>>
But Turner executives retired the show because it wasn't connecting with throngs of younger viewers.
Canceling a beloved TV show is just one of several surprising steps Turner has taken to stand out in an increasingly crowded market. Turner has slashed the number of commercials in its original dramas on TNT — an almost unheard of move in the TV industry — as well as switched to more provocative fare.
"We are in the middle of a real sea change," Kevin Reilly, president of Turner Broadcasting's TNT and TBS, said in an interview at his Burbank office that overlooks the sprawling Warner Bros. studio lot. "Networks are going to go away. There are not going to be hundreds of cable networks doing original programming; they won't be able to sustain the model."
Few understand the challenges facing television better than Reilly, who is at the vanguard of a high-stakes campaign to reinvent cable television. The veteran programmer is known for pushing boundaries to try to get ahead of changes in the industry. Since arriving at Turner over a year ago, he has taken bold steps to shake up the business.
Basic cable outlets, including those owned by Turner Broadcasting, are scrambling as television's couch potato business model gets baked. No longer can the industry rely so heavily on consumers who passively surf from one channel to the next. Turner's parent, Time Warner Inc., and other entertainment conglomerates rely heavily on the gravy train of profits produced by casual viewers who flip through channels, then stop to watch a movie or a rerun of "Seinfeld" or "Law & Order." But the long bankable formula is showing signs of strain -- nearly 1.4 million customers in the U.S. canceled their pay-TV subscription in the last year, according to consulting firm SNL Kagan. More viewers are turning to Netflix, Amazon and Hulu for their TV entertainment.
Industry analysts say it's too early to know whether Turner's reboot will succeed.
"It's hard to say if it will be enough," said Billie Gold, director of programming research for the ad firm Amplifi US. "But they are doing a lot of positive things to try to grow their audience and remain main [channels] on cable."
We are in the middle of a real sea change.
— Kevin Reilly, president of Turner Broadcasting's TNT and TBS
Turner long has been a pillar of cable television. Nearly four decades ago, the maverick Ted Turner revolutionized the entertainment industry by defying convention to create cable channels. He launched TBS in Atlanta as a national, "super TV station" featuring Atlanta Braves baseball, and later started the all-news network CNN. In 1988, TNT was established as a way to milk more money from the library of movie studio Metro-Goldwyn-Mayer, which Turner had bought.
Turner executives in the last decade have sought to improve the standing of their two heavyweight channels by loading up on sports programming, including the NBA, NCAA and Major League Baseball, and original shows in prime-time. They rebranded the channels: TNT for drama and TBS for comedy. But that hasn't been enough to stem an industry trend of subscriber losses.
Five years ago, TBS and TNT were available in more than 99 million homes in the U.S., according to Nielsen data. The channels now are in about 93 million households. (Turner also owns Cartoon Network and TruTV). Channels owned by Walt Disney Co., NBCUniversal, Viacom Inc. and 21st Century Fox are experiencing similar declines as consumers trim their pay-TV bundles or cancel them altogether.
TBS and TNT remain formidable outlets; in prime time, the two this year rank No. 1 and No. 2 in basic cable among viewers aged 18 to 49. Combined, the two channels produce more than $2.5 billion in annual profit, according to SNL Kagan, making them incredibly important to Time Warner Inc., which also owns HBO and Warner Bros. TV and movie studio.
But Turner executives recognized they needed to revamp their programs to remain relevant. They felt some of their scripted shows were too bland to effectively compete in an on-demand world. Would young viewers gravitate to a police procedural show, such as TNT's "Rizzoli & Isles," from a menu of options on a video streaming service?
Probably not.
"We need to be a driver of the conversation," Reilly said. "Turner has long been this quiet cash machine but it didn't have a sexy veneer."
Reilly has long gravitated to programming with an edge, which was why the Turner brass began courting him two years ago. Years ago, he helped develop "The Sopranos" for HBO, which turned into a game changer. At the FX channel, he championed such provocative hits as "The Shield" and later, "Nip/Tuck," before going on to NBC, where he gave a green light to "The Office," "Heroes" and "30 Rock." He served as a top programmer at Fox Broadcasting for nearly seven years, bringing to life such unconventional shows as "Glee" and "The Mindy Project."
Toward the end of his career at Fox, Reilly attempted to scrap a broadcast TV ritual — pilot season, the annual grab bag when the major networks scramble for notable actors and then shoot dozens of pilots before picking the fall crop. Executives have long debated whether the costly exercise was the most effective way to nurture hits.
But Reilly's efforts fell flat.
"I just saw the world changing around us, and I felt that we needed to move in a different direction," he said, adding that his bosses at Turner seem more eager to innovate.
"Ted Turner was a wild man, but some of that spirit had become dormant here," Reilly said. "But we want to start taking some crazy swings and rewriting some of the rules again."
That included taking aim at ads. This summer, TNT reduced by 50% the number of commercials in their original dramas, including "Animal Kingdom," the network's new hit show about a Southern California crime family, which launched in June and quickly made a splash. The commercials cut added 10 more minutes of content to the various shows and went beyond what other networks have done.
Until recently, cable executives were stuffing more commercial spots into shows to make up for the decline in ad revenue because of lower ratings. But consumers weaned on Netflix are increasingly averse to watching ads.
"This [initiative] came out of a recognition, and a truth about how people are watching content," said Sandra Dewey, president of Studio T, which is Turner's in-house production studio. "The quality of the experience is becoming a deciding factor in what people watch. We couldn't be in denial about that."
We need to be a driver of the conversation. Turner has long been this quiet cash machine but it didn't have a sexy veneer.
— Kevin Reilly
See the most-read stories in Entertainment this hour »
Advertisers agreed to pay Turner higher rates for time that runs in dramas with fewer ad spots.
"As an advertiser, you have a better shot of having your commercial seen if it appears in a less cluttered environment," said Stacey Lynn Schulman, executive vice president for strategy and analytics at Katz Media Group.
But the biggest push has been to develop shows that hit Turner's new target: distinctive and complex programs that generate buzz, especially with younger audiences.
In many ways, Turner is borrowing a page from such networks as FX and AMC that have become destinations with such shows as "American Horror Story" and "The Walking Dead."
With a plethora of programs available, viewers are discovering shows based on recommendations from friends, online algorithms and prominent placement in streaming service menus. To succeed, shows must stand out.
An early hit for Reilly's team is "Full Frontal With Samantha Bee," a new late night show on TBS featuring the former "The Daily Show With Jon Stewart" correspondent.
Since launching her show in February, with its sharp take on political satire, Bee has created the buzz that Turner long coveted. Critics instantly clicked with the weekly show, which earned an Emmy nomination for outstanding writing.
"Her numbers are not huge but people are talking about her," Gold said.
Three other new comedies launched this year have scored with viewers: "Wrecked," about plane crash survivors shot in Puerto Rico by two twentysomething producers; "Detour," the story about a dad on a road trip having an early midlife crisis from Jason Jones; and "Angie Tribeca" starring Rashida Jones, which spoofs police procedural shows. TBS' prime-time ratings are up slightly compared with last year, according to Nielsen.
Turner also has been more determined about owning its original shows so that it can tap additional revenue by selling them to other outlets, including subscription video on demand outlets like Netflix and Hulu.
Executives have been looking beyond the traditional TV screen for new audiences. Turner teamed up with WME's sports promotion arm, IMG, on an e-sports venture. Last spring the venture televised prime-time video game competitions, called ELeague, bringing thousands of new viewers to TBS.
"This is a bridge between traditional television and the audience that doesn't typically watch television," Dewey said. "But that audience is our future and we need to have a dialog with them."
Turner also revived Super Deluxe, a digital production studio, which relaunched in June. The effort is all about finding new talent to create short and quirky comedies. In July, the site attracted about 70 million video views.
And, this spring, Turner's parent, Time Warner, announced that it was investing $583 million in the online video service Hulu owned by Disney, Fox and NBCUniversal. Turner channels will be included in a package of pay-TV channels that Hulu is developing, allowing Turner networks to reach some of the consumers who have shunned traditional TV.
"Everyone is just hedging their bets," Schulman said. "Because no one is quite sure how these consumer trends will go."
---
From the Oscars to the Emmys.
Get the Envelope newsletter for exclusive awards season coverage, behind-the-scenes stories from the Envelope podcast and columnist Glenn Whipp's must-read analysis.
You may occasionally receive promotional content from the Los Angeles Times.