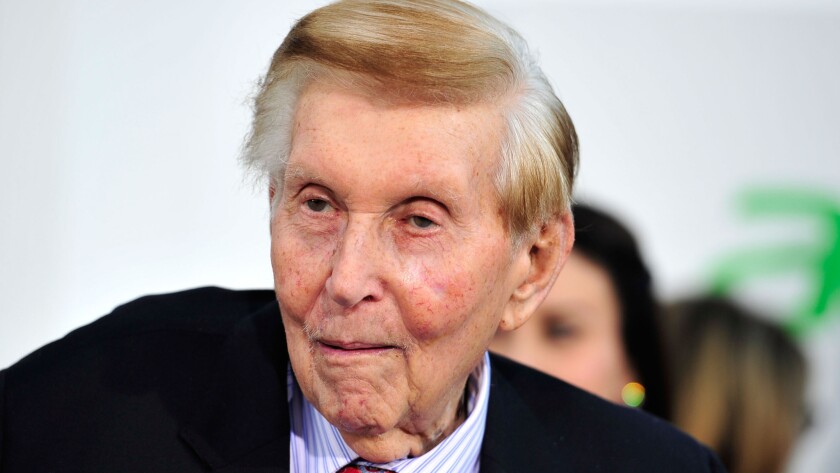 Sumner Redstone briefly visited his treasured movie studio Paramount Pictures in Los Angeles last week, but Viacom board members say their efforts in recent weeks to meet with the 93-year-old media mogul have been thwarted.
Viacom's lead independent director, Frederic Salerno, on Tuesday sent an unusual open letter to Redstone, pleading for the opportunity to meet with the mogul. Salerno said that he wanted to check in on Redstone, and also discuss the company's controversial plans to try to sell of a stake of Paramount Pictures.
Salerno's letter notes that Redstone has been surrounded by a new circle of legal advisors. Some insiders believe those lawyers are aligned with Shari Redstone, who is vice chair of Viacom, and a critic of top management.
"They tell us that you are well and getting better everyday," Salerno wrote in the two-page letter to Sumner Redstone. "Last week they staged a drive for you, with Shari, to the Paramount studio for a brief visit in which you didn't get out of your car."
During the Friday visit, Redstone and his daughter had a 10 minute conversation with Paramount Chairman Brad Grey on the studio lot, according to a person familiar with the matter.
Salerno's letter goes on to say that Viacom's board would not "sell Paramount lock, stock, and barrel, or ...do it in the middle of the night and hide it from you," he wrote. "Nothing could be further from the truth."
The letter comes amid speculation that the Redstones are preparing to shakeup the Viacom board.
It appears to be an attempt to put on the record a visit that Viacom CEO Philippe Dauman had with Redstone in February to discuss plans to auction off a piece of Paramount. Redstone is said to be vehemently opposed to selling the studio, which he won in a hard-fought battle in 1994.
The company has said such a sale could bring investors an additional $10 a share, which means that stake might be valued at more than $8 billion.
Viacom board members received no response following their most recent request to visit with Redstone, according to a person close to the company.
A spokesman for Redstone declined to comment.
Full Coverage: Sumner Redstone's declining health »
Redstone has difficulty speaking, but his doctors say that he is alert and in command of his faculties. In late May, Redstone removed Dauman and another Viacom board member, George Abrams, from the board of National Amusements Inc., the Redstone family investment vehicle that holds the controlling shares of Viacom Inc. and CBS Corp. Redstone also removed Dauman and Abrams from the trust that will eventually oversee the mogul's shares in the two media companies.
Dauman and Abrams sued late last month to block their removal from the NAI board and Sumner Murray Redstone Trust.
"Sumner, they tell us they won't make you available for fear that such a meeting would become the source of more litigation," Salerno wrote. "In reality, putting up a wall around you ensures more litigation – and that is not what we want. We want to understand what is happening to you."
---
UPDATES:
4:50 p.m. This article was updated to include additional details. It was originally published at 4:08 p.m.
---