Sumner Redstone said to be unhappy with Paramount sale plans -- will it matter?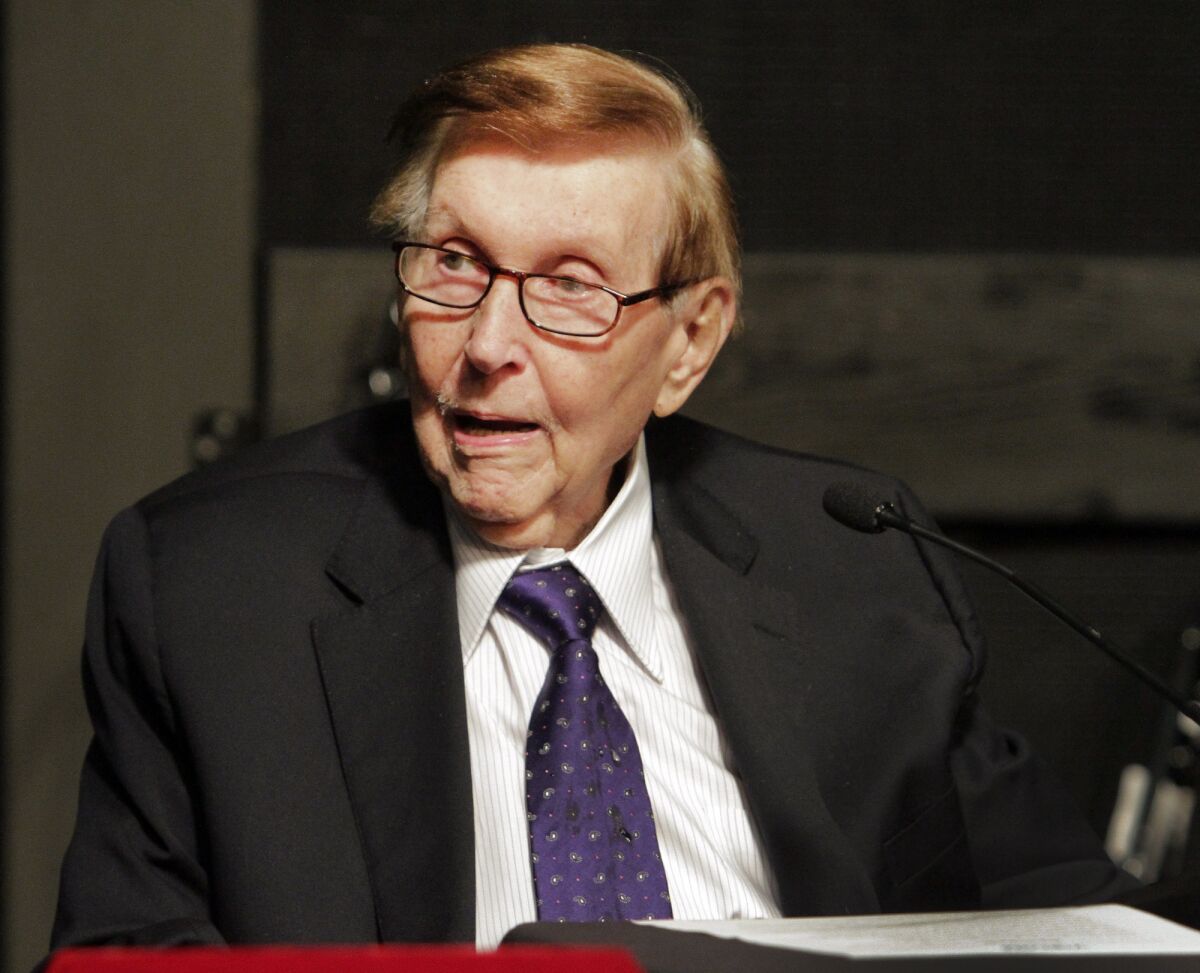 Sumner Redstone might not approve of the proposed sale of a piece of his treasured Paramount Pictures movie studio.
But the 92-year-old mogul's reported opposition may not be enough to derail Viacom Inc.'s plan to bring in a minority investor for the struggling Los Angeles film studio.
See more of Entertainment's top stories on Facebook >>
Viacom Chief Executive Philippe Dauman devised the plan to sell a big chunk of Paramount in mid-February, hoping to fetch a high price that would boost the overall value of the media company.
However, less than a week later, Redstone told Paramount Pictures Chairman Brad Grey that he did not want to sell Paramount, according to a person familiar with Grey's visit with Redstone who declined to be identified discussing sensitive conversations.
Some prominent investors didn't put much stock in the latest twist involving the future of the historic film studio.
"I can't believe that Sumner would say yes to selling Paramount but stories get garbled," shareholder Mario Gabelli said in an interview Monday with the Los Angeles Times. His Gabelli funds are the second-largest voting shareholder of Viacom Inc., behind the Redstone family.
"But why would Sumner become upset about selling a portion of it?" Gabelli asked. "Why would the board be upset? I am a shareholder and I'm not upset."
Paramount has long been one of Redstone's favorite assets -- but Viacom has been struggling to lift its sagging stock price, and investors have been demanding dramatic action.
Viacom has said that more than three dozen parties have expressed interest in the Melrose Avenue studio. Dauman has said he wants to find an investor by the end of June but dissension on Viacom's board could complicate that process.
The Wall Street Journal reported late Monday that Dauman may have misunderstood whether Sumner Redstone, the controlling shareholder of the company, gave his approval to sell a piece of the storied movie studio. The Journal reported that Dauman told the Viacom board that Redstone's nurse supported Dauman's view that Redstone initially appeared to agree to the plan to look at strategic options.
"This definitely muddies things up," said Eric Jackson, managing director of SpringOwl Asset Management, which has been lobbying for big changes at Viacom, including management changes.
Whether Redstone supports the proposed sale might not have an effect. Redstone stepped down as Viacom's executive chairman in early February, and Dauman stepped into the chairman's seat.
A majority of the board must approve any sale.
Redstone controls one vote. His daughter, Shari Redstone, is vice chair of Viacom, and she could side with her father and oppose Dauman in a sale of a stake in Paramount. A spokesperson for Shari Redstone was not immediately available for comment.
Viacom has consistently said it was not interested in selling the whole studio but rather it was looking for a minority investor.
Dauman announced Feb. 22 that the company was exploring strategic options, including selling a piece of Paramount to a foreign buyer or a technology firm. Grey's visit with Redstone came during the Oscar weekend festivities in late February.
Viacom board members have been briefed two times on the proposed process to sell a stake in Paramount, according to a person close to the company who was not authorized to discuss sensitive topics.
The board has not taken a vote on the matter, but it would ultimately be asked to approve such a sale if an acceptable buyer is found.
Paramount is worth an estimated $5 billion, according to analysts, which is roughly twice the value of the company implied by Viacom's sagging stock price. Paramount has struggled in recent years, suffering from a thin film slate.
Lately the company has made fewer movies than in years past, choosing instead to focus on profitability. But that strategy has made it difficult to compete in an industry in which the box office is increasing concentrated among a handful of juggernaut films.
Times staff writer Ryan Faughnder contributed to this report.
MORE:
What a settlement in Sumner Redstone healthcare dispute would look like
Judge allows Sumner Redstone competency case to proceed
Sumner Redstone's medical records will remain sealed, judge in competency case rules
---
Get our L.A. Goes Out newsletter, with the week's best events, to help you explore and experience our city.
You may occasionally receive promotional content from the Los Angeles Times.