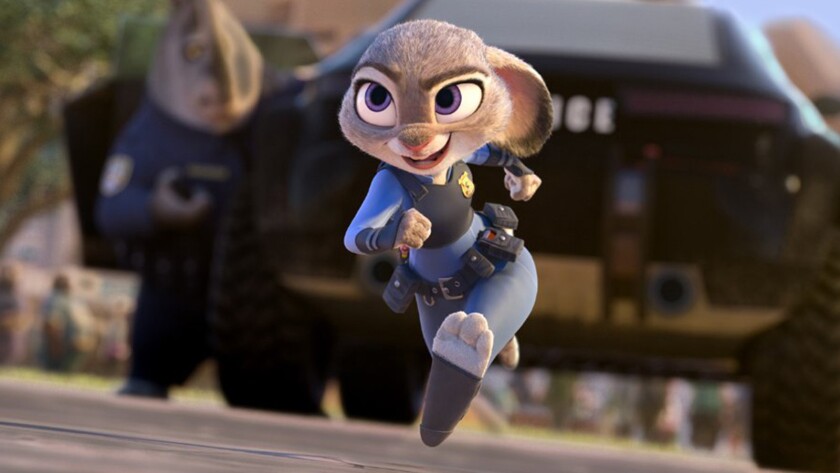 A profane superhero was no match for a computer-animated rabbit-fox duo or a Morgan Freeman action thriller at the weekend box office. "Deadpool," in its third week, fell to third place behind new releases "Zootopia," from Disney, and Focus Features' "London Has Fallen."
"Zootopia" grossed an estimated $73.7 million in the U.S. and Canada to take the top spot. It beat analyst expectations of $60 million, becoming the fourth-largest March opening weekend in industry history.
The Burbank studio's film takes place in a society of talking animals and follows the adventures of a rabbit cop and a con-man fox, two natural enemies who team up. Big-name celebrities lending their voices to the film include Ginnifer Goodwin, Jason Bateman and Idris Elba. Singer Shakira and actors Octavia Spencer and J.K. Simmons also voice characters.
SIGN UP for the free Indie Focus movies newsletter >>
Both audiences and critics have given the movie positive ratings. Moviegoers gave "Zootopia" an A grade, according to polling firm CinemaScore, and 98% of reviewers on the Rotten Tomatoes site rated it positively.
The film also holds the record of the largest three-day opening for Walt Disney Animation Studios, beating the $67.4 million of "Frozen," and the second-best IMAX animated opening (at $5.2 million) behind "Toy Story 3."
The strong opening falls in line with the animation unit's last offering, "Big Hero 6," which opened to $56 million in November 2014 and ended up with $222 million in ticket sales from North America. That film also took home an Oscar for animated feature film in 2015.
Nabbing second place was fellow newcomer "London Has Fallen." The sequel to the 2013 Morgan Freeman-Gerard Butler movie "Olympus Has Fallen" pulled in an estimated $21.7 million in ticket sales, meeting analyst expectations of $20 million to $25 million.
The first film chronicled an attack on the White House, but this time, Butler's special agent Mike Banning has to prevent the assassination of world leaders in Britain. In addition to Freeman and Butler, Aaron Eckhart and Angela Bassett also star in the R-rated picture.
Audiences favored the film, giving it an A-minus on CinemaScore. As for Rotten Tomatoes critics, only 26% rated it positively.
"Olympus" did solid business throughout its release (about $99 million in the U.S. and Canada). Focus Features is hoping to benefit from the international potential of the follow-up.
"Deadpool," which held the top of the box office for three weeks, is now in third place with an estimated $16.4 million. The Ryan Reynolds-led picture from 20th Century Fox continues a record-breaking run. With a gross-to-date of $311.2 million, the $58-million movie is the third-highest-grossing R-rated film ever, behind "American Sniper" and "The Passion of the Christ."
The final new release of the week was Paramount's "Whiskey Tango Foxtrot" about an American journalist who looks for more fulfilling assignments in the war zones of Afghanistan and Pakistan, and gets more than she bargained for. The Tina Fey-led comedy-drama grossed an estimated $7.6 million in its debut, well below analyst projections of $10 million to $12 million, but good enough for fourth place.
The film is a change of pace for Fey, who's also a producer on the film. The "30 Rock" and "Unbreakable Kimmy Schmidt" creator's previous film roles include last year's comedy "Sisters" with Amy Poehler, and the 2010 romantic comedy "Date Night."
And audiences and critics alike seem OK with that. Theatergoers gave the film a B CinemaScore, and 60% of Rotten Tomatoes critics rated it favorably.
Rounding out the top five was Lionsgate's "Gods of Egypt." The film pulled in another $5 million, adding to its measly debut from last week -- particularly so when the film's budget is estimated around $140 million. Its gross to date is an estimated $22.8 million.
On the limited-release front, following last week's Oscar win for best picture, "Spotlight" expanded to about 1,200 screens. It added another $1.8 million for a gross to date of $41.6 million.
Next week, the cineplex gets more crowded with Paramount's thriller "10 Cloverfield Lane," Sony's comedy "The Brothers Grimsby," Lionsgate's rom-com "The Perfect Match" and Focus Features' historical drama "The Young Messiah."
Get your life! Follow me on Twitter: @TrevellAnderson.
---