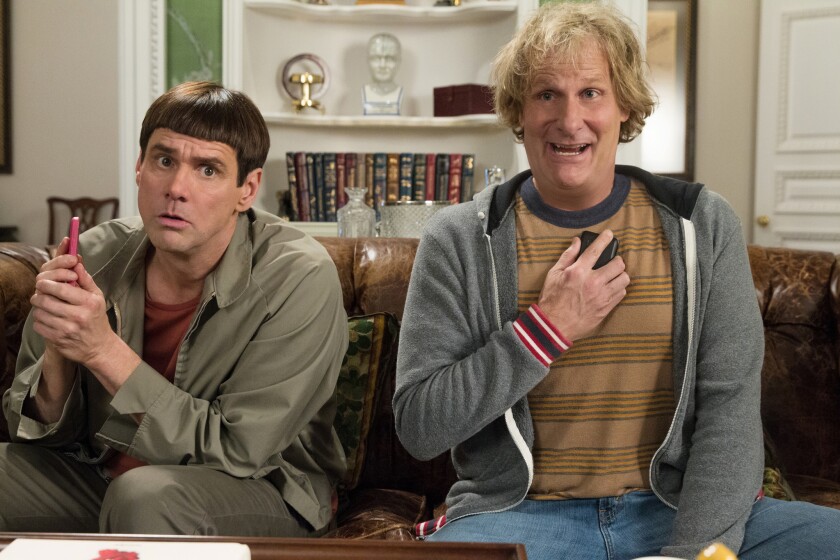 Despite its main characters' 20-year absence from the big screen, "Dumb and Dumber To" proved it won't be the dullest tool in the movie shed this weekend.
The Universal sequel to the popular mid-'90s comedy took in $1.6 million on Thursday night at 2,321 locations in the U.S. The film's initial return points to a tight race at the box office this weekend.
The PG-13 comedy, which features Jim Carrey and Jeff Daniels reprising their dim-witted characters Harry and Lloyd, is set to challenge mighty holdovers "Big Hero 6" and "Interstellar" this weekend.
"Dumb and Dumber To," which cost $40 million to make, is projected to take in $35 million in its first weekend. The original "Dumb and Dumber," backed by New Line, grossed $127 million domestically in 1994.
But will the dumb triumph over the heroic? Early projections have Disney Animation's "Big Hero 6" with a slight edge over the comedy. The animated film is on track to gross north of $35 million in its second week in theaters.
Christopher Nolan's space drama "Interstellar" is pegged to come in third with about $30 million in its second week.
Meanwhile, the weekend's other new entry, the romantic drama "Beyond the Lights," is expected to take in about $10 million.
Twitter: @villarrealy
---