'Frozen,' 'Catching Fire' set Thanksgiving-weekend records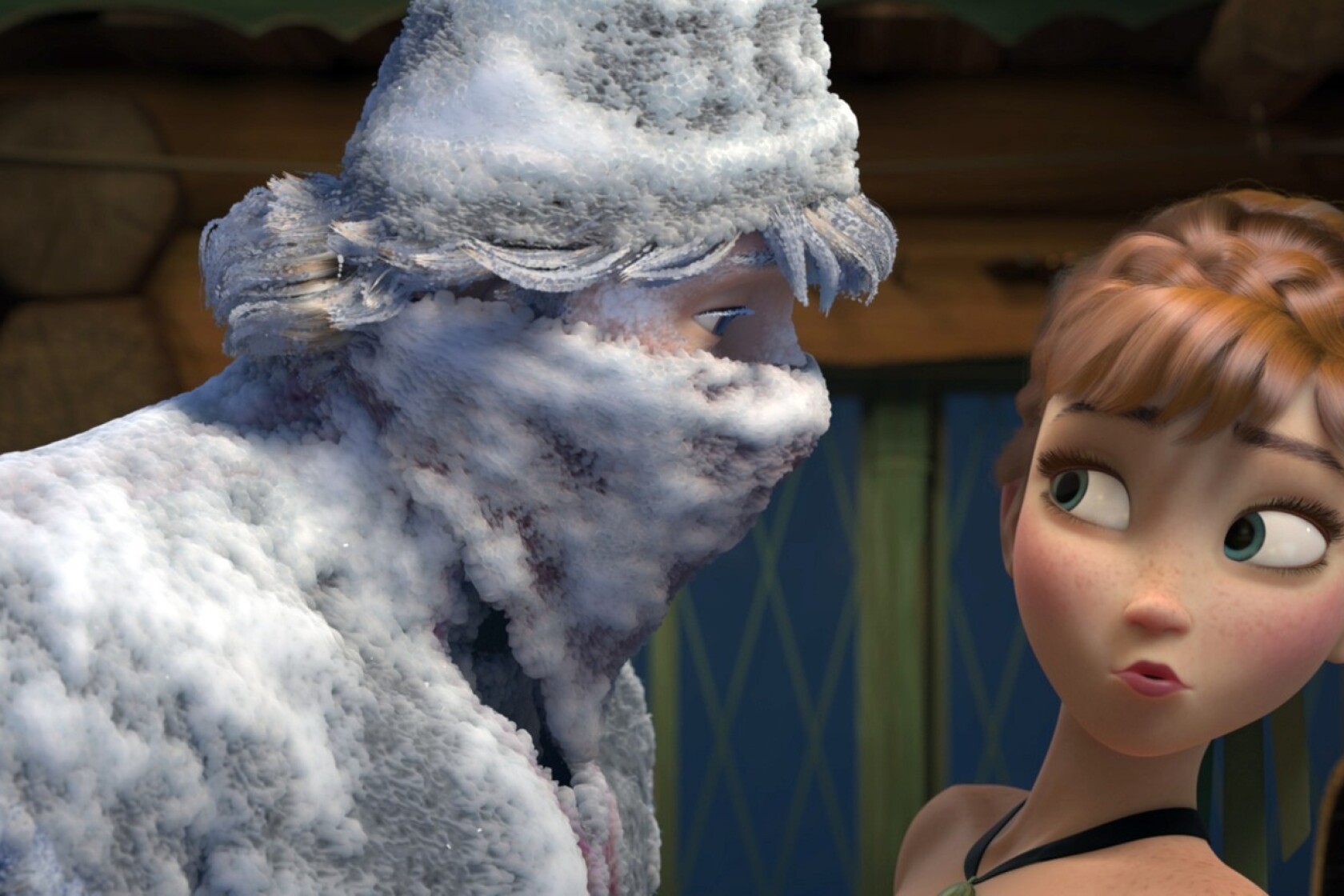 Fearless optimist Anna meets rugged-and snow-covered-mountain man Kristoff for the first time in Walt Disney Animation Studio's "Frozen."
(Disney)
Kristoff and Sven charge on in the movie "Frozen."
(Disney)
Sven looks stumped in the movie "Frozen."
(Disney)
A large castle-looking building in the movie "Frozen."
(Disney)
Olaf is surprised by a flower in the movie "Frozen."
(Disney)
Anna looks worried in the movie "Frozen."
(Disney)
Elsa sees something new in the movie "Frozen."
(Disney)
Kristoff and Anna share a moment in the movie "Frozen."
(Disney)
Olaf frolics through the grass in the movie "Frozen."
(Disney)
Olaf by the beach in the movie "Frozen."
(Disney)
Kristoff and Anna brave a powerful blizzard in the movie "Frozen."
(Disney)
Anna is about to embark on something new in the film "Frozen."
(Disney)
Elsa is locked in between frozen popsicles in the movie "Frozen."
(Disney)
Marshmallow comes to life in the movie "Frozen."
(Disney)
Anna gets a glimpse of Elsa in the movie "Frozen."
(Disney)
Elsa works her magic in the film "Frozen."
(Disney)
An ice castle takes hold of the ground in the film "Frozen."
(Disney)
Anna, Olaf, Kristoff and Sven discuss matters in the movie "Frozen."
(Disney)
Kristoff and Anna strike the perfect balance in the movie "Frozen."
(Disney)
A chill is felt in the air in the film "Frozen."
(Disney)
Elsa looks below in the movie "Frozen."
(Disney)
Anna in the film "Frozen."
(Disney)
Hans and Anna stay afloat in the movie "Frozen."
(Disney)
Kristoff sits back as Sven listens to his music in the film "Frozen."
(Disney)
Olaf keeps himself warm in the film "Frozen."
(Disney)
Anna and Kristoff are barely visible amid a blizzard in the film "Frozen."
(Disney)
Hans in the movie "Frozen."
(Disney)
The Duke of Weselton encounters Anna and Elsa in the film "Frozen."
(Disney)
These are the women of Disney's animation studios. Jennifer Lee, front right, one of the directors of Disney Animation's "Frozen" and Lauren MacMullan, front left, director of "Get a Horse," a short film coming out soon, are surrounded by other women who work on animation projects at the Walt Disney Studios.
(Al Seib / Los Angeles Times)
In this archival image from 1959, a group of women are photographed in the ink and paint department of Disney's "Sleeping Beauty."
(Disney)
The holiday box office exploded this weekend as both "The Hunger Games: Catching Fire" and "Frozen" topped records held by "Harry Potter and the Sorcerer's Stone" for the biggest three-day and five-day Thanksgiving weekend grosses.
Generating a studio-estimated $66.7-million, three-day gross and $93 million, five-day gross (films opened Wednesday evening in time for the holiday, instead of the usual Thursday evening) Disney's "Frozen" also marked the biggest Thanksgiving-weekend opening ever, beating three-day and five-day records set in 1999 by "Toy Story 2."
Meanwhile, in its second week in wide release, Lionsgate's "Catching Fire" -- a dystopian thriller about children pitted against each other in a fight to the death -- continued its box-office rampage, pulling in domestically a studio-estimated $74.5 million over three days and $110.2 million over five days, and a jaw-dropping worldwide gross of $573 million.
PHOTOS: Movie scenes from Disney's 'Frozen' & 'Hunger Games: Catching Fire"
The three-day and five-day domestic figures broke records of $57.5 million and $82.4 million, respectively, set in 2001 by "Harry Potter and the Sorcerer's Stone," giving "Catching Fire" the highest-grossing Thanksgiving weekend of all time, on top of its all-time record November opening.
Walt Disney Studios, which has been on a tear this year with mega-hits like "Thor: The Dark World," "Iron Man 3" and "Planes," announced Sunday that it had reached the $4-billion mark at the global box office for the first time in its history.
Both "Catching Fire" and "Frozen" are audience and critical darlings. The former drew an A rating according to CinemaScore, a research firm that polls moviegoers, and the latter received a coveted A+ rating.
The A+ is a distinction held by a select few films that have gone on to become classics including "The King's Speech," "Titanic" and most recently Universal Pictures' "The Best Man Holiday." The Malcolm D. Lee-directed rom-com held tight at the box office over the weekend, coming in at fourth place with $8.5 million, below Disney's other big box office winner, "Thor: The Dark World," which pulled in $11.1 million.
That Disney is thriving on a global level is thanks in large part to the scope of its reach toward all types of audiences. That a violent film like "Thor" can thrive alongside a holiday classic in the making like "Frozen" is testament to what Dave Hollis, Disney's executive vice president of theatrical distribution, calls the studio's "tent-pole strategy."
PHOTOS: Billion-dollar movie club
"It's a nice portfolio of branded offerings," said Hollis on Sunday. "And it's driving all sorts of people to movie theaters."
As expected, "Frozen" drove mostly families to the big screen with 81% of its audience identifying as such. But it also performed well in all age brackets with 42% of its audience at least 26 years old. Children ages 2 to 11 accounted for 38% of the audience.
"Frozen" is an animated 3-D musical directed by Chris Buck and Jennifer Lee and featuring the voices of Kristen Bell, Josh Gad and Idina Menzel. It follows a young girl in an epic journey to find her lost sister in a kingdom that is trapped in eternal winter.
"For a company built on animation, to have an animated film be the biggest Thanksgiving opening ever is particularly special," said Hollis. Notably, the film was made by Disney Animation Studios and not a more modern incarnation like Pixar.
Elsewhere at the box office the Open Road Films' thriller "Homefront," starring Jason Statham, pulled in nearly $7 million in three days to come in at No. 5 for the weekend.
In addition, Fox Searchlight's "Black Nativity," based on the play by Langston Hughes, earned $3.9 million and came in at No. 8, just below Fox Searchlight's family friendly picture, "The Book Thief," which expanded into more than 1,000 theaters this weekend and grossed $4.9 million.
ALSO:
'Frozen,' 'Get a Horse!' female directors mark first for Disney
'Hunger Games: Catching Fire,' 'Frozen' to top Thanksgiving weekend
'Hunger Games: Catching Fire' sizzles as best November opening ever
---
From the Emmys to the Oscars.
Get our revamped Envelope newsletter, sent twice a week, for exclusive awards season coverage, behind-the-scenes insights and columnist Glenn Whipp's commentary.
You may occasionally receive promotional content from the Los Angeles Times.