Tribune chairman backs Times' publisher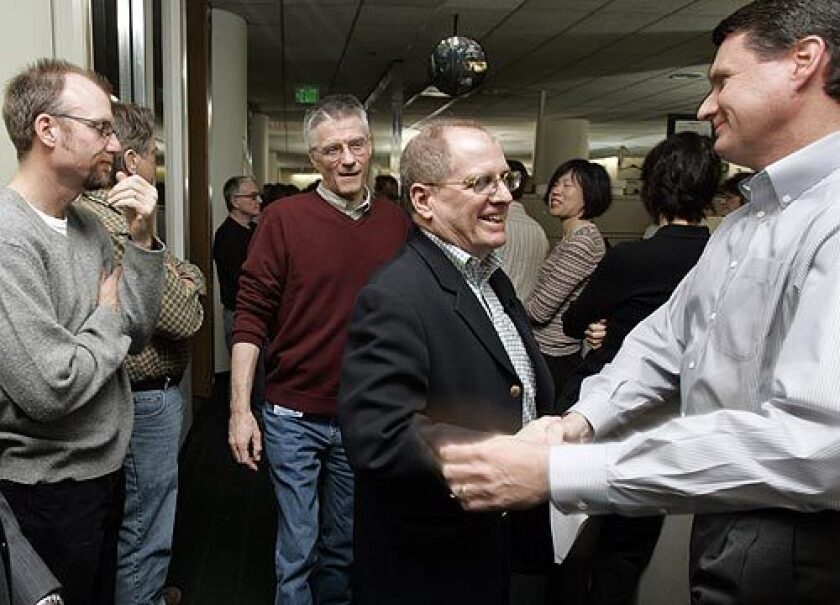 Los Angeles Times Staff Writers
Tribune Co. Chairman Sam Zell on Monday backed Los Angeles Times Publisher David Hiller's decision to replace the newspaper's editor.
"I've said loud and clear that I am returning control of our businesses to the people who run them," Zell told Tribune employees in an e-mail message. "That means David Hiller has my full support. He carries direct responsibility for the staffing and financial success of the L.A. Times."
Hiller said in an interview that he notified Zell last week that James E. O'Shea would be leaving the Times after 14 months as editor. Hiller and O'Shea had clashed over the newsroom budget, and Hiller characterized O'Shea's departure as voluntary. O'Shea on Monday repeated his assertion that Hiller had fired him.
In a defiant speech delivered in the newsroom, O'Shea, 64, complained about what he called the "pervasive culture of defeat" manifested by repeated cutbacks in newsroom spending across the country. He attacked Tribune's budgeting process for its reliance on "voodoo economics," saying that "journalists and not accountants should seize responsibility for the financial health of our newspapers.
"I believe that when Sam Zell understands how asinine the current budgetary system is, he will change it for the better, because he is a smart businessman and he understands the value of wise investment," O'Shea said. "A dollar's worth of smart investment is worth far more than a barrel of budget cuts."
His speech was interrupted several times by the applause of about 150 Times staff members who had gathered to listen.
Hiller, 54, said in the interview that he agreed with O'Shea and other critics that newspapers should answer the challenge of declining advertising sales and circulation with creative thinking rather than across-the-board cuts. The bulk of that work remains to be done, he said, "and my conclusion was we needed to look at this with fresh eyes."
Chicago-based Tribune owns the Times, the Chicago Tribune, seven other newspapers, two dozen TV stations and the Chicago Cubs baseball team. Zell, 66, a billionaire real-estate investor, last month completed an $8.2-billion buyout of Tribune in conjunction with an employee stock plan. As chairman, Zell has promised to give local executives autonomy.
Zell didn't respond to a request for an interview Monday.
Hiller said he was inclined to promote from within the Times and that an announcement about O'Shea's successor could be made as early as Tuesday. People familiar with Hiller's thinking said he had narrowed the field to Managing Editor John M. Arthur, 60, and Innovation Editor Russ Stanton, 49. Both men declined to comment.
The dispute with O'Shea arose several weeks ago, Hiller said, after Hiller told department heads to prepare 2008 budgets calling for no increase in spending over 2007. Then, after advertising revenue weakened further, Hiller said he asked for a 1 percent cut.
O'Shea responded with a request for a 2008 newsroom budget of $123 million, up $3 million. O'Shea, in an interview Monday, said that his spending plan represented the minimum amount necessary to maintain adequate news coverage in a year when the paper was gearing up for the Olympics in China and covering the presidential election race. He said holding the budget flat or cutting it by 1 percent would mean imposing drastic cuts in other areas, such as foreign news.
From Hiller's perspective, O'Shea wanted a $3-million increase when the Times was facing one of the worst business climates in recent history, a sharp economic downturn and withering competition from the Internet and elsewhere for readers and advertising dollars.
The mood in the Times newsroom, which is about to welcome its fourth editor in less than three years, was glum.
"I think we're all very worried now," staff writer Robin Abcarian said after O'Shea's speech. "This is the first big thing that's happened since Zell bought the paper, and it's not a good sign."
---
From the Oscars to the Emmys.
Get the Envelope newsletter for exclusive awards season coverage, behind-the-scenes stories from the Envelope podcast and columnist Glenn Whipp's must-read analysis.
You may occasionally receive promotional content from the Los Angeles Times.