Gold Standard: AFI Fest: Will 'Concussion' bring Will Smith his third Oscar nomination?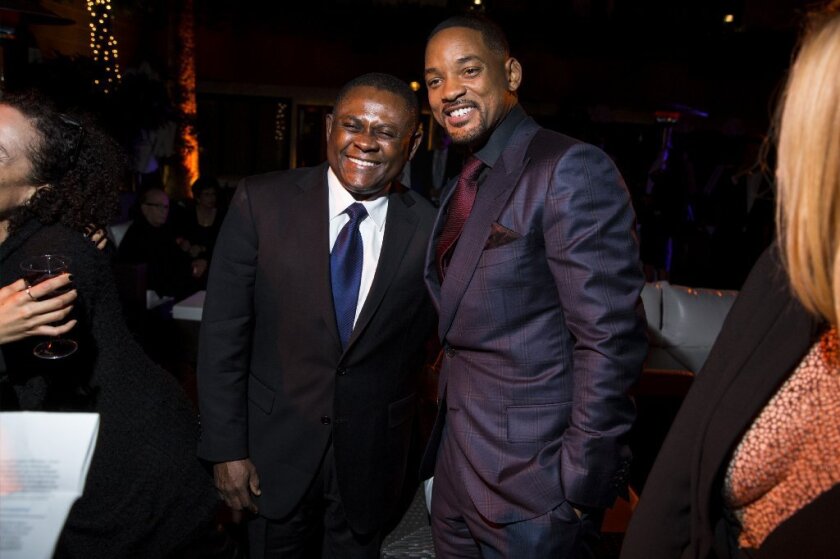 Will Smith's career as a movie star has been defined by a commitment to his brand. And that rarely leaves room for art.
As such, Smith hasn't made many movies that would interest Oscar voters. He hasn't made many movies lately, period, starrring in only three films this decade -- "Focus," "After Earth" and "Men in Black 3."
Tellingly, though, on the two occasions Smith has ventured outside his comfort zone as a lead -- Michael Mann's boxing biopic "Ali" and the tough-minded father-son drama "The Pursuit of Happyness" -- the film academy rewarded him with Oscar nominations.
SIGN UP for the free Indie Focus movies newsletter >>
Smith might be indifferent to making serious-minded dramas (or working with first-class directors -- he turned down Quentin Tarantino for "Django Unchained" and the Wachowskis for "The Matrix"), but Oscar voters have a track record of checking off his name on the rare occasions he does decide to challenge himself.
Which brings us to "Concussion," Smith's latest movie, which had its world premiere last night at AFI Fest in Hollywood. In the topical drama, Smith plays crusading forensic pathologist Bennet Omalu, a Nigerian immigrant who takes on the National Football League over its whitewashing of the dangers posed by the sport's constant on-field collisions.
The earnest, well-meaning movie, written and directed by Peter Landesman ("Parkland"), figures to find few friends with the NFL -- or with critics, who have given "Concussion" an early score of 53 on the movie review aggregator site Metacritic.
"The film is let down by its confused and cliche-riddled screenplay, which struggles mightily to take a complex story and finesse it to fit story beats it was never meant to hit," writes Variety's Andrew Barker.
But bad reviews needn't doom Smith's chances at possibly securing his third Oscar nomination. "Ali," the Muhammad Ali sports biopic directed by the well-regarded Michael Mann, arrived with huge expectations and hype in 2001 but whiffed with critics. Leading up to Oscar nominations, its only major recognition came with Golden Globes nods for Smith and Jon Voight, who played broadcaster Howard Cosell. Both Smith and Voight were then nominated by the academy.
Smith duplicated that scenario five years later with "The Pursuit of Happyness." Ignored by critics, Smith won a Globe nomination and then piggybacked that honor to an Oscar nod.
The lesson: Smith probably needs to score with the Hollywood Foreign Press Assn. when Golden Globes nominations are announced Dec. 10. The HFPA famously loves inviting stars to its show and there's no shortage of possibilities in the drama lead actor category this year. Johnny Depp ("Black Mass"), Leonardo DiCaprio ("The Revenant") and Tom Hanks ("Bridge of Spies") are among the leading contenders, joined by last year's Oscar winner Eddie Redmayne ("The Danish Girl") and international actors (this is the Hollywood Foreign Press, remember) Michael Fassbender ("Steve Jobs") and beloved legend Michael Caine ("Youth").
Smith does have a significant awards-season ally: Omalu. Introduced Tuesday night at a post-screening Q&A at the AFI premiere, the doctor received a standing ovation. He's "Concussion's" version of the real-life "Spotlight" journalists -- a hero who went after a corrupt institution in the name of justice. If Omalu makes the rounds on the awards circuit with the same frequency as the "Spotlight" group, the movie's mediocrity might not matter. We might see Smith on Oscar night yet.
Follow me on Twitter @glennwhipp
---
From the Oscars to the Emmys.
Get the Envelope newsletter for exclusive awards season coverage, behind-the-scenes stories from the Envelope podcast and columnist Glenn Whipp's must-read analysis.
You may occasionally receive promotional content from the Los Angeles Times.