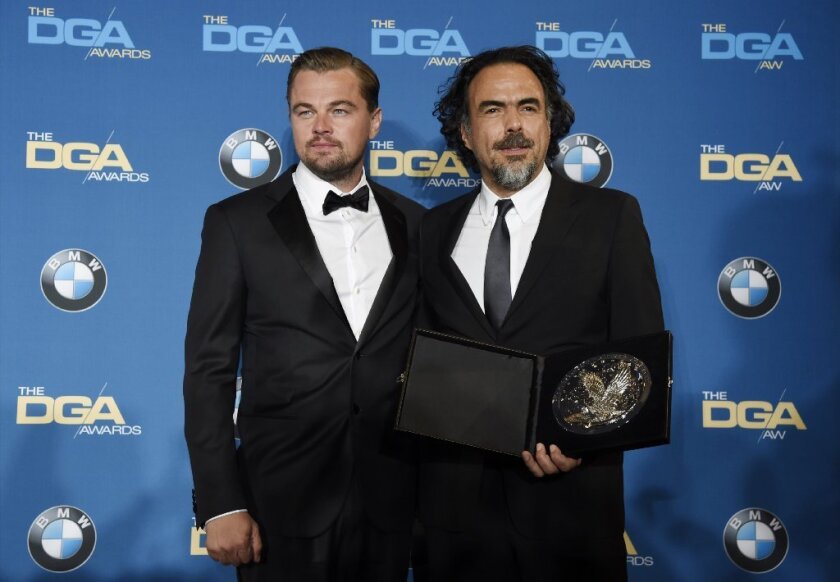 The Oscar best picture race fragmented further Saturday night with Alejandro G. Iñárritu's Directors Guild award win for "The Revenant," a development that was perhaps inevitable in a year in which guild voters splintered their support among three different movies.
Iñárritu's DGA win for the bold, brutal western followed the Producers Guild tabbing "The Big Short" for best picture and the Screen Actors Guild Awards giving "Spotlight" its biggest prize.
The guilds' split decisions aren't unprecedented. Just two years ago, "12 Years a Slave," "Gravity" and "American Hustle" each won a major guild honor before "12 Years a Slave" emerged victorious at the Oscars.
SIGN UP for the free Indie Focus movies newsletter >>
But unlike that year, when the race seemed to pivot on whether enough film academy voters had watched Steve McQueen's unflinching look at American slavery (it turns out some didn't but voted for it anyway), this year's best picture race appears completely wide open. And the campaigners behind each of the three movies are scrambling to find the narrative that will hook academy members.
For the consultants working on "Spotlight" and "The Big Short," that means selling voters that their films carry the most weight, relevance and importance. Backers for "The Revenant," meanwhile, seem content to remind the academy about the challenges behind making the ambitious movie. (Sub-zero temperatures! No cellphone signals! Confirmed vegetarian Leonardo DiCaprio eating raw bison liver!)
"Spotlight," the journalism drama about the Boston Globe reporting team investigating the Catholic Church's cover-up of sexual abuse by priests, is being trumpeted in ads as the "one film that breaks the silence."
Along those lines, the movie received a boost Thursday when, as first reported by The Times, a Vatican commission on clerical sex abuse watched "Spotlight" in a private screening.
"We were floored when we heard that," "Spotlight" director Tom McCarthy told The Times at a reception following a Friday fete for the movie at the Santa Barbara International Film Festival.
McCarthy added that he still receives emails every day from people who were abused by priests. Indeed, the Santa Barbara event, which featured a conversation between festival director Roger Durling and "Spotlight" actors Michael Keaton and Rachel McAdams, was given additional weight when Durling alluded to his own past as a victim of clerical abuse.
"I'll speak for all of us survivors when I say, 'Thank you for making 'Spotlight,' " Durling said.

"The Big Short," meanwhile, will screen for members of Congress on Wednesday at a bipartisan event hosted by two Republicans and two Democrats. It will be writer-director Adam McKay's second trip to Washington, following a January visit that saw him meeting with, among others, Sens. Elizabeth Warren and Sherrod Brown, and headlining an event with economists at the Brookings Institution to discuss the movie's examination of the 2008 financial crisis.
Oscars 2016: Full Coverage | Complete list | Top nominee photos
"The Big Short" has shown up on the presidential campaign trail too, most notably when Democratic candidate Bernie Sanders was asked if he had seen it. "Damn right I have," the Vermont senator replied. "Excellent film."
"We hoped we might have these kinds of conversations, but you never know," Jeremy Kleiner, one of the film's producers, told The Times in Santa Barbara. "The 2008 financial crisis was such a seismic event. People's lives were destroyed. We're still living in the aftermath. So this conversation is important. It's why we wanted to make the movie in the first place."
The motivations and ambitions behind both "Spotlight" and "The Big Short" are unassailable. Their directors, McCarthy and McKay, respectively, are interested in changing institutions that they believe need to be overhauled. Iñárritu, too, sees "The Revenant" not simply as a story of revenge, but also of what it means to be "broken and isolated and be dead and reborn again."
The key to which of three movies emerges victorious will be the academy's preferential voting system, which rewards the film that consistently shows up highest on the most ballots. In this method, in which voters rank the movies in order of desire, the number of times a movie shows up first, second or third on voters' slates will be crucial to propelling it to the best picture Oscar.
One certainty: After many long months promoting their movies, the participants would very much like to take that walk up to the Dolby Theatre's stage when the final envelope is opened.
"I want to win it ... a lot," Keaton told the audience at Santa Barbara.
He's not alone.
---