Amid the crazy, there is hopefulness on 'Kimmy Schmidt,' says cast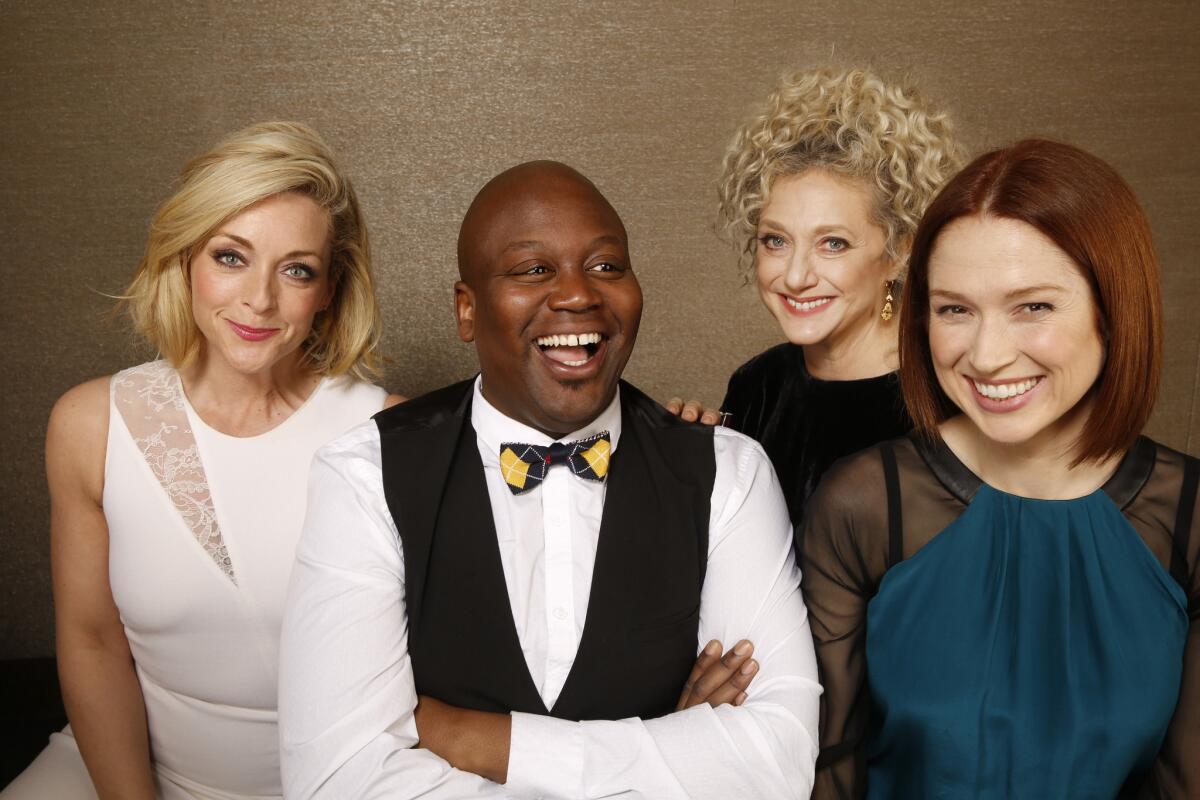 NEW YORK CITY —
Tina Fey and Robert Carlock's antic comedy "Unbreakable Kimmy Schmidt" took a surprisingly heartfelt turn in its second season. The preternaturally cheerful Kimmy (Ellie Kemper) finally dealt with the trauma of 15 years spent in captivity; her landlord Lillian (Carol Kane) fought to save her neighborhood from gentrification; roommate Titus (Tituss Burgess) fell in love and experienced the unfamiliar sensation of caring for someone other than himself; and sometime-boss Jacqueline (Jane Krakowski) embraced her Native American heritage. The cast of the Netflix series recently gathered to talk to The Envelope about the show's hopeful message and the joys of working for Tina Fey.
How do you keep your performances grounded on a show that can be so over the top?
Krakowski: The scripts are so carefully and consciously written, that for me the goal is just to fulfill the goodness that's on the page. I would never think of whether I'm playing it cartoon-y or more realistic. I just try to fulfill what the truth of the character is, whether it's Jenna [Krakowski's character on "30 Rock"] who had a threesome with Tom Arnold and Roseanne Barr or Lillian saying that she shot her husband in the '70s.
Burgess: These characters actually mean every word that they're saying. That is what helps it stay on the ground. It's never a wink and a smile, you know what I mean?
Kane: The four of us have a real trust in each other. I like the helium idea: If you stay in touch with who you're talking to, that will keep you from floating away.
Kemper: We're each others' sandbags.
Does it feel different to be on a show for a streaming network, which isn't airing while you're making it?
Kane: This is the only comedy I've done that was not for [a studio audience]. That's a lot of feedback right when you shoot it. [This] is a very different psychology. It's very interesting and phenomenal how the audience waits for a year between seasons.
Krakowski: To me what felt different is we made the whole show and then presented it almost on an opening night. I like that we make it in our insular world and through the creative guidance and vision of Tina and Robert, and then present it to everybody. It's a very different feeling.
Kemper: [To her costars] After the first season of filming this, didn't you forget that people were going to watch it? We wrapped in November and it didn't come out until March and those long winter months, I was always like, well, that was a nice time with my friends. We made this little thing in a barn and then all of a sudden, it was out there.
Krakowski: There's definitely still a conversation with the audience but it's just in a different time frame.
What do fans talk to you about?
Kemper: I've had several people come and comment on the show who were going through a difficult time, a breakup, an illness, a family thing, and the show helped to carry them through. I think that's what's different about the show that Tina and Robert made — it is hopeful. There's a lot of stuff out there that is brilliant but very dark and maybe a little depressing, and this is not that.
Burgess: I was at Harlem Tavern near my apartment not too long ago. This woman chased me halfway down the block out of the restaurant and she starts sobbing. She was like, "I spent the last year medicated and going through a divorce and the only bright spot was that I knew that when I came home, I could watch and rewatch this TV show." It made me appreciative of the job and, I think, to take extra care of the show. I feel more of a sense of responsibility now than I think I ever did before, to make people happy.
Krakowski: We found out that one of our highest demographics is 12-year-old girls. That was a complete surprise to me. I love that Kimmy is a hero to these girls, that they're looking up to a character that is so optimistic and innocent, which sounds hard to say when we know her background is being in a bunker. Even though we moved to Netflix, we didn't really change the tone that much or the adult content that much because that is a very large part of our audience. I find that so refreshing.
Tina Fey and Robert Carlock have a very distinctive style of comedy. Are there particular challenges to their writing for you as performers?
Krakowski: If you don't learn every line to the word that they wrote, it will not be as funny, because they have constructed the jokes perfectly. I've never seen scripts with more jokes per page. "30 Rock" took on its own timing because there were so many great jokes that we had to get in 22 minutes. If you didn't say your lines fast enough, they would get cut for time. In the beginning of the season, we would all be talking slowly after hiatus and then by the end of the season, we'd be talking like this [rapidly speeds up]. We called it a "30 Rock" pace. With "Kimmy," you can take a bit more time with the jokes. Maybe even take a pause. I am adjusting now to that a little bit.
The show seemed to address criticisms of its handling of race with an episode this season in which Titus comes under fire for performing as a geisha he claims to have been in a past life. What did you make of this backlash and the response to it?
When we first had the table read, I was like, "Oh Lord. Here we go." But it is handled with such care. It's actually really lovely and really pretty and I actually fully believe Titus sees or remembers every past life he's ever had. I think we perhaps have all gotten a little too sensitive and that daily, this world is diversifying and we are all, just as we sit here, are offending somebody. Just look at how silly some of the offenses are. What was the young lady's name? Rachel Dolezal. She was the head of the NAACP [Spokane chapter] and she actually did some good. Why's everyone up in arms? There's no winning these days. I just think that episode is going to spark further conversation and I think it is perfectly constructed to say everyone just needs to calm down.
MORE:
'Kimmy Schmidt' star Tituss Burgess returns 'Under the Sea' as Sebastian the crab
Gold Standard: The case for 'black-ish' taking the comedy Emmy
Panelists: Even in comedies, the actors should seem real
'Ex-Girlfriend' creators get crazy with the music and the love triangle
Ellie Kemper of 'Unbreakable Kimmy Schmidt' sees the comedy light
meredith.blake@latimes.com
From the Oscars to the Emmys.
Get the Envelope newsletter for exclusive awards season coverage, behind-the-scenes stories from the Envelope podcast and columnist Glenn Whipp's must-read analysis.
You may occasionally receive promotional content from the Los Angeles Times.