Matt Damon wasn't all alone as 'The Martian' — he had Ridley Scott close by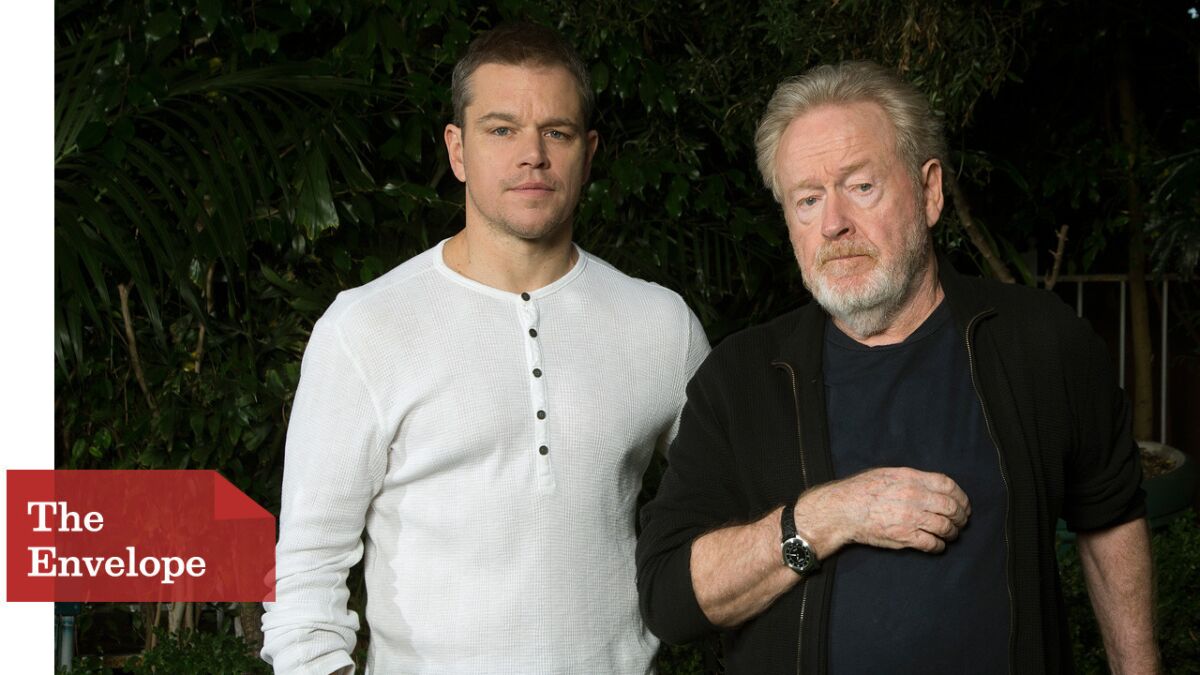 To hear them talk, Ridley Scott and Matt Damon learned a lot about each other while making "The Martian" last year. They had no choice, really. Damon spent all but a week of his eight-week shoot performing alone as stranded astronaut Mark Watney. Or rather, he spent most of his time saying all his lines to Scott.
"So much of your performance comes from the other person," said Damon during a recent break in Los Angeles from filming the next Jason Bourne movie. "But that was one of the reasons I wanted to do it. In terms of the challenge [of performing solo], a lot of that was mitigated by the fact that Ridley was there the entire time. He was never more than 5 feet away from me. I didn't feel like I was on my own."
See more of Entertainment's top stories on Facebook >>
That's not to say that Scott was big on hand-holding his star. The British veteran was, after all, raised by a military father. He earned his chops shooting live, two-hour BBC TV dramas in the 1960s. So now he doesn't believe in rehearsals. He gets what he wants in the first three takes. And he rolls four cameras, four different frames, on every shot. (And yes, Scott says, there will be a director's cut of "The Martian" with 20 minutes of unseen footage.)
It turned out that Damon loved Scott's decisiveness and efficiency. Before any camera rolled, the two men spent a week going through the script, line by line, so Scott could tell him exactly what he wanted in every moment. Consequently, they finished in 70 days.
"The very first monologue I did was the first recording [Watney] makes," said Damon. "It was like a one- or two-page monologue. I did it the first take and [Scott] runs into the room and he goes, 'You and I could do two movies at once!'"
Filming on "The Martian," which has taken in nearly $600 million in worldwide box office, began with everyone but Damon in November 2014 in Budapest on one of the world's largest soundstages. The rest of the cast, including Kristen Wiig, Jeff Daniels and Chiwetel Ejiofor, shot for about six weeks before Damon arrived.
Scott created real situations for actors where he could. He used actual computer graphics rather than green screens for scenes depicting Mission Control with Wiig, Ejiofor and Daniels. And to manifest the punishing Martian sandstorm that opens the film, he had giant fans blow 65-mile-per-hour winds, along with sand and rocks, at Damon, Jessica Chastain, Michael Peña, Kate Mara, Aksel Hennie and Sebastian Stan until they could barely breathe.
For Damon's climactic rescue scene, Scott surprised the actor by piping the voices of his costars into his helmet. Damon wasn't expecting it because the rest of the crew had returned to the U.S. by then. And as a result, Scott inspired one of the most emotionally profound moments in the film.
"There's a scene where I finally crack, and that really happened," explained Damon. "I was going to do my side of the dialogue and suddenly in my ear, I heard their voices. And it kind of struck me in this moment that it didn't matter if [my character] survived. That I had human contact again. It was this real thing that happened and it was completely engineered by Ridley."
SIGN UP for the free Indie Focus movies newsletter >>
After four weeks, the production moved to the Wadi Rum desert in Jordan, Hollywood's longtime stand-in for Mars. There, Damon spent four weeks wearing a 40-pound space suit with an inconsistent oxygen supply. He credits Scott with making an experience that could have been horrible relatively tolerable.
"It wasn't fun," he said, blithely. "But we were mic'd. So you'd say, 'Yeah, my air cut off. Roll really quickly.'"
Scott, on a break from preparing for "Alien: Covenant" in Australia, downplayed his talent with actors.
"I don't Svengali it," Scott said, speaking from a hotel room a few floors below Damon. "I don't go in and say, 'Listen, your cat died. And your mom's really ill.' I once heard that from a very good actor I was directing. I tried to tell him about emotion. The actor said, 'I'm surprised you're telling me this because I know what to do with that. You just tell me where the camera's going to go.' So I always learned that, don't tread on their ground."
Scott tends to speak as if scripting his life. When asked why he knew so quickly he wanted to direct the film adaptation of Andy Weir's bestseller "The Martian," the director answers by illustrating a scene.
"[Twentieth Century] Fox said, 'Listen, we got this script. Drew [Goddard]'s written it. You know Drew. You love Drew.'
"'Yeah, why isn't Drew doing it?'
"''Cause Drew doesn't want to.'
"'Really? Let me read this.'
"Read it.
"'My God, this is ready. In a word: Yes. Let's do it.'"
Addressing his rapport with Damon, Scott recalled how the actor rarely left the set. Then he scripted another moment that could have been titled, "Guess Who Wants to Direct?"
"I said, 'You want to do this, don't you?'
"He said, 'Yeah.'
"''Cause your buddy George [Clooney] is doing it pretty well.'
"'Yeah, don't talk about that.'"
Damon admits Scott was the key reason he so willingly played another stranded astronaut after portraying one in Christopher Nolan's 2014 Oscar-winning film "Interstellar." He spent much of their shoot assiduously studying Scott's technique.
"I was looking at a shot we'd done and the camera was three-quarters over the shoulder and I looked at it and said, 'Why do I know that's a Ridley Scott frame?'" Damon said. "And he said, 'I am just trying to set this shot as simply and as truthfully as I could.'"
Damon paused, then added, "In being completely simple and truthful, he has a language you recognize as his."
---
Get our L.A. Goes Out newsletter, with the week's best events, to help you explore and experience our city.
You may occasionally receive promotional content from the Los Angeles Times.