'Coco,' 'Faces Places' and 'A Fantastic Woman' look primed for Oscar glory
"Coco" will return Pixar to prominence. The Oscar for foreign-language feature might go to a movie starring a transgender actress. And Agnès Varda could have a second Oscar to go along with the honorary award she won in November.
Here's a look at the Oscar races for animated feature, foreign-language feature and documentary feature.
ANIMATED FEATURE
"The Boss Baby"
"The Breadwinner"
"Coco"
"Ferdinand"
"Loving Vincent"
The winner: "Coco"
Analysis: There are a handful of locks at this year's Oscars, but "Coco" winning this category is the surest of sure things. You can bet your (after)life on it. (Sorry.)
Pixar's poignant tale explores death as a way of affirming the importance of remembering the past. Yes, the storytelling was a tad predictable, but its eye-popping animation and the heart-melting song "Remember Me" make it one of the studio's better recent efforts. It's not quite "Inside Out," but it helped put the unnecessary sequels "Cars 3" and "Finding Dory" in the rear view mirror.
Even Academy of Motion Picture Arts and Sciences members who haven't watched "Coco" know "Remember Me," written by Robert Lopez and Kristen Anderson-Lopez, the team behind "Frozen." The song is already popping up during in memoriam tributes, including last month's Producers Guild Awards. That original song Oscar is in the bag too.
The inclusion of "The Boss Baby" and "Ferdinand" among the nominees raised a few eyebrows. Neither film found fans among critics ("Boss Baby" has a 50 score on Metacritic; Ferdinand sports a 58), leading some to wonder if the academy's new voting rules helped big-budget studio movies.
The jury remains out on that question. Previously, animators dominated the voting. This year, the academy told members that anyone interested could vote. But to do so, members had to demonstrate accountability, seeing a majority of the 26 eligible movies and indicating when and how they viewed each film. I'd imagine the time-consuming requirements limited the number of newcomers to voters with a passion for animation. Or silly movies in which Alec Baldwin voices an authoritative infant. Or some combination of both.
It's not like "The Boss Baby" and "Ferdinand" crowded out a widely acclaimed movie. GKids' "The Breadwinner," the story of a brave Afghan girl standing up to the Taliban, scored a nomination after earning great reviews. Another GKids movie, "Mary and the Witch's Flower," could be considered the category's biggest snub. But given its legacy — it's the offering from Studio Ponoc, the animation studio seen as the heir to the beloved Studio Ghibli — "Mary" failed to live up to expectations.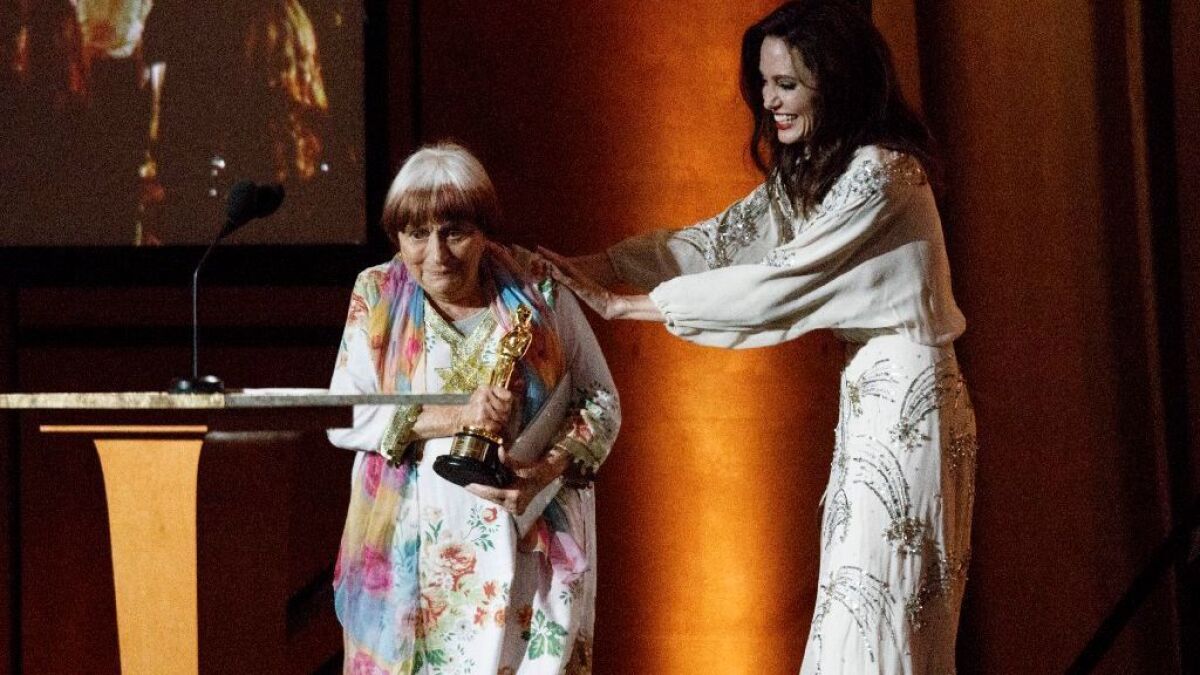 DOCUMENTARY FEATURE
"Abacus: Small Enough to Jail"
"Faces Places"
"Icarus"
"Last Men in Aleppo"
"Strong Island"
The winner: "Faces Places"
Analysis: Picking up an honorary Oscar at the Governors Awards in November, 89-year-old French filmmaker Agnès Varda danced on stage with presenter Angelina Jolie and delighted the assembled academy members each time the camera caught her expressive reactions and duo-tone pageboy haircut. Oh, and by the way, Varda made the year's best-reviewed documentary, the beguiling and tender "Faces Places," which won top awards from the Los Angeles and New York film critics as well as the National Society of Film Critics.
Varda's primary competition is probably the Netflix doping documentary "Icarus," a movie that began as a "Super Size Me"-style lark and ended up telling the story of state-sanctioned steroid use by Russian Olympians. Of the five nominees — and this is a pretty strong slate — "Icarus" generated the biggest headlines, but in terms of craft, it's a little sloppy. A better Netflix alternative would be "Strong Island," Yance Ford's powerful examination of his brother's 1992 murder. The film manages to be both an intensely personal meditation on grief and a probing look at a system in which racial injustice continues unabated.
FOREIGN-LANGUAGE FEATURE
"A Fantastic Woman"
"The Insult"
"Loveless"
"On Body and Soul"
"The Square"
The winner: "A Fantastic Woman"
Analysis: "The Square," Ruben Östlund's unsparing art world satire, is the biggest commercial success of the nominees and boasts a truly unforgettable scene in which a man, pretending to be an ape, causes mayhem during a museum gala dinner. Actually, it's one of a handful of memorable moments — Elisabeth Moss and Claes Band engaging in a tug-of-war over a condom comes in a close second — in an overlong, sometimes shapeless movie that often lapses into heavy-handed social commentary. But again, its highs are spectacular.
So "The Square" could well win the Oscar. But I think the academy will fall behind "A Fantastic Woman" on the merit of the film, which has returned to theaters in a limited release after an Oscar-qualifying run in November, and the memorable lead turn from its star, transgender actress Daniela Vega. Chilean filmmaker Sebastián Lelio's movie is a story of strength and perseverance, qualities Vega embodies with a steely grace that lingers long after the film has ended.
Twitter: @glennwhipp
---
Get our L.A. Goes Out newsletter, with the week's best events, to help you explore and experience our city.
You may occasionally receive promotional content from the Los Angeles Times.